Puerto Rico's political uncertainty seemed ease with Gov. Wanda Vázquez at the helm and focused on public policy.
Puerto Rico got its third governor in a week after the Puerto Rico Supreme Court ruled that Pedro Pierluisi was illegally sworn in, which meant that Secretary of Justice Wanda Vázquez would become governor.
Pierluisi was appointed secretary of state by then-Gov. Ricardo Rosselló with the approval of the House while legislators were in recess. Pierluisi was then sworn in as governor after Rosselló's resignation went into effect on August 2 at 5 p.m.
Former Gov. Rosselló stepped down, the first to ever do so, after mounting pressure from a dozen days of protests following the arrests two former high-ranking government officials on charges of conspiracy and alleged mismanagement of funds and after a plethora of offensive chat messages between him and some of his advisors were leaked.
Puerto Rico's Constitution says a secretary of state has to be approved by both chambers and Pierluisi only had the approval of the House of Representatives.
The Senate immediately asked the Supreme Court to decide on the constitutionality of a portion of the 2005 amendment of Law 7 of 1952 which stated that a secretary of state could be appointed without the approval of both the House and the Senate if either was in recess. The Supreme Court of Puerto Rico unanimously determined that it was unconstitutional to name the secretary of state without approval of both chambers of the government and immediately struck down the portion of the law that permitted it.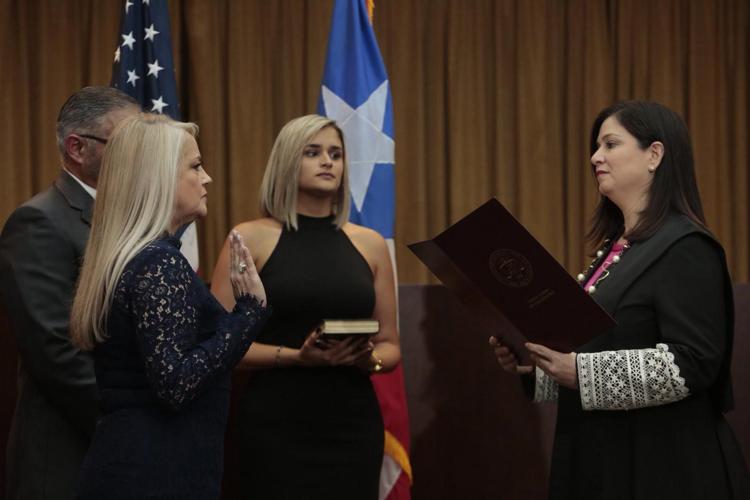 A day after Gov. Vázquez sworn in, Senate President Thomas Rivera Schatz publicly stated his support of Resident Commissioner Jenniffer González to the post of secretary of state, which would put her first in line if Gov. Vázquez were to resign and leave vacant the governorship.
González –Puerto Rico's non-voting representative in Congress– said past week the presidents of the House and Senate called her to ask if she would be willing to become secretary of state as a candidate of consensus, and she agreed to assume the post if it would help restore credibility and stability to Puerto Rico. On Tuesday, González discard the possibility to become governor.
Nonetheless, Gov. Vázquez said she did not intend to step down despite previous comments that she didn't want the job.
Meanwhile, the majority party, the New Progressive Party (NPP), is staying mum while Gov. Vázquez met with former governors Alejandro García Padilla and Carlos Romero Barceló during the weekend.
Gov. Vázquez continues with her schedule of Cabinet meetings and announced that as one of her first acts she had stopped a $450,000 contract that was part of the program to rebuild and strengthen the island's power grid, which was destroyed by Hurricane Maria.
"There is no room in this administration for unreasonable expenses," stated Gov. Vázquez through a press release on Sunday.
Although, Gov. Vázquez was criticized by some sectors, there haven't been protests since she was sworn in.
Vázquez, a 59-year-old former prosecutor from Bayamón, became secretary of justice on January 2017 after being appointed by former Gov. Rosselló. She had also previously worked as a district attorney for two decades at Puerto Rico's justice department, handling domestic and sexual abuse cases, and in 2010 was appointed director of the Office for Women's Rights.
After being sworn in, Gov. Vázquez broadcasted a message in which pointed out that "we have all felt the anxiety provoked by the instability and uncertainty."
"Faced with this enormous challenge and with God ahead, I take a step forward with no interest other than serving the people ... It is necessary to give stability to the island, certainty to the markets and secure recovery funds," Vázquez added.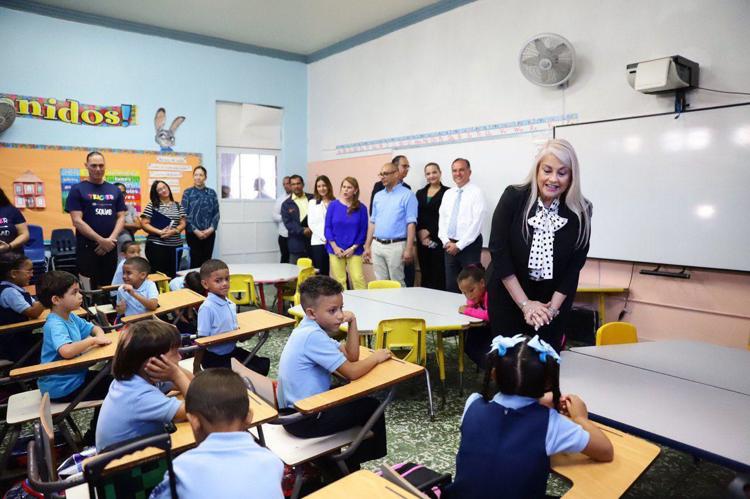 As of press time, Gov. Vázquez had yet to determine who would be her chief of staff. Sources of THE WEEKLY JOURNAL said that former comptroller Manuel Díaz Saldaña was briefly considered for the position but quickly discarded.
Former Gov. Rosselló Receives Threats
Puerto Rico Public Safety Secretary Elmer Román confirmed on Tuesday that former Gov. Rosselló received threats after leaving the island following his resignation. Román went on to say that the threats are under local and federal investigation and confirmed that Gov. Vázquez approves of Rosselló's security detail off island.
"The FBI and the police are working on this. As soon as the investigation ends and arrests are made, we can make more statements," Román said. He stated that he has no personal knowledge of any arrests in the case.