The Financial Oversight and Management Board (FOMB) for Puerto Rico is ending 2019 on a positive note and its outlook for 2020 includes moving forward on two key areas: the commonwealth government's Plan of Adjustment and the Puerto Rico Electrical Power Authority's (Prepa) restructuring support agreement (RSA).
Natalie Jaresko, the executive director of the FOMB, sat down with THE WEEKLY JOURNAL to explain the board's vision and highlight the progress made this year on the road for Puerto Rico to exit bankruptcy.
As Jaresko explained, the mandate of the board is twofold: restructure the debt in a sustainable and efficient way, and bring sustainability to the commonwealth in terms of budgeting.
While she has pointed out that her role is not to be the economic development official for Puerto Rico, there is no doubt that the FOMB does play a key role in the island's future economic growth. This is particularly evident in the board's mandate on debt restructuring, as many economists have pointed out, with the island carrying a heavy debt load of $72 billion.
"The bottom line is that as long as Puerto Rico is in bankruptcy, it is hard to create the confidence that folks should lend or invest, even to the private sector, let alone the government," Jaresko said. "When the island is in bankruptcy, everyone demands additional incremental costs of the others. It affects publicly held companies, banks and others that are trading in the markets… There is a cost to that. Getting this debt restructuring done is very important for the commonwealth to enable economic development going forward."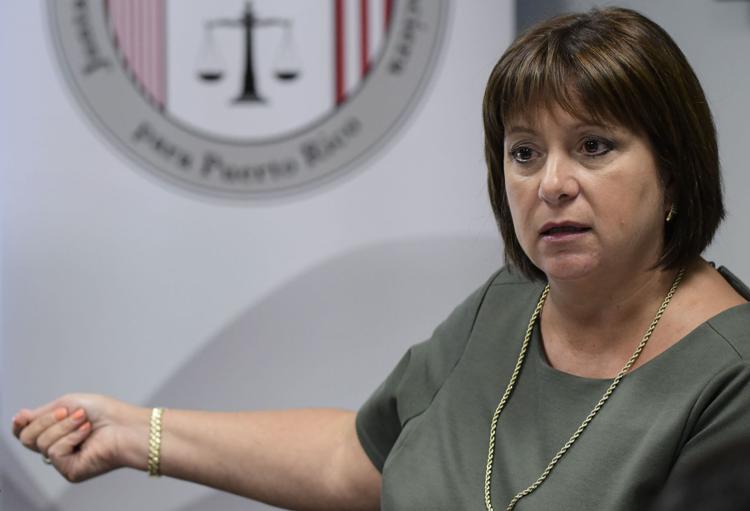 In terms of its debt-restructuring mandate, the board reached two major milestones this year: in May it reached a "definitive" restructuring support agreement on Prepa that involved more than $8 billion in legacy debt, and, in September, they filed their Plan of Adjustment to restructure $35 billion of debt and other claims against the Commonwealth of Puerto Rico, the Public Building Authority, the Employee Retirement System and more than $50 billion of pension liabilities.
Debt restructuring has also been completed for the Sales Tax Financing Corp. (Cofina by its Spanish acronym), Government Development Bank and the Puerto Rico Aqueduct and Sewer Authority.
Secretary Manuel Laboy acknowledges government's hits and analyzes areas for improvement
Taken all together, and assuming that they all move forward, the debt restructuring is for $60 billion of the commonwealth's $72 billion debt load, Jaresko indicated, pointing out that this is very important for Puerto Rico to regain access to the market.
Jaresko said the process for the U.S. District Court to confirm the Plan of Adjustment should take nine to 10 months, in which case confirmation should be achieved around the summer. There is a court-ordered mediator in place, but Jaresko said she could not comment on the negotiations.
The plan includes cuts for all stakeholders, with a blended cut of more than 60 percent in total commonwealth liabilities. Jaresko continued to tout the benefits for Puerto Rico, pointing out that the plan, combined with the completed Cofina debt restructuring, reduces the maximum annual amount of government net-tax supported debt service from $4.2 billion to $1.5 billion. The combined debt service of the commonwealth and Cofina debt also falls from $82 billion to $44 billion over a 30-year period, ensuring long-term sustainability, she indicated.
"The $35 billion debt (in question) is reduced to $12 billion and is sustainable… because the Puerto Rico government will never have to pay for Cofina and commonwealth debt [service] will never be more than 9 percent of revenues, never more than $1.5 billion a year. This is very predictable and sustainable," Jaresko said.
She also highlighted that the plan brings compromises with three key stakeholders: groups of bondholders, labor unions and retirees. "Everyone is making a contribution to bringing bankruptcy to an end."
As this newspaper was going to press, the mediation committee on the Plan of Adjustment filed a report, stating that modifications could be on the way. For example, the stay could be lifted on certain disputes on some revenue bonds, such as those of the P.R. Highways and Transportation Authority.
With regard to Prepa's RSA, which should also be confirmed next year, Jaresko said that transforming the electric power utility is essential to moving Puerto Rico forward. "Prepa failed the people of Puerto Rico after Hurricane [Maria]. We never want that to happen again. The transformational plan has several pieces. We need to get out of bankruptcy, you need to settle the debt. Otherwise you will never have the money to invest in this segment again," she said.
A private operator will be brought in for transmission and distribution, who will manage the utility efficiently, "without political tones and changes," for a consistent and well-managed grid. The public-private partnership process is underway, with bids already in place.
The most critical piece of Prepa's transformation is electricity rates, as Jaresko said that 85 percent of Prepa's costs are related to fuel expenses. "You can do whatever you want to do on debt. You can do whatever you want to do on the transmission system. But the biggest part of your rate is fuel. Puerto Rico generally uses the most expensive, dirty fuel. Bunker fuel. Diesel." As such, there is a big focus on Puerto Rico using cleaner and less expensive fuel: liquefied natural gas and alternative energy.
She also acknowledged the criticism of the Center for a New Economy and economist Ramon Cao, who specifically charged that electricity prices would jump significantly and jeopardize 124,000 jobs islandwide.
However, she countered that the RSA is protecting consumers, particularly those who cannot leave the grid. She also pointed out that electricity rates are what they are today because Prepa's debt has not been paid for a while. In other words, without the stay on Prepa's debt service, rates would be higher.
"[Prepa's] debt has not been paid for several years, so people have gotten used to not paying. We were blessed to have this stay. That said, that can't go on forever. You either renegotiate, you find a solution or the judge may release the stay. If you release the stay, you have to pay the original contracted debt, which would be substantially more," Jaresko said.
With Puerto Rico's population decreasing over the past decade, the burden of payment would fall on fewer people, leading to a "demand risk" on the people's shoulders, she indicated. With the RSA, debt service is also reduced by $3 billion and the demand risk is taken off the table.
Jaresko also reiterated that the FOMB does not support hiring another revitalization coordinator for Prepa. "Our position is that we are in the middle of hiring this private operator [for Prepa]. What is that person supposed to do? You are contracting [a private operator], so why would you have someone else?" she said. Basically, a revitalization coordinator would complicate the scenario further, she added.
Creating a Fiscal Culture of Budget Sustainability
THE WEEKLY JOURNAL asked: What has the FOMB achieved in terms of budget stability and sustainability? Jaresko pointed out that this effort is being done across the commonwealth government in terms of the central government, public corporations, including the University of Puerto Rico, and 10 pilot municipalities.
The exercise involves providing more transparency and in-depth analysis and detail to reach budget sustainability. "The budget that we certified on July 1, 2019 provides more transparency and is more encompassing than any of the budgets in Puerto Rico's history. For the people of Puerto Rico, the legislators of Puerto Rico, we're looking at what really is the commonwealth spending and how is it spending," she said.
"This is really critical to get to a sustainable and balanced budget… so the people of Puerto Rico, the taxpayers and legislators, can start to make priority choices that are the critical element of having a balanced budget. We aren't in a situation anymore where we can continue to borrow ad infinitum. We're not able to borrow right now and the constitution requires a balanced budget."
A fiscal culture that understands that you have to make hard choices encompasses much of the FOMB's work in this area, she indicated. "Here is what is available and here are our priorities. This fiscal year, because the budget is tight, people are having to make priority choices. This is about introducing a very helpful, very powerful positive fiscal culture in having those discussions… That dialogue is really critical because we need to have everyone focused on what our priorities are," she said.
In the case of the Department of Education, is the priority administration or student services, for example, providing access and care to special education students? Another issue was that of funding rape kits, which were not funded for 10 years, she indicated. "How did that happen? I don't know. It's only $3 million… It's not that there's no money. We need better management and we need better focus."
In that sense, Jaresko's recent letter to Gov. Wanda Vázquez and top lawmakers, warning about pending legislation that could have an impact on the government's coffers, is an example of this process. "That letter has two points. One is a process point. Legislation should be discussed, analyzed, managed and calculated before it's adopted. That is critical so we urge legislators to enable that process. The second part is that we cannot do things that cost money that we don't have. That is part of this fiscal culture of understanding your spending limits and that you have to make choices… It's not only about how much money you have, but how you spend it, how you manage it."
For these same reasons, the federal government is highly involved in Education, because federal funds were apparently not managed well, she indicated. In that same vein, there is also greater federal oversight on Medicaid funds and Community Development Block Grant funds for disaster recovery. "We need to build confidence among all stakeholders. No one wants fraud, waste and abuse," she said.
In the coming year, Jaresko said she and the board will continue to push for the priority areas of public safety, education and health in the budget process.