It has been nearly two years since Hurricane Maria made landfall in Puerto Rico.
This category-4 storm left in its wake a plethora of destroyed homes and properties, shattered electric grids and aqueducts, a broken-down telecommunications system, unmeasurable debris, and 3,000 dead residents. Since then, a once-forgotten archipelago in the Caribbean has received international attention, and many people living stateside learned not only that Puerto Rico is a U.S. territory, but that its inhabitants are fellow U.S. citizens in dire need of assistance from the mainland.
By all means, Hurricane Maria changed the course of Puerto Rican history.
Thousands upon thousands of Puerto Ricans fled to the mainland, either because they lost their homes or because they could not afford to live on the island due to financial or health reasons. Because of the widespread lack of access to communication and the absence of electricity in most parts of the island, the administration established a curfew, which got eliminated about a month after the historic event.
As more aspects of day-to-day life returned to normal, the impact that the storm had on the psyche of Puerto Rico's residents became more evident. The mere flicker of a lamp brings back traumatic stress; watching the weather report is akin to waiting for hospital test results; many people are still concerned over whether they could withstand another large-scale atmospheric catastrophe.
However, from the devastation flourished a spirit of resilience. Neighbors came together and proved that Puerto Rico is an island of gargantuan vitality.
Despite the collective efforts from citizens, nonprofits and the public and private sectors, the island is still undergoing an extensive recovery process, made largely possible by federal funding from the Department of Homeland Security, the Department of Defense, the Community Development Block Grant Disaster Recovery program (CDBG-DR), the Small Business Administration (SBA) and the Federal Emergency Management Agency (FEMA).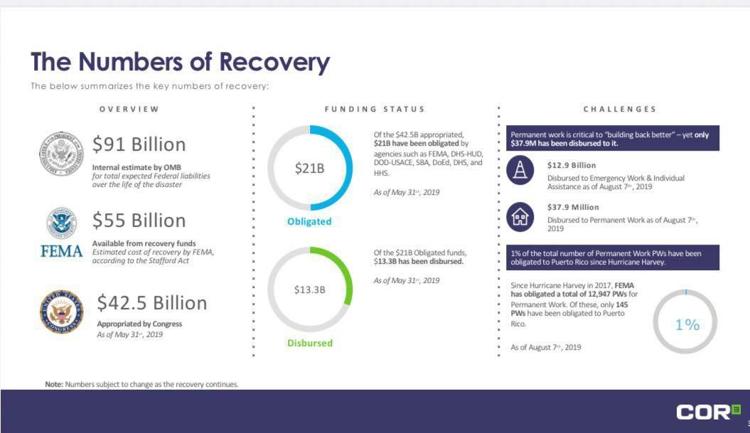 The latter has been pivotal in assisting Puerto Ricans who lost their homes, as well as identifying core areas that require attention in this process. While FEMA works in visiting these zones and assessing how much funding is required, it works alongside the Central Office of Recovery, Reconstruction and Resilience (COR3), which is in charge of distributing FEMA funds to municipalities and government agencies and corporations.
THE WEEKLY JOURNAL interviewed the executive director of COR3, Ottmar Chávez, who revealed the details of these funds and the measures that this entity is developing to ensure efficiency and transparency.
Although Puerto Rico got its third governor in one week amid protests of fund mismanagement and ethical faults, Chávez assured that both FEMA and COR3 have continue to operate as normal.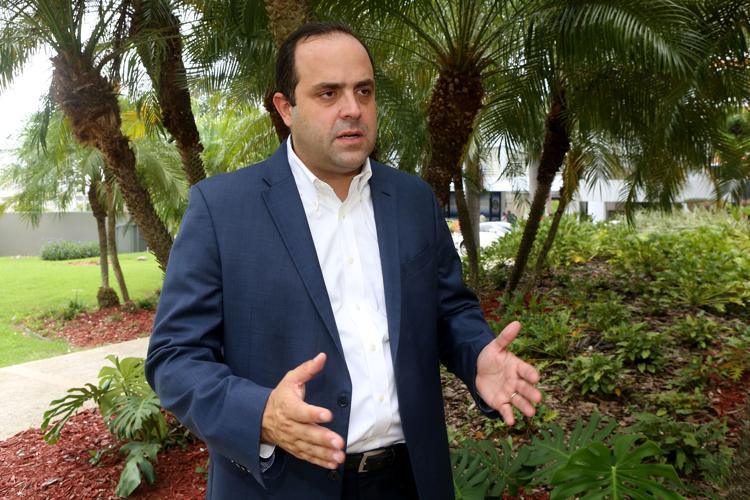 "Reconstruction has not stopped. Ever since the day that the transition process started, we, my team and I, have been working incessantly, focused on working for the people of Puerto Rico," Chávez said.
He added, "it is a specific process based on efficiency, transparency in order for the money to continue to arrive. We continue working. We are working and there has been stability for eight days and we know what we have to do. We are focused on the priorities that we will be outlining."
The Numbers of Recovery
U.S. President Donald J. Trump has repeatedly declared on his personal Twitter account that the federal government has already provided Puerto Rico with $91 billion for its reconstruction, but this statement is factually incorrect.
The figure of $91 billion actually refers to an internal estimate of the expected federal liabilities over the life of the disaster according to the U.S. Office of Management and Budget (OMB). Meanwhile, FEMA estimates the cost of recovery at $55 billion, according to the Stafford Act.
All in all, the U.S. Congress has appropriated $42.5 billion, but only a fraction of that has actually been disbursed.
The COR3 has an online transparency portal in which it outlines all federal funds that have been obligated and distributed. According to this tool, the U.S. government has obligated $20.3 billion to the aforementioned agencies. Of these, roughly $13.7 billion had been disbursed at the time of this writing, or an estimated 67 percent.
FEMA has been obligated nearly $16.2 billion, and roughly $12.5 billion (77 percent) have been disbursed.
Understanding the Disbursement Process
In order to disburse funds, FEMA and COR3 must confirm that the damage site complies with a series of requirements. First, employees inspect the site, then they fill a form called the Damage Description and Dimensions (DDD), followed by the Scope of Work, and lastly, the fix cost estimate. After the estimate, the money is obligated, but it is not disbursed at once.
"The money is obligated, but there is a procedural part to the project in which, as you execute the project, the money for the project is provided. That is, you have the obligated money, but you won't take 100 percent of that money at once to pay. So, as you continue executing the project, then you take the money that is already obligated," he said.
Chávez explained that the process to identify core recovery areas and disburse FEMA funds has been highly complex because there are more than 50,000 damaged sites island-wide, and these sites result in more than 9,000 additional projects.
"There are more than 9,000 projects up and running that are not part of those numbers. We expect that as those projects continue to go through the process, more money is disbursed," he said.
"We have a plan with the state hazard mitigation officer where we already have all those projects outlined. We will start a more aggressive campaign in the coming weeks. That is why we have internal deadlines that we want agencies, municipalities and nonprofits to follow. It is important that by October 31 they have the letters of intent signed," he added.
The official added that, to date, COR3 has more than 210 projects, costing upwards of $2.2 billion, that will be submitted by that date.
The COR3 director affirmed that his office has a list of priorities that is geared toward ensuring fund disbursement.
"For one, efficiency. We have to be more efficient in these processes. Two, for the money to come; and that relies on a collaborative effort that both parties have been doing. And three, radical transparency. The more transparent and efficient we are, the fewer the obstacles and issues we will have to face," Chávez said.
Transparency a Top Priority
Chávez repeatedly stated that the COR3 upholds transparency as a key component in its mission, especially to address some funding challenges.
According to the Transparency Portal, permanent work is critical, but only a small amount has been disbursed for the entity's goal to "build back better."
Specifically, $12.9 billion have been disbursed to Emergency Work & Individual Assistance, but only $37.9 million have been disbursed to Permanent Work as of August 7 of the present year.
"Since Hurricane Harvey in 2017, FEMA has obligated a total of 12,947 PWs (Project Worksheets) for Permanent Work. Of these, only 145 PWs (one percent) have been obligated to Puerto Rico," the portal reads.
Amid these challenges, and the uncertainty in the political spectrum, as well as distrust from the general public in government processes, Chávez reiterated that the agency must continue to take measures to restore trust and bolster transparency so that their efforts can proceed.
The official informed that as of Sept. 1 the Transparency Portal will include all contracts from contractors and subcontractors who work in the rebuilding process.
"My expectation is that we can begin to share with the people of Puerto Rico all the documentation regarding the recovery in a transparent and simple way. I would say that within the next two weeks there will be changes, not only in solutions that we will be presenting together with the governor and the resident commissioner (Jenniffer González), but there will also be changes in both the transparency portal and operational changes that we have already begun," he said. "We will be more efficient and more transparent."
In addition, all nonprofits, individuals, companies, and subcontractors that benefit from the assistance program will be required to sign a legal document that declares that they do not have any ties with the government or public officials. "If an entity doesn't sign it, they will not work with us," Chávez stated.
"We have nothing to hide. In my administration there is no murky management of transparency, which has already been demonstrated in the year and a half that I worked at ASG (Associated General Contractors), leading in a transparent way, with a healthy administration and teamwork," Chávez said.
-----------------
Editor's note: This story was published on the August 21 print edition of The Weekly Journal.