A sea of people flooded the streets of Hato Rey on Monday paralyzing the main highway for hours as part of a wave of relentless protests against Gov. Ricardo Rosselló, less than 18 hours after the embattled politician announced via a brief Facebook live video that he wouldn't seek reelection and would step down as head of the pro-statehood New Progressive Party (NPP).
Far from quelling the rage and indignation sparked by leaked derisive text messages between him and his inner circle, Rosselló's announcement seemed to fire up protesters and renew calls for his dismissal from powerful political figures, artists of different ideologies, cultural and civic organizations and former allies.
Rosselló not only ignored the generalized clamor for his resignation, but in his address vowed to fight future impeachmment proceedings, a statement that many detractors, and some statehood supporters, interpreted as an act of denial of the impending crisis.
Hours after the message, protests and calls for his resignation had spread all over Puerto Rico, Grand Central Station in New York and even aboard a plane that landed at the Luis Muñoz Marín Airport. Hashtags calling for Rosselló´s resignation were trending on Twitter and major international news outlets were covering the biggest march in the island´s history, according to some observers.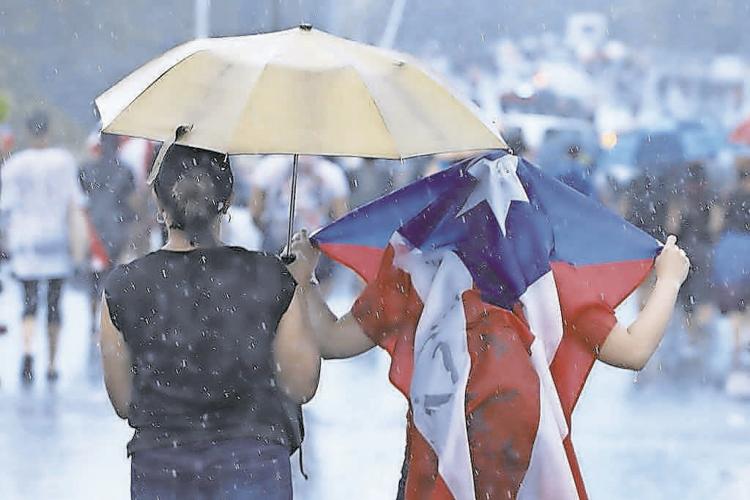 But, before demonstrators inundated stretches of the Las Américas Highway and other local roads in the heart of Hato Rey, Raúl Grijalva (Arizona-D), chair of the House Natural Resources Committee, the committee which oversees Puerto Rico in Congress, reiterated his call for Rosselló to step down "immediately to allow Puerto Rico to move forward" and warned that important discussions couldn't happen in the midst of the current political crisis.
Other politicians and members of Congress like Jenniffer González- the non-voting representative of Puerto Rico, congresswomen Nydia Velázquez and Alexandra Ocasio Cortez- have expressed a preoccupation with the civil unrest and have called for Rosselló to initiate a peaceful transition of power. Hawaii's Democrat representative and presidential contender Tulsi Gabbard joined protesters on Saturday, and Melissa Mark-Viverito -mentioned in the fouled chat- has attended several anti-Rosselló rallies, including Monday's massive protest.
Early on Monday, hundreds of thousands of protesters from all corners of Puerto Rico descended on Roosevelt Avenue causing Plaza Las Américas, the largest shopping center in the Caribbean, and other businesses to shut down. Other companies and main universities also closed and gave employees an opportunity to attend demonstration.
Young and old -from all walks of life- arrived armed with Puerto Rican flags, whistles, umbrellas and sharp placards that expressed their disdain toward the governor and politicians in general. "Ricky Game Over", "You are fired" and "They took away so much, that they took away our fear" were some of the banners that demonstrators carried during the demonstration just blocks away from the island's financial district.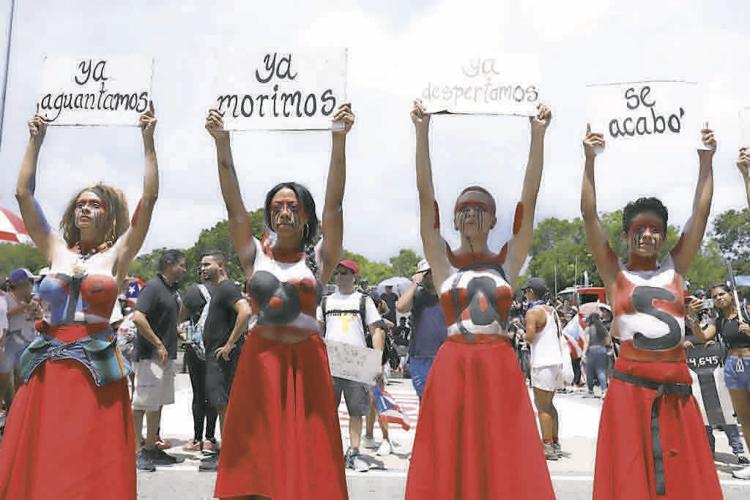 Defying the heavy rain, the crowd intoned catchy chants and passionately sang protest songs in a political show of force against Rosselló, who miles away gave an interview to Fox News.
Facing tough questions from anchor Shepard Smith, he insisted that he was not going resign, despite the unrest. "There are people who support me… from different groups… from the administration," Rosselló said. Smith interrupted him several times, saying, "name one person, governor."
Finally, an uncomfortable Rosselló mentioned the mayor of San Sebastián, Javier Jiménez, who later clarified that he supports the impeachment process.
Yesterday, Rosselló recognized the legitimacy of the protests while being "attentive and silent". "The people are talking and I have to listen. This has been a moment of total reflexion and I have made decisions in response to the concerns of the people", he said in his first comments after the massive rally. In the written statement, the governor indicated that his future expressions would be about "the actions we are carrying out as part of our work agenda, as promised and expected by the people".
But protesters have rejected Rosselló's apologies as insincere. During the 12 days of continuous demonstrations, they have also made it clear that the rage goes beyond the misogynistic and discriminatory comments in the chat. Protesters have criticized his mishandling of the emergency triggered by Hurricane Maria and have called for a transformation of the political system because of the decades of mismanagement and corruption that bankrupted the island.
Talking from the stage, Saadi Rosario from the feminist group Colectiva Feminista warned Puerto Rico Senate President Thomas Rivera Schatz, who is now the interim New Progressive Party president, that his leadership was not welcomed. "Don't dream about it", Rosario stated as the crowd roared.
Later on, artists Ricky Martín, Residente, Bad Bunny, Kany García, Pedro Capó, Ednita Nazario, Olga Tañón and former boxer Félix Trinidad, among others, took to the stage bringing the house down. However, it was Tañón's rendition of "Preciosa" that seemed to capture the full emotion of the historical moment.
In front of the governor´s mansion, rapper Daddy Yankee, who years ago endorsed the Republican presidential nominee John McCain, stopped by to support demonstrators.
This was the second massive demonstration in a week. Last Wednesday, a day after Rosselló fended calls for his dismissal, in his first and only press conference since the protests erupted, thousands of men and women participated in a march convened by singers Bad Bunny, Residente, Ricky Martín, Ileana Cabra and Tommy Torres.
Enraged by the governor's offensive messages, Bad Bunny interrupted his European Tour, while Residente and Ricky Martin flew to the island twice in order to participate in the protests. Since their job is to create music, hours before the march, Bad Bunny, Residente and Ileana released the tune "Afilando los Chuchillos" (Sharpening the Knives), a protest song that spread across the island like wildfire.
"This is just getting started... This is not about colors or parties, this is about the governor's actions and how he failed us. Ricky has to go to hell," Bad Bunny said.
"Ricky and the bandits around him have to go, including Tata (local House Representative María Milagros Charbonier)," Bad Bunny insisted.
Just like Monday night, Wednesday´s demonstration ended in a violent confrontation between protesters and the police, who used tear gas and rubber bullets to disperse protesters in front of the governor's mansion. On Monday night, a car caught fire after a can of police tear gas broke the vehicle´s window.
As the crisis continues, political analysts and citizens alike wonder if Rosselló, whose father, former governor Pedro Rosselló, disaffiliated himself from the NPP on Monday, can govern alone as members of his administration continue to step down.