Former President Bill Clinton, in Puerto Rico for the next few days, spent Monday touring four nonprofit organizations (NGOs) in Corozal, Cataño, Caguas and San Juan, to highlight the impact they are having in their local communities.
With the message that positive change happens at the community level, he said he is trying to show a different image of Puerto Rico, as the combination of three factors have not been positive for the island: the debt load of more than $72 billion, which led Puerto Rico to default in 2016 and have to undergo a bankruptcy process; the lack of confidence that this has generated; and the "political controversies," such as the massive protests last July that led to the resignation of Ricardo Rosselló as governor.
"I'm trying to give people a different image of Puerto Rico, about what is really happening, how the people really are and their real potential," he said. "It bothers me that we only hear about the problems and there are so many really extraordinary things happening here."
Clinton indicated that if these same NGOs were doing their work in more prosperous areas of the United States, they would have been lauded for their success. Instead, they have received little public attention.
Clinton toured the Sagrada Familia Cooperativa in Corozal, which is providing microloans to small businesses and promoting entrepreneurship in the central mountain area, where many residents do not have easy access to traditional financial institutions.
He visited "Caras con Causa" in Cataño, which is providing mental health services throughout the island, through a collaboration with the University of Puerto Rico. Graduate students studying post-disaster mental health are providing direct services to many people in need. The program also offers a STEM (science, technology, engineering and mathematics) program for seven public schools to supplement the "inadequate" science curriculum in the public school system.
While on site, Clinton announced that Expedia, one of the Clinton Foundation's many partners, was so impressed with the work that "Caras con Causa" is doing that the online travel company will donate $25,000 to the nonprofit.
Clinton also toured the Sanos Primary Health Center in Caguas, which provides services to patients regardless of their ability to pay. The federally qualified facility treats many people who are homeless or live in public housing. Sanos also has an opioid program to treat those with this addiction. Another nonprofit, Direct Relief, has donated naloxone—a medication used to treat an opioid overdose—and a mobile medical unit to Sanos.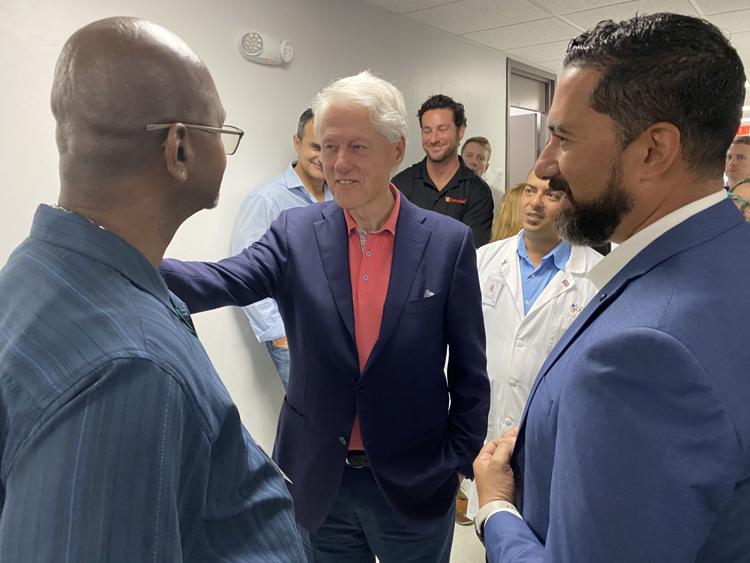 Finally, he visited the "La Goyco" community center on Calle Loíza in San Juan, located at a public school that has been closed for about 10 years. The facility was reopened a few years ago to provide a variety of services to the local community, many of whom are elderly and/or economically disadvantaged. Activities provided include health fairs, yoga, art, music and dance workshops.
No Formal Endorsement Announced
With Super Tuesday just a couple of weeks away on March 3, Clinton declined to endorse a presidential candidate for the Democratic Party.
"I have participated in three primaries in Puerto Rico. I had all the votes in 1992 and Hillary won by big margins in 2008 and 2016. I am very grateful for all that Puerto Rico has done for my family and we are trying to positively influence in favor of Puerto Rico, but I am not going to get involved in this primary. I don't think it would be fair and I don't think I should do it," he said during an informal press conference.
On Tuesday, Former Sen. Hillary Clinton echoed these remarks, adding that she would support whoever winds the Democratic presidential primaries.
Besides the Clinton Foundation's work in Puerto Rico, reporters asked about the "slow aid" that is coming from the federal government after two recent disasters: Hurricane Maria in Sept. 2017 and the recent earthquakes that originated in the south.
Clinton said he and former Secretary of State and former Sen. Hillary Clinton had essentially done all they could to move the federal monies, but he acknowledged that he doesn't exactly have any influence with the Trump administration.
Clinton and former Sen. Hillary Clinton are widely acknowledged to be the premier "power couple." However, he demurred when asked about stateside reports that Democratic presidential candidate Michael Bloomberg, now rising in the polls, was eyeing Sen. Hillary Clinton as his running mate. Sen. Hillary Clinton reportedly "wants back in," according to stateside reports.
"I don't know where that came from. I don't know anything about that. But I do know one thing, I have been out of politics much longer than she has. If they want to ask about her future, they should ask her," he said.
For her part, the former Secretary of State also indicated Tuesday that she was not interested in running for the vice presidency as part of a possible Bloomberg ticket.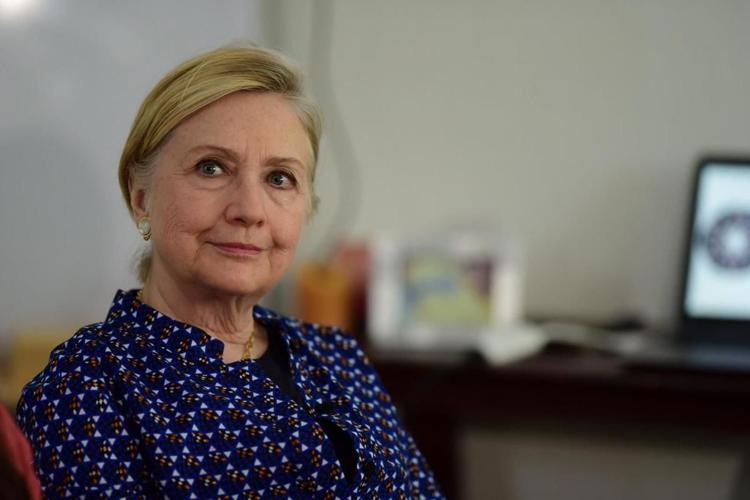 President Clinton's advice to those running in the Democratic presidential primaries is that they should focus on the race at hand before considering running mates.
Other Activities in Puerto Rico
On Tuesday, former Secretary of State Hillary Clinton was scheduled to tour Solar Libre at Centro MAM in Carolina, where she met with clinicians, midwives and new and expectant moms who are served by the clinic. The Clinton Foundation is partnering with the clinic through its early childhood initiative, Too Small to Fail, to provide resources and training on early brain and language development.
On Wednesday and Thursday, Clinton and former Secretary of State Hillary Clinton will convene members of the Clinton Global Initiative Action Network in San Juan, for the fifth meeting since 2018.
The Action Network brings together leaders from business, government and civil society to make commitments that accelerate recovery from natural disasters and promote resiliency in the Caribbean region.
The San Juan meeting includes special sessions on recovery in the Bahamas after Hurricane Dorian; supporting marginalized communities on the front lines of the fight against climate change; and investing in high-tech, high skilled jobs in the Caribbean.