Cool-toned, soft colors welcome you as you walk through the doors of the Ponce de Leon street's newest addition to its arsenal of contemporary cuisine eateries. Light green decorative plants hang all around the space, creating an earthy atmosphere that helps you make the connection between the food on your plate and where it comes from: the very land you step on. For owner and executive chef at Vianda, Francis Guzmán, developing a close relationship with local farmers was essential to the success of the widely-acclaimed restaurant.
"Local products, global influences," said Guzmán as he described the innovative and distinctly creative menu he prepares weekly. The chef opened the eclectically modern space in March of 2018, along with his wife, Amelia Dill, who aside from managing the restaurant, was in charge of designing and decorating the interiors with a minimalistic, relaxed and inviting atmosphere.
Bearing his influences from time spent in San Francisco and New York, where he studied and worked before coming back to Puerto Rico, the small, rotating menu offers guests about 15 savory items and three desserts that are carefully constructed based on the inspiration Guzmán gets when he receives the local produce for the week. Although international dishes and a Puerto Rican influence can be noticed in the offerings, Guzmán doesn't want labels to be put on the ever-changing menu.
To name a few items and incite your palate: Eggplant 'Tikka Masala' with spicy curry sauce, cucumber raita and house-made naan bread, 'Tom Kha' Bacalao with coconut broth, mushrooms, chili oil and crispy rice and Pumpkin Raviolinis with roasted shiitake mushrooms topped with parmesan; which I had the absolute privilege of savoring.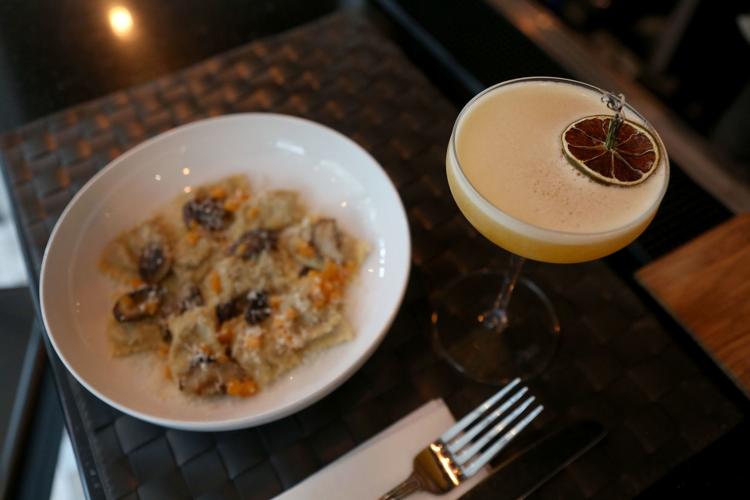 The exquisite dish had thin slices of roasted shiitake mushrooms on top of medium-sized, pumpkin-filled raviolis. Tiny pumpkin squares surrounded the pasta and a light layer of parmesan cheese topped the dish, adding an overwhelmingly creamy richness that brought everything harmoniously together. Every bite was a perfectly balanced explosion of sweet and savory.
Paired with the meal was the restaurant's most popular drink: Romero Apasionado, concocted by the experienced mixologist and bartender, Marcos Rivera, who Guzmán handpicked and trusted enough to hand over complete creative control over the bar menu. This drink was no joke: Hendrick's gin, passion fruit shrub, rosemary tincture, and lemon juice with a small piece of lavender poked through a slice of dried lime on top as a beautiful garnish that Rivera burns with a blow torch for a smoky effect.
Rivera created the bar menu keeping in mind the commitment with local products that chef Guzmán envisioned for the restaurant, using fresh fruits like pineapple and passion fruit to later ferment and use in his lab of tropical, colorful and most importantly, absolutely delicious creations.
Also on the menu was a local King Mackerel Marinade dish (Sierra en Escabeche) which was infused in white vinegar and olive oil; onions, olives, confít peppers, capers, and stewed sweet potato bites were tossed together with round sweet potato chips and green leafy garnishes to decorate the delicious masterpiece.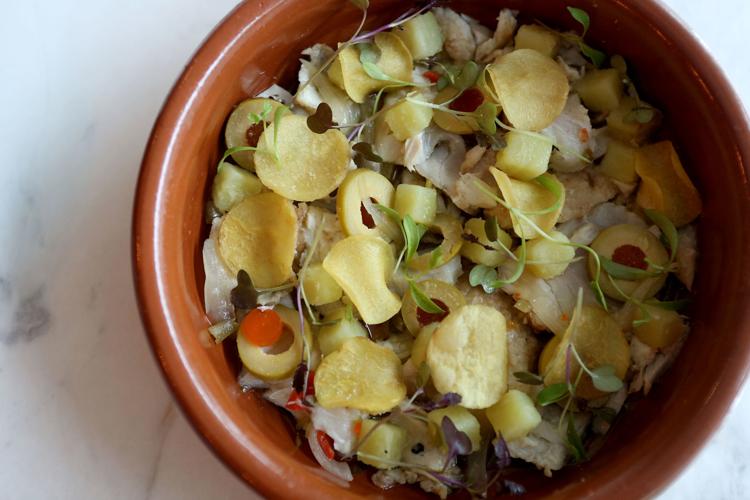 When Guzmán and his wife relocated to San Juan in 2017, they were looking to create something new and refreshing, something that wasn't quite fine dining but their take on it. They decided that Santurce was the perfect place to do that given the culinary boom that has erupted over the last few years in this hipster-filled, vintage-shop-saturated, gastronomic center.
Vianda was well under way when Hurricane María hit on September of 2017. Luckily, the couple was only set back a couple of months, with a few cracks on the windows that face the sidewalk being the only major damages incurred.
"At first, we thought Puerto Rico would not be the same, but it ended up being the opposite. Restaurants ended up functioning as places to relax the mind from the hardships that people were facing at the time," said Guzmán.
Guzmán also attested to the claim that after María, the island saw a rebirth in the local agriculture, noting that it came back stronger than ever. For his plates Guzmán uses goat cheese from Juncos and things like tropical fruit, lettuce and herbs from places like Aibonito and Barranquitas. For pork, which he includes in various dishes, he uses products from La Ceba in Corozal, a local hog farm dedicated to providing restaurants with high-quality pork. When asked what products he likes to work with the most, he said: "Viandas."
The word Vianda can mean many things. Its literal translation to English is lunch. Guzman chose this as the name for his first restaurant because of its meaning in Latin, translating to "vivanda", which means a place of living. And that is what it is, a place to come, connect, be and live. Connect with the island by rediscovering it through the food that is cultivated and produced here, bringing locals back to their essence, and introducing tourists to the booming world of fresh, locally produced cuisine.
Vianda is open Wednesday through Sunday from 5:30 pm to 10:00 pm on Wednesdays, Thursdays and Fridays and from 5:30 pm to 11:00 pm on Fridays and Saturdays. They host happy hour every Wednesday, Thursday, and Friday from 5:30 pm to 7:00 pm. Starting in September they will be opening for lunch with a menu of sandwiches, salads and soups.