Alan's smile is contagious. At first glance, you can see how the happiness emanates from the 20-year-old when he walks with Carrusel, a beautiful and imposing horse therapist from Carrusel Foundation, in Bayamón.
His mother, Vanessa López, watches her son while he engages in the equine therapy he receives weekly.
"He has been in these therapies for 7 years. The truth is that one sees a change. This has helped him with his posture, with engaging in conversation, because he has selective mutism; with his grip; it has helped him go up and down stairs. It has helped him to be less shy, walk and be independent. He has acquired daily living skills", remarks the proud mother, who is also a special education teacher in the public school system.
Because Alan has Down Syndrome, he requires specialized care and attention. It has been through equine therapy that his social and physical development have improved.
"Children with these needs sometimes do not know what they like. But he loves it, he loves this. He loves that horse. That's worth a million", she says as her glance goes to where Alan is.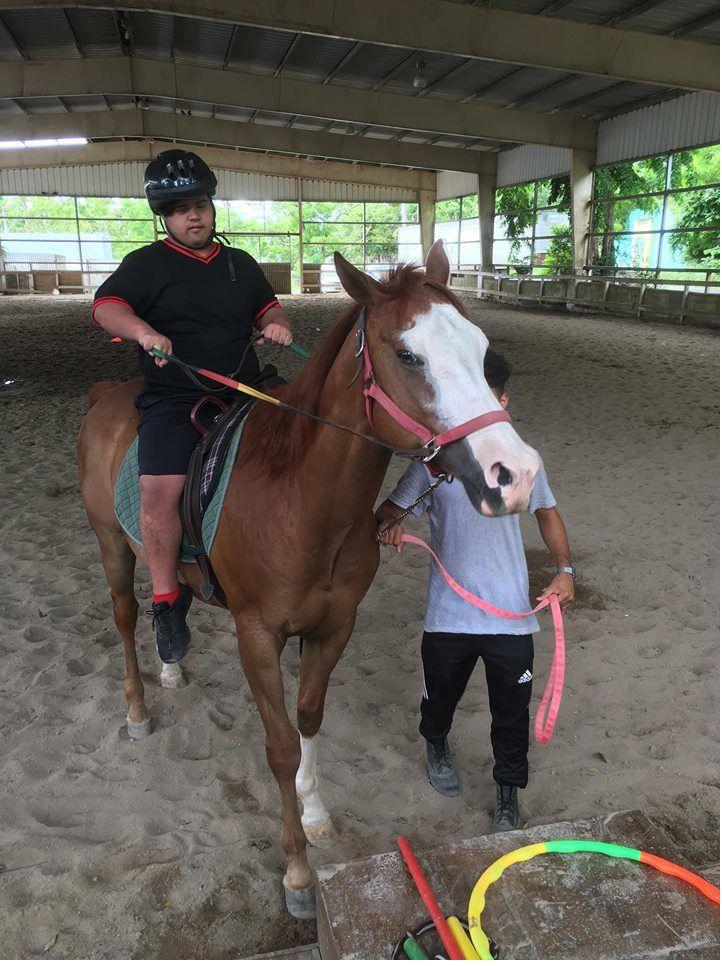 Once Alan and Carrusel start their time together, they become one, and you could not ask for more. The young man, with his upright position, gently guides the equine-decked with brown hair and white spots-in the direction he wants to go. Carrusel understands him quickly and gallops gently to Alan's request.
Meanwhile, María Gómez and her granddaughter, who has been faithfully receiving her therapies in this center since November of 2017, wait outside.
"She is bedridden and could not sit before, but now she can. She has more attention, is more alert. She loves to come here. Her expression changes. When she walks in there, she knows what's coming. She has an incredible connection with the horse. I love it", states Gómez.
A Special Connection
"They feel what we feel", says Marta Jaraiz, founder and director of this center located in the Julio Monagas Park, in Bayamón.
"They say it's like a 1,200-pound animal that is a lie detector. You cannot lie to the horse. He feels everything you feel", states Jaraiz.
And precisely, this level of sensitivity in these beings is what, among other things, helps people with different conditions, both physical and emotional.
The concept of equine therapy is mentioned for the first time in the ancient Greek writings of Hippocrates, 460 years before Christ. However, it is not until the 1960s that it begins to develop as a formal therapy for those people who face different physical and mental conditions.
"Equine therapy is a technique that uses the horse as a tool to improve physical, social, neurological and sensory conditions through the horse," explains Jaraiz.
This animal has unique muscular characteristics that at each gallop manages to transmit vibrations to the body of the rider, thus promoting the nervous connections of the person.
"When the horse walks and the rider is up, there's a stimulus that makes the hip move in a smooth and articulated way producing 90 to 110 rhythmic movements per minute which in turn stimulates the participant neurologically, thus producing endorphins and making them more willing to learn. Another benefit is that the body heat of the horse helps when you have contracted muscles", explains Jaraiz.
Types of Therapies
Jaraiz, who studied philology, explained that there are different types of therapies with horses, most of which are offered at the center in Bayamón.
"There is equinotherapy that works with the recreational and therapeutic needs of the entire person at the same time, both the emotional and physical parts. Hippotherapy, in which the horse is used as a tool by physical therapists, occupational In addition, there is also social therapy with horses, which works more with psychotherapy", she says.
"Here we provide almost all kinds of therapies. Last year we were certified in psychotherapy with horses with the EAGALA method (Equine Assigned Growth and Learning Association), which is the only one approved by the American Psychological Association. We have also been approved a proposal to work with adolescents who have been abused in some way", she adds.
Other conditions that people suffer and that can be treated through therapy with horses are: anxiety disorders, post-traumatic stress, Alzheimer's and depression.
Certifying Therapists
Jaraiz explained because of a rise in demand for equine therapies, they have seen the need to certify more professionals.
There is already a group of approximately 15 students that will be certified as therapists in August. The courses are offered in conjunction with the University of Puerto Rico, Río Piedras Campus.
The professional certification for therapists with horses is meant for: counselors, social workers, physical or occupational therapists. An auxiliary therapist certification will also be offered to people who have already had experience working with horses, such as blacksmiths and caretakers of these animals.