The hundreds of Puerto Rican flags that waved in the international waters of the Caribbean last weekend were the first indication of the Puerto Rican celebration in the British Virgin Islands (BVI), known as Christmas in July, which this year broke boat attendance records.
For more than 20 years—albeit more thoroughly organized in the past six—hundreds of boats sail from Fajardo and San Juan, mainly, to go to Pond Bay Beach in Virgin Gorda to celebrate a peculiar holiday festivity out of its regular season.
As in any Christmas party, this activity boasts music and drinks in a friendly, family-friendly environment, and even Santa Claus makes an appearance. Also present are Christmas hats and the jovial spirit that characterizes the occasion.
The main difference is that, because the event takes place in summer, the outfits are limited to swimwear and shorts, and the holiday's scenes are the crystal-clear waters of this British island.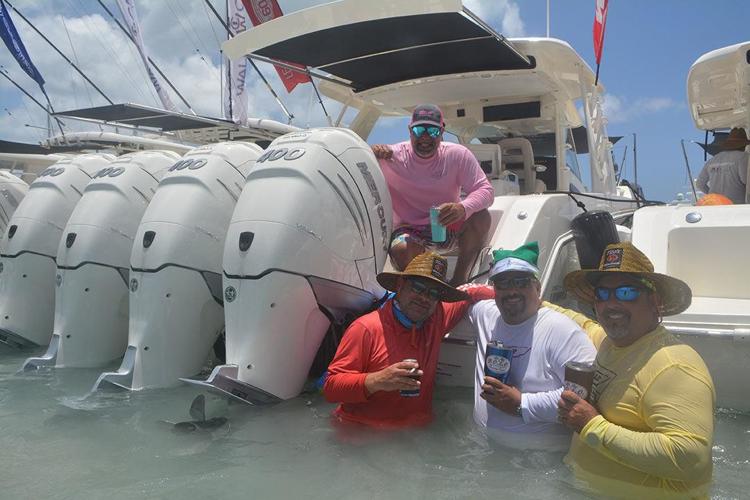 For Federico Gregory this was the eighth time he went to this party and he intends to follow the tradition. Ever since his daughter was born, it became a regular practice for him and the rest of his family.
"I have many friends here, many good things, very good vibes. After the hurricane the party's connotation changed, because the people (the locals) know what it is to be a good Puerto Rican. We were here after [Hurricane] Irma and they realized the human being quality that we have," he said.
Gregory added that they are known among the locals as the Puertorrican Navy because, due to the large number of boats, "we look like a fleet."
While there are hundreds of Puerto Ricans who are repeat visitors, other attendees, such as Alejandro Fernández, enjoyed this event for the first time. Against all odds, the resident of San Juan came to the activity to unwind from stress.
"This is my first time here. The journey was difficult because the boat got damaged, but we are here now. I love the positive energy and that the children, my kids, are having a good time. I'll come back next year," he said.
This is the most successful year to date for the event, with an estimated 400 to 500 boats sailing directly from Puerto Rico and rentals, according to tourism officials.
"Puerto Ricans are our family. This is a tradition and we aim for it to remain this way. We love Puerto Ricans! We welcome them, and the British Virgin Islands and Puerto Rico are a big family," said the BVI's Junior Minister for Tourism At Large Representative, Shereen D. Flax-Charles.
She added that some Puerto Ricans arrive as early as Tuesday and spend the entire week sailing their shores.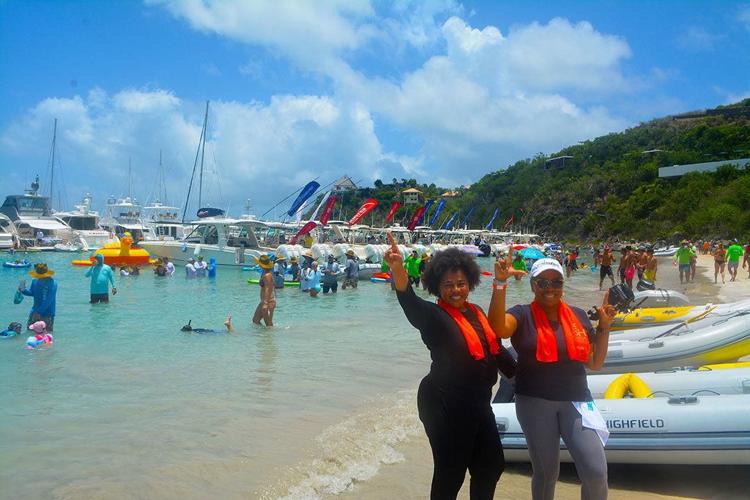 Charles stated that this event represents an important economic boost to the islands, given that attendees consume in local restaurants and businesses for several days.
Moreover, Sharon Flax-Brutus, the director of Tourism, informed that this year the celebration got extended with an activity in Nanny Cay, in Tortola, on July 26; the official event in Virgin Gorda, on July 27; and the after-party in White Bay Beach in Jost Van Dyke, also on July 27.
"What we want is for this to not be a single day, but an unforgettable experience around the attractions of this destination," she said.
Dozens of boats that were present for Christmas in July stayed for the after-party.
The event is coordinated between business owners from Puerto Rico and tourism officials from the islands.
"It is an event that has broken all records this year. In Puerto Rico, it is a tradition to enjoy the last weekend of July in a small vacation and to spend time with family before the kids go back to school. With that in mind, we created a family event in Virgin Gorda to unite the entire nautical community," said Wally Castro, one of the event's organizers.
Apart from Wally Castro Marine, Marcos Rivera and the Tourism Co. coordinate the event.
This year, the party was charged up by The Final Faze, as well as Puerto Rican talent, such as Orquesta La Oferta, who made a tribute to El Gran Combo and Bastón de Diego.
Among the celebrities who were present were comedian Raymond Arrieta, musicians Daddy Yankee and Ozuna, and producer Rafy Pina, from Pina Records.
Arrieta, from the comedy show 'Raymond y sus amigos,' made a brief and humorous stage intervention, in which he imitated Puerto Rico Gov. Ricardo Rosselló—who resigned last week—which caused euphoria among the public.
How to Get There
Although the Puertorrican Navy sails from Puerto Rico to Virgin Gorda for the event, to enjoy this celebration visitors are not required to have their own boat. Cape Air offers several daily flights from the Luis Muñoz Marín International Airport to Tortola and Virgin Gorda. Once there, visitors can rent a catamaran like the ones offered by The Moorings, or any other boat, or they can use the ferry service that has several stops in Virgin Gorda.