Chef Xavier Toro Santos loves Mexican culture. The connection runs so deep that in recent times, he's visited the land of Frida Kahlo eight times and, in his house, he and his wife created a mural to celebrate the life of the painter remembered for her raw self-portraits.
Given his penchant for all things Mexican, it's no surprise that one day, while drinking and chatting about business with his friend Leodany Inojosa, he blurted out the idea of turning a spot that Inojosa owned on Ponce de León Avenue into a Mexican cantina. The secret ingredient: a dash of his own "sazón". Without thinking twice, Inojosa accepted and Puebla was born.
Located in the heart of Miramar, a neighborhood known for its gastronomic scene, Puebla pays tribute to the diverse offerings of Mexican cuisine and, at the same time, offers an intimate corner to indulge and unwind.
"I wanted a name that embodied Mexico and its rich gastronomic experience. After Oaxaca, Puebla has become another popular culinary destination," Toro explained. "The name also connected with our culture. It is close to the word 'Pueblo' (town), which is the masculine noun of Puebla. It was simple and straight to the point."
To start, the chef recruited Kristen Rivera, a mixologist and the executive assistant of his restaurant Rare 125, a steakhouse just a couple blocks away from Puebla. Together they crafted a food and cocktail menu that combines Mexican ingredients with a modern twist.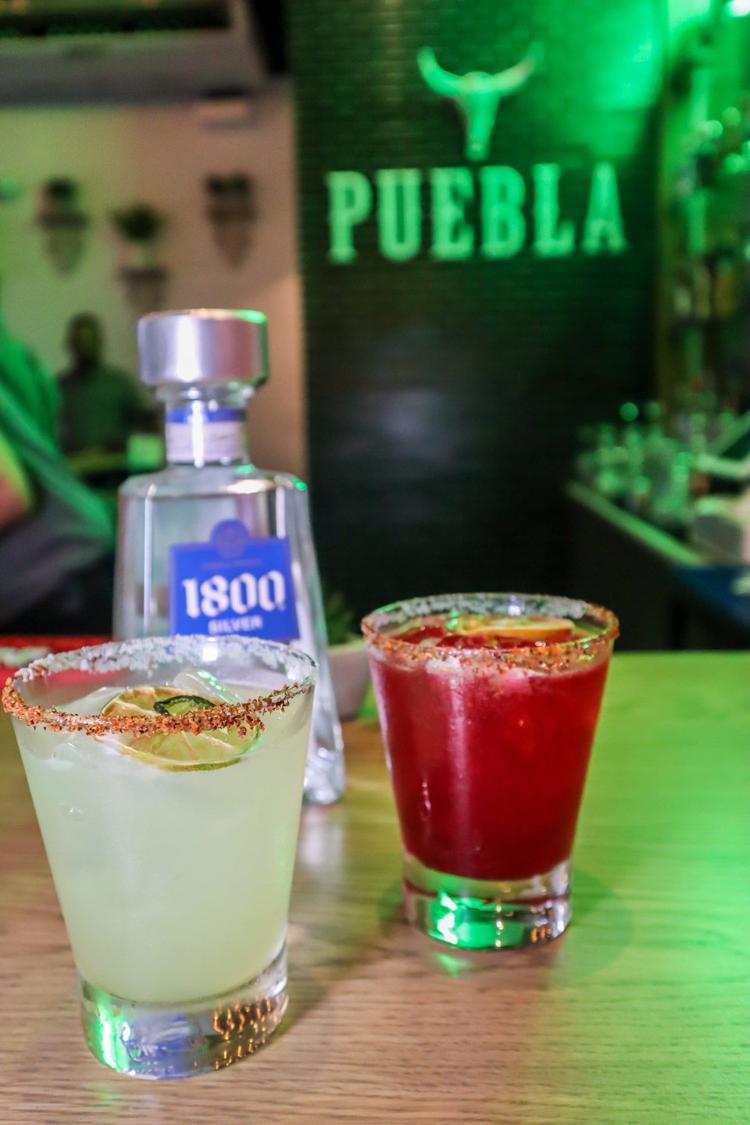 Contrary to the bright colors associated with Mexican art and culture, the restaurant adopts a more demure, rustic and relaxed tone. Decorated with soft lighting and pastel colors in shades of cream and orange, the 12-table eatery -with capacity for 60 patrons- exudes the warmth and charm of a familiar place where everybody knows your name.
"I am attracted to small spaces, to that sense of closeness and intimacy that they create," Toro said.
The menu is unpretentious, yet intriguing. It includes the classic appetizers like refried beans, guacamole and pico de gallo. Entrées come with homemade pork rinds and tortilla chips. For the spicy sauce connoisseur, Toro created four delicious dipping sauces with chipotle, chili peppers, guava and green tomatillos, each one with a different level of heat.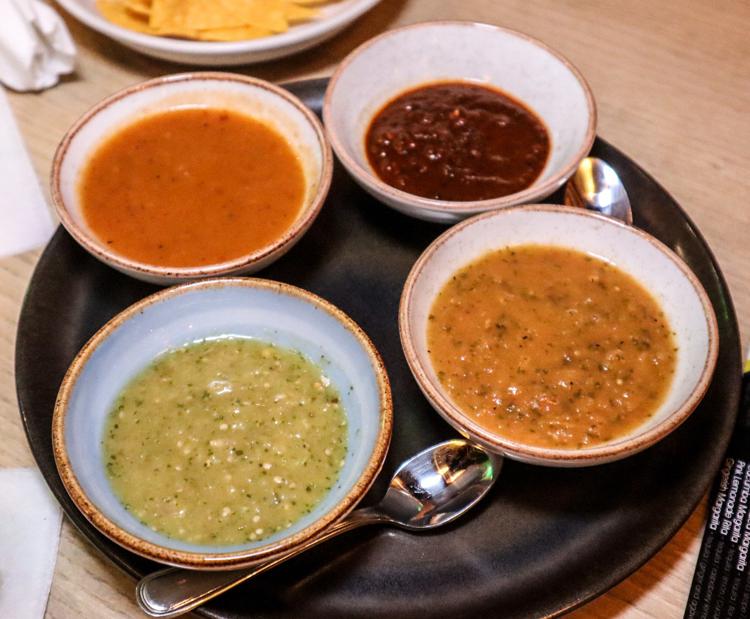 Toro's culinary artistry emerges in the taco selection, served with homemade soft or hard tortillas. Behind the typical names hides an explosion of flavor. "We marinate the meat for hours and in some cases overnight. Then we slow cook it," Toro explained about the process of creating deep flavors.
The chicken pibil taco with pickled red onions has a hint of mole, a staple in Mexican cuisine. Topped with crispy onions, the skirt steak in the carne asada taco is tender and juicy. While the pork in the taco of the carnitas sleeps in Coca Cola, before slow cooking the meat until it gently shreds into a web of flavor, the pork tenderloin in the tacos al pastor marinates for 24 hours.
The menu doesn't include the widely popular fish tacos, but you won't miss them. The tuna taco with jalapeño cilantro aioli hits every note in your mouth. Also on the menu is Toro's new creation: duck confit taco sprinkled with pork rinds and topped with a little piece of bacon.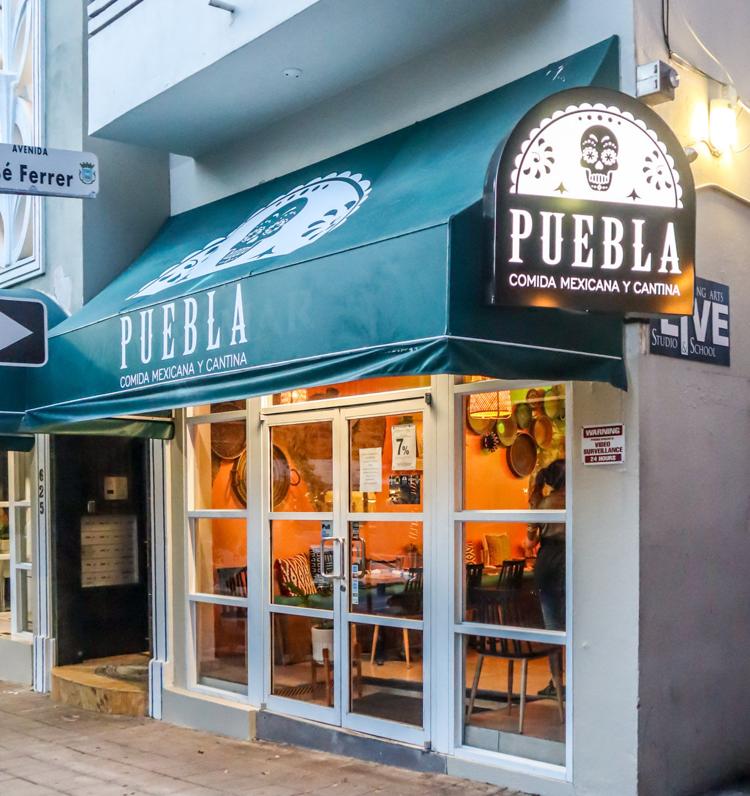 No Mexican menu is complete without the notorious burrito drizzled with cheese, the sizzling fajitas and the slender flautas. All dishes are prepared with your choice of protein. And, as an unexpected surprise, for those diehard fans of corn on the cobb, there's an unbelievably savory corn salad that is just a joyful experience.
"Our plates are elaborated with fresh produce. We offer a mix of flavors that others don't have," Toro told THE WEEKLY JOURNAL during a tasting of the menu.
But it's not all about meat. Vegetarians also matter. The menu of the restaurant that opened a couple of weeks ago, has tacos, fajitas and carnitas plates prepared with nopales, mushrooms and "gandules" (pigeon peas) to excite the demanding palate of those committed to a meatless lifestyle.
Last but not least is the dessert. Toro created his own version of a "tres leches" cake featuring a luscious corn cake drenched in milk; it is a masterpiece. The first runner up: the hot churros sprinkled with sugar and chocolate.
For those who enjoy margaritas, Puebla has some attractive combinations. "I wanted to blend classic flavors with unexpected twists," said Rivera, one of the few mixologists in the local bartending scene.
She came up with the "Flor de Jamaica" (hibiscus flower), raspberry and ginger jalapeño margaritas in a glass rimmed with salt and tajin spice. Other reinterpretations of drinks include the Oaxaca Old Fashion, Paloma and Pink Lemonade Rita. And, of course, the mixologist prepares the ever-popular classic margarita.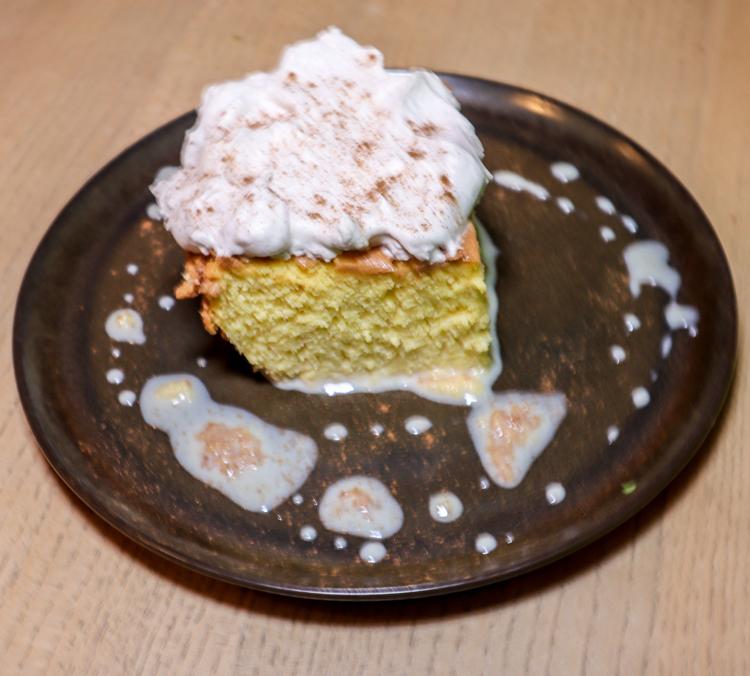 "We have all the tequila and mezcal brands available but we specialize and prepare our drinks with 1800, a premium tequila," Toro indicated of his decision to offer his customers the best.
While Puebla doesn't skimp on quality, its prices are affordable. The price of a drink ranges from $6 to $9 and a beer from $3 to 6. Tacos sell for $4 and the most expensive dish on the menu is the fajitas that sell for $20. The restaurant, located at 625 Ponce de León Ave., has free valet parking and a daily happy hour. It opens seven days a week, from 11:00 a.m. to 10:00p.m.
Simply put: Toro proves that fusion cuisine, done without fancy gimmicks, works. In short: his food is delicious and authentic.