For Nicole Fas, bartending is about creating an experience or crafting a moment of delight and emotion. "The bar is my stage and I am a performer," she proclaims without hesitation.
She really means it.
Once you cross the threshold of the door at Bottega's restaurant, on Loíza street in Santurce, and meet this energetic, affable and intuitive creator of cocktails... you will prolong your stay.
It's 8 p.m. on a Monday night and Nicky -how her friends call her- commands the bustling bar, full of people laughing and speaking loudly. After greeting a couple that just walked in, the pink-haired woman retires to the corner to prepare a drink.
Moving with the poise of a dancer, the mixologist stretches her arms to grab a bottle of rum and a jigger, a measuring cup, then rhythmically pours the golden elixir into one of two shaker tins. Other splashes of liquor follow. "Cocktails are about balance, leading the drinker on a journey through a variety of flavors and accents," she comments.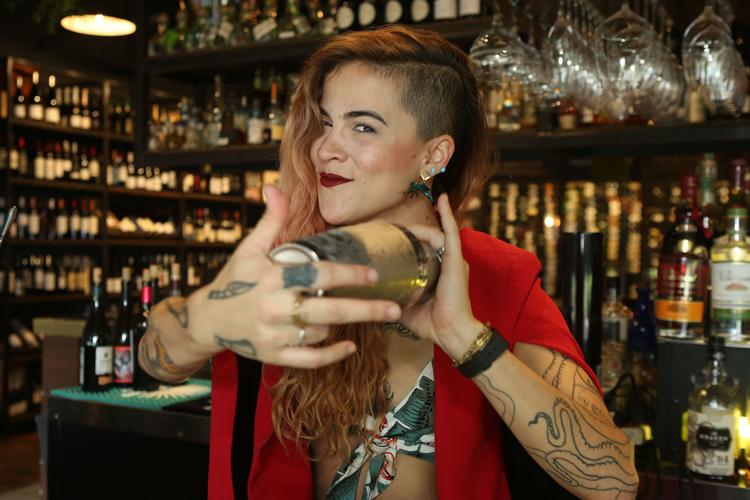 Two taps on the shakers to make sure they are sealed and a vigorous dancing session begins. Firmly, Nicole swings both shakers improvising a rattle that resembles the music of the maracas, a staple instrument in salsa and Latin music. Her body moves smoothly and carelessly to the beat of the impromptu rumba shakers, while she smiles. The bar overflows with energy as the hypnotic chac-chac stops to liberate a subtle licorice-like note when the cocktail hits the chilled glass.
"I love art. I love dancing. You heard the shaking. I want it to sound like music, like a tropical rhythm," Nicole tells THE WEEKLY JOURNAL of her peculiar style of shaking.
"This is art. Cocktail-making is a culinary art and a very pure form of expression. The same way a chef can evoke certain emotions with a well-crafted plate or trigger a childhood memory with just the scent of an ingredient, a cocktail can provide a universe of sensory experience," adds Bottega's bar manager.
Some of that artistry and experimental rumination can be found in 'Ritmo Tropical' (Tropical Rhythm), a rum-based drink Nicole created for the prestigious Bacardí Legacy Cocktail Competition celebrated last May, in Amsterdam. The first Puerto Rican to ever participate in the international event, the girl born in Mayagüez grabbed the second place. The daughter of Virginia Figueroa and Fernando Fas was also the only woman among the top three winners and the only representative of the northern hemisphere.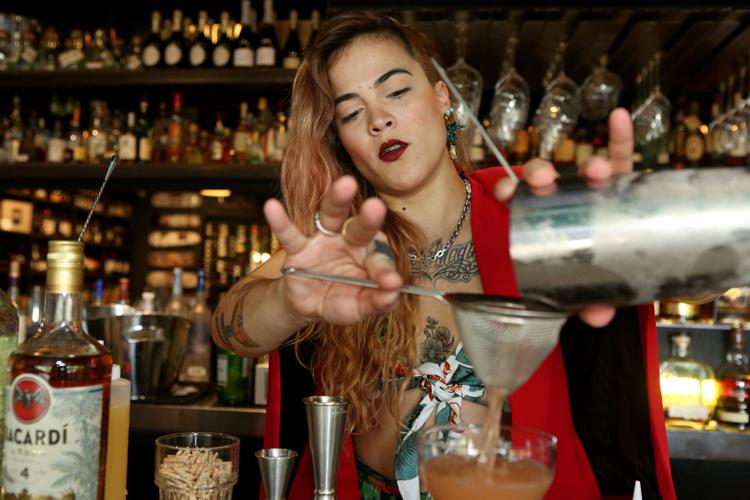 For her signature cocktail, the bartender balances bitter elements with sweet pineapple juice and ends with a spritz of anise. "This drink celebrates individuality and freedom of spirit through the rhythm of music and dance. 'Ritmo Tropical' is something that comes from within, comes from every Puerto Rican. It is the spirit of the Caribbean that speaks through my craft," she indicates of Bottega's best-selling cocktail.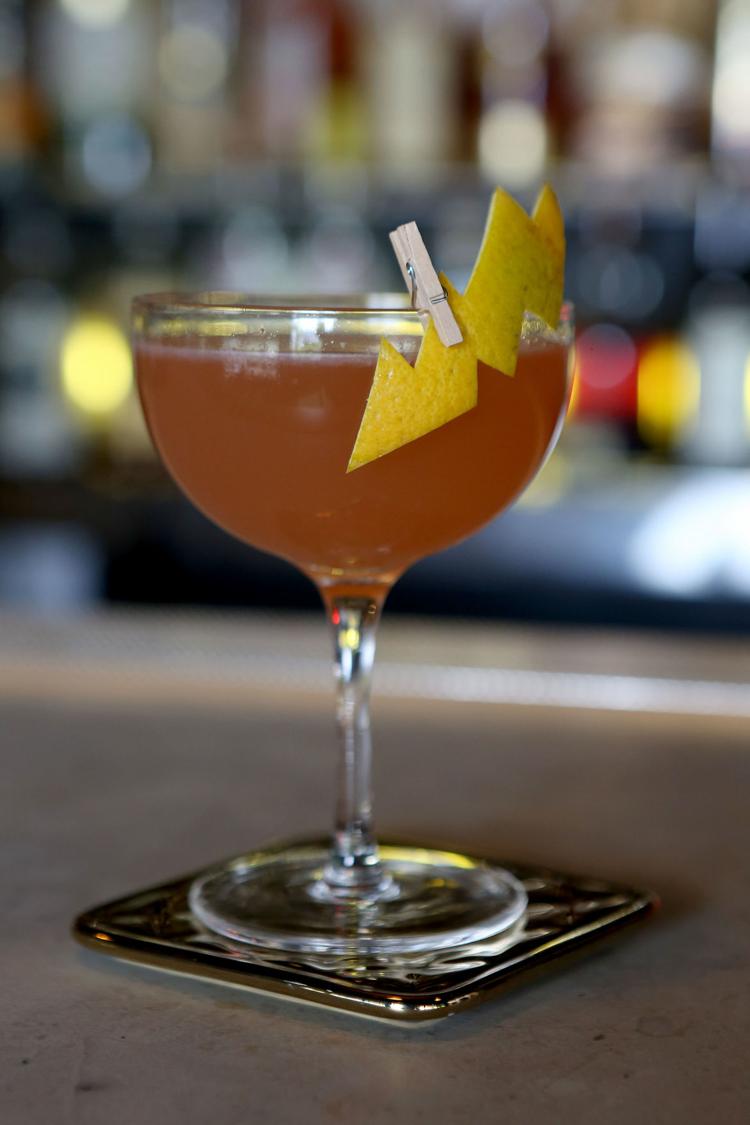 Each ingredient embodies what she calls the distinctly Puerto Rican spiciness, that is also mirrored in Nicole's raucous and spirited personality."The Barcardí Añejo 4 represents the Caribbean sun and the climate, the Martini Bianco represents the elegance of the lady behind the bar, the Peychaud's bitters mesh chemically with the fresh pineapple juice. The Peychaud's bitters are a little anise-flavored and add a bit of bitterness. Bitterness is needed in life in order to have sweet moments."
Puerto Rican nightlife is so vibrant you might be surprised to find out it's almost morning
Formerly a mixologist at La Coctelera and Toro Salao, among a long list of bars in San Juan, Nicky began honing her skills in the restaurant industry at 15, when she started working at her parent's wine bar in Cabo Rojo. Bartending was not on the radar, but the cocktail scene enraptured her while waitressing to pay for art school. The concepts learned in the classroom, and the long hours self-teaching about an industry that was experimenting a renaissance, shaped her style, which combines a symphony of color, texture and flavor.
At 28, Nicole is one of a few women leaving an imprint in the local contemporary cocktail scene, a trade still dominated by men in Puerto Rico.
"This industry is saturated by men, and there are a lot of men that think male bartenders are better. The same thing happens with chefs. I used to work with a chef who would say 'men cook for money and women because they have to'," she mentions. "I think that after I won the Barcardí Legacy, a lot of women felt empowered. Some have contacted me through social media."
Despite the challenges, there has been a surge of women bartenders on the island not at the level of the United States, where 60 percent of the bartenders are women and one, Alexandria Ocasio-Cortez, became the youngest woman ever elected to Congress.
Conscious of the barriers her work is helping bring down, Nicole identifies as a queer bartender because the term embodies the desire to live life and without boundaries, like the 23 tattoos covering her body show. "I embraced the word queer because it stands for being happy with the way you are and not caring about what other people think."
"These tattoos are an expression of art, and feel like valuable jewelry that nobody can take away. I try to get a new one everywhere I go so they are kind of souvenirs."
Of the debate between the terms mixologist and bartender, Nicole explains that a mixologist is a professional that masters the art or science for combining elixirs and creating cocktails, whereas a bartender mainly focuses on serving. To be successful, in her eyes, you must master both sides of the coin.
The bar has climbed its way to number 32 since its opening in 2013, being one of six Latin American bars on the list
"My favorite word is bartender because there is no ego behind it. I am very proud of my craft, but I don't think we should push aside those who don't know how to make cocktails."
For the bartender whose been slinging drinks for almost a decade, the secret of the trade lies in the use of fresh ingredients, premium spirits, creative takes on old classics, like the 'Bourbon and Waffles', a modern version of the Old Fashioned, flawless attention to balance and customer service. She effortlessly remembers each customer's name, favorite drink and shakes hands firmly when meeting someone new.
In the end, the experience of sitting at the bar sipping a cocktail becomes a feast for the senses leaving no question as to why she's considered one of the best barkeeps in town. Like Maya Angelou wisely noted, "people will forget what you said, people will forget what you did, but people will never forget how you made them feel."