"Brrrrruuuunnng!"
The cell phone rang in the stillness of a silent room. On the other end, a woman's silvery, clear voice introduced herself, "Mariel Colón Miró. Sorry, I don´t have good service where I am right now," she said after failing to answer my initial call.
After a brief introduction, questions began to flow. Taking a minute from the hustle and bustle life she leads in New York, the lawyer sat to share stories about her upbringing and life on the island. She is warm and enthusiastic in a way that at times minimizes the coldness of the long-distance call.
She's also discreet, never volunteering more than the essential elements of an anecdote in the very way a clever attorney carefully crafts a cross-examination meant to draw out precisely what he or she wants.
At 26, her name is buzzing in and out the legal sphere. Since joining the New York Bar a year ago, she has represented two of the most notorious defendants in recent criminal law history: the leader of the Sinaloa Cartel, Joaquín "El Chapo" Guzmán, and the financier and convicted sex offender Jeffrey Epstein, who committed suicide last month.
When talking to Colón Miró, it seems her short life has been shaped by random acts of choice and chance. Worried about the shrinking job market in Puerto Rico, she transferred from the University of Puerto Rico's Law School to Hofstra University´s Law School and volunteered at the Criminal Justice Clinic even though she planned to study corporate law. While waiting for the bar exam results, she replied to a dull Craigslist post for a Spanish bilingual paralegal only to end up working for El Chapo's and Epstein's legal teams. Chance took her all the way to a room where she bore witness to Epstein's will just two days before his suicide.
There is more. El Chapo's name didn't ring much of a bell when she took the paralegal position. "I was told it was a position working for one client, a conspiracy, and drug smuggling case. Once I got the job, I asked the client's name. It sounded familiar," she chuckled. "I googled the name and was surprised. I thought somebody was fooling around with me."
Her first meeting with Mr. Guzmán, as she calls him, was another set of accidental events. On the way to the MCC, the lead attorney lost her wallet. Without ID, she wasn't allowed to enter the federal jail. Alone and without hesitation, Colón Miró walked into the visiting room and introduced herself to the notorious criminal who once befriended actress Kate del Castillo.
"We started talking. From that moment on, our professional relationship continued to grow. Mr. Guzmán trusted me," she noted of the man who actor and writer Sean Penn described as a person of "indisputable charisma."
At first, Colón Miró saw Guzmán three to four times a week. Later, she began visiting the MCC almost every day to translate documents and walk him through the legal process. "He kind of became dependent on my style. He liked our working chemistry. He felt very comfortable."
Although chance was key to Colón Miró's present, it was choice that placed her on her second year of law school at the same time that Mexican authorities recaptured El Chapo after his movie-like escape from prison in a motorcycle; their paths meant to collide. After passing her bar exam, just two years later, she calmly sat across the glass partition of the visiting room at the Metropolitan Correctional Center (MCC) in downtown Manhattan to tell El Chapo she was leaving his legal team. After working five months as a part-time bilingual paralegal for one of the three firms representing him, the newly sworn-in lawyer had accepted a job with the Legal Aid Society.
"I attended the swear-in ceremony and then visited Mr. Guzmán. He told me he wanted to hire me as a trial attorney and would have one of the firms in the case hire me and that's what happened," she narrated nonchalantly.
Nine months out of law school, she became an associate at the law offices of Michael Lambert and the only woman sitting on the defense table during the kingpin's three-month trial. "It was funny. Lead lawyers always like to sit next to their clients. It's normal, but the client [El Chapo] would always say 'this is Mariel´s chair' because he wanted me close," Colón Miró told THE WEEKLY JOURNAL.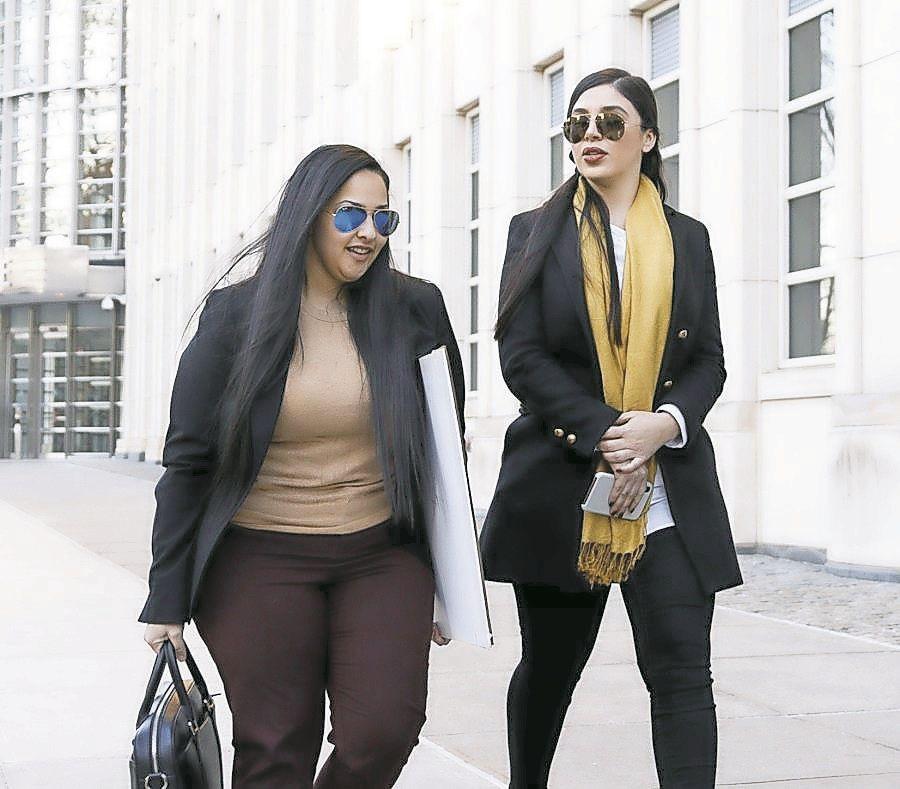 Woman in the Picture
During the trial, only one woman would be photographed next to El Chapo and his wife, Emma Coronel. Who was she?
Growing up between Carolina and San Juan, before moving across the Atlantic, Colón Miró learned how to write, read, and dream at well-known Josefita Monserrate de Sellés School. After graduating from Academia Maria Reina, and studying music business at Loyola University in New Orleans, she hoped to establish a corporate practice dedicated to the entertainment industry. While at law school, she discovered a passion for criminal law upon volunteering at the criminal justice clinic, "I saw the court as my stage and the judge as my audience."
Colón Miró, the daughter of Héctor "Ito" Colón, the artistic director of famed Puerto Rican singer Lucecita Benítez, and Annette Miró, a medical technologist, has a younger brother, Héctor. He studies economics and is the first Puerto Rican martial arts competitor selected by the United States Mixed Martial Arts Team, she highlighted with pride.
A fan of bolero songs (slow-tempo Latin music), Colón Miró has music from Justin Bieber, Lady Gaga, Lucecita, Ednita, Rocío Durcal, Karol G and Bad Bunny in her iPod. However, she especially admires Mexican singer Ana Gabriel and Puerto Rican singers Olga Tañón and Pedro Capó.
"When I want to get things done, I listen to Olga's "Muchacho Malo" (Bad Boy)," said the woman who will turn 27 next month.
New Horizons
Besides working on Guzmán's appeal, Colón Miró helps Coronel with her fashion line, "El Chapo Guzmán: JGL."
"She generated money on her own, here in New York, last year. It has nothing to do with her husband, not even México," she said, rejecting possible ties to dirty money. "She does business within the fashion industry in New York. She is an entrepreneur... She is trying to live a quiet life."
From her vantage point, questions over the morality of defending 'despicable' clients imply a misunderstanding of the legal profession. When I asked her why she´s defending Guzmán and Epstein, Colón Miró argued that each person is presumed innocent until found guilty.
"We have a right to make mistakes and to remake our lives. One or two mistakes cannot define who you are and don't determine if you can change as a human being," she said. "From a moral standpoint, I'm here for a reason. My purpose is to help people, to be there when everybody has turned their backs on them. I am not God to judge," said Colón Miró before saying good-bye.
[Silence]
"Woop woop!" A direct message from Colón Miró appeared on my Instagram account.
"Pleaseeeee, can you use both last names. I am proud of my mother's surname and in the states they always drop it."
"Of course," I replied.