For more than a week, a small manatee found in the waters of Panama has been recuperating at the Inter American University's Manatee Conservation Center of Puerto Rico to boost its recovery and eventual release back to the wild.
The animal was rescued by Panamanian citizens on Jan. 27 in Costa Abajo, Colón, an area near the Panama Canal. The manatee, an endangered species, requires specialized care that is not currently being provided in Panama but the Manatee Conservation Center has had the resources to provide such care since 1989 through the Caribbean Stranding Network.
Panamanian authorities said finding the marine mammal, a West Indian manatee (Trichechus manatus), was unusual and the first of its kind found in decades.
The transfer of the small manatee, named Moana, to Puerto Rico was part of a collaborative effort from public and private entities from the United States, Panama and Puerto Rico.
"The Fish and Wildlife Service is proud to collaborate with the relocation of Moana as part of its rehabilitation efforts," said Edwin Muñiz, field supervisor at the Caribbean Office in Puerto Rico. "This species has been recovering within its group of endangered species and we will continue to collaborate to conserve and protect marine life and its habitats" he reiterated.
Moana is expected to be released in Panamanian waters upon her successful recovery. Antonio Mignucci, Manatee Conservation Center director, said the process to return Moana to the wild will involve a series of care and preparation of about two years.
In related news, the center has also released two manatees back into the wild at the Río Espíritu Santo, in Río Grande. The manatees, named Mabó and Tureygua, were rescued in the areas of San Juan and Isabela. "They have been with us for three, four years and now we want them to have their own lives with other manatees, not with humans," Mignucci said.
Animal lovers and conservationists are calling on the public to respect manatees and other wildlife in Puerto Rico. Here are some "Manatee Manners," as recommended by the Save the Manatee Club.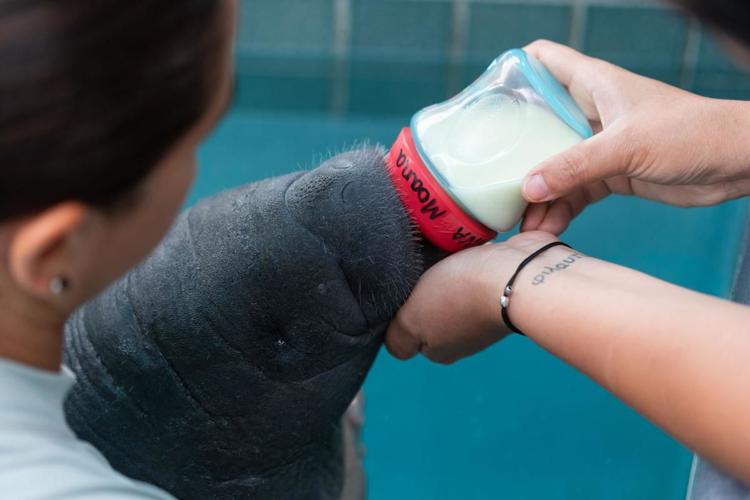 Manatee Manner #1: Practice passive observation from a distance.
Viewing manatees from a distance is the best practice for the manatee's health and safety. This includes the practice of passive observation, or quietly observing manatees from above water. Additionally, passive observation means never touching, approaching or chasing manatees. Any of these actions are considered harassment, which is against the law.
Manatee Manner #2: Don't give food or water to manatees.
Wild animals should never be fed by people, and manatees are no different. While manatees are not aggressive, feeding them or giving them fresh water could cause them to change their natural feeding behavior. Wild manatees can find plenty of food and fresh water sources on their own.
Manatee Manner #3: Be aware while boating and kayaking.
Keep your eyes peeled for manatees while boating or kayaking by wearing polarized sunglasses and scanning for manatee snouts, tails and backs. In your motorboat, slow down in manatee habitats, and if you spot a manatee close by, cut your motor. Don't forget to stash your trash, especially fishing line or hooks, that could injure or entangle manatees.
Manatee Manner #4: Look, but don't touch while swimming and diving.
If you see manatees while swimming, snorkeling or diving, do not touch or approach them — practice passive observation. It is especially important to avoid getting between a mother and calf if you are in the water. Curious calves are wild animals that are dependent on their mothers to learn essential survival skills. They could die if they are separated from their mothers.