Although "the price I had to pay to accomplish my dreams was to be away from my family", Spanish model Águeda López says that 2019 was "incredible". López, who is married to Puerto Rican singer Luis Fonsi, and has two children, Mikaela and Rocco, who are 8 and 3 years old respectively, says that last year was her busiest ever, having modeled in London, Paris, Milan and New York, among other cities.
Aside from strutting down the catwalks of fashion's most important cities during 2019, she also spent a lot of time in Puerto Rico, for business and pleasure. She modeled for some of Puerto Rico's biggest designers and had commitments as Kérastase's brand ambassador. Taking time out of her busy schedule, she sat down to talk to THE WEEKLY JOURNAL about her plans for 2020 and her secret to a happy life.
"I am incredibly happy. It's always an honor and privilege to be in Puerto Rico, it's like my second home. I wish we could come more often because I never tire of being here," said López.
"I was here three times in 2019, and every time I come I learn something new. This time, "El Yunque" really impressed me, I cannot believe what I had been missing out on! There's a lot of talk about Puerto Rico's beaches, which are beautiful, but I would have never imagined that "El Yunque" would be so spectacular. I'm in love! It has such a special vibe," she continued. She fell so in love with the rainforest that she went on to say that "I'm going to get everyone to visit Puerto Rico and its beaches, but especially, El Yunque."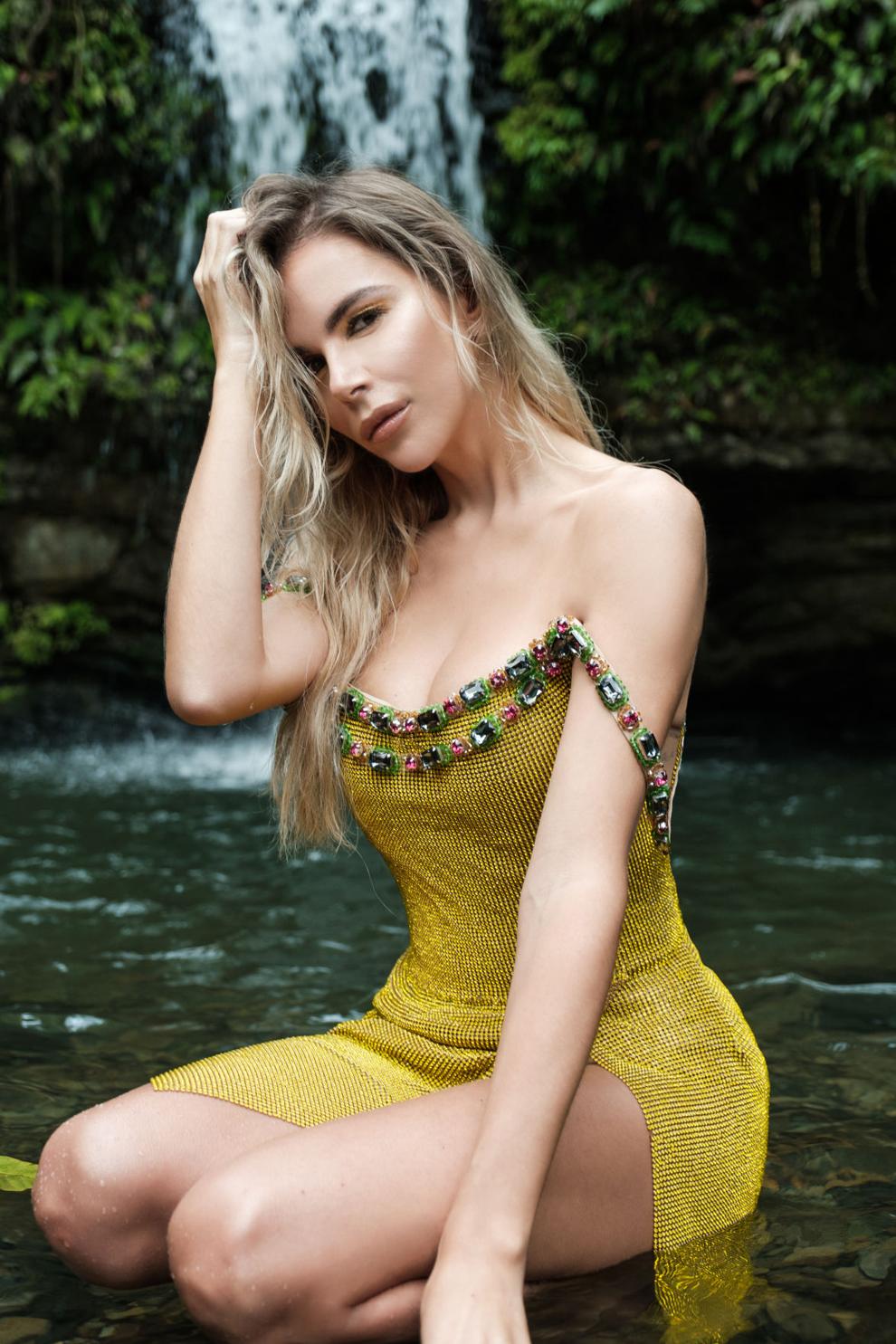 When asked about the clothing line she is launching with fellow Spanish model Joana Sanz, López is quick to point out that they are still in the early stages of registering the brand and making an official launch. She hopes that the brand goes global.
"I am very excited and anxious over being able to present this new project we've been working on. I like to say it's a luxurious project, but I don't mean it cost-wise, I am referring to the design. The products are down to earth, very accessible. Things have been running smoothly, the factories are working on the designs. The only thing we have left to do is for me and Joana to introduce the designer, so that people get to know him," she stated.
This is not the first time that the Miss Toledo 2000 embarks on a clothing line. In 2013, and inspired by daughter Mikaela, she launched a children's line named Mikaboo. However, because she was in charge of everything from designing to supervising, she was having trouble with her other commitments. This time around she feels more confident.
"This time I am doing everything in a more organized way, more professionally, with a partner whose passion for fashion is like mine, and working with an excellent designer who has a great vision. The clothing line will be launched online because we want it to be international," she added.
López also mentioned that they have already presented some of their items to the world, albeit it, by being worn by celebrities like Maluma, Luis Fonsi and soccer players Neymar da Silva Santos and Dani Alves.
"We wanted to launch sneakers first because we think they're fun. However, the line is going to have more shoe styles, dresses, ready-to wear. We even want to dabble in beauty. We want our brand to be global, limitless. We have a very good feeling about it because we have had many celebrities interested," she said.
The line will initially be available online only, although she's open to the idea of having an establishment at which they could be sold.
"Because the sneakers have already been worn by celebrities, we've already had people approach us about selling them in Brazil, Puerto Rico and even Miami. However, we are concentrating now on the official launch and spreading word of the brand through Instagram and over the internet. We will figure out additional distribution strategies later on," added Águeda.
Fashion and Philanthropy
A clothing line is not all that Águeda has in mind for 2020, as she hopes to continue receiving invitations to model and engage in different projects around the world.
"I've received a few acting offers which I have declined because I do not feel I'm ready for that. I know about fashion, it's what I like and it's where I want to stay. If I eventually end up as a fashion contributor on television, then, great. I have to think long and hard about the offers I get because I don't want anything to take away from my career as a model and further developing my brand," she stated.
López enjoys designing and strives to find ways in which to satisfy that desire. This past December, she joined forces with Puerto Rican designer Damarys Caro and worked on the design of a bracelet named "Vida" for Caro's line, Karola & Co. She describes this project as "beautiful" because the proceeds from the sale of the bracelet went to the Luis Fonsi Foundation, an entity that has been working on the reconstruction of La Perla in Old San Juan, where her husband shot the video for his and Daddy Yankee's 2017 hit, Despacito, starring Zuleyka Rivera, Miss Universe 2006.
"That project took me a bit outside of my comfort zone but it was really exciting. Designing a bracelet isn't just any random thing. This bracelet represents the development of projects that are needed in Puerto Rico. Even though people think we are only working with La Perla, we are also focusing our efforts in identifying other communities which need assistance," she continued.
Aside from the foundation, the Fonsi López family continually supports other international nonprofits.
"Fonsi has been very involved with other nonprofits, as is the case with St. Jude's Children's Hospital. On my part, I devote time to the "Querer" Foundation in Madrid, which helps children who need special education after having suffered neurological conditions. I have had the chance to sit with some of these parents and hear their stories, they really do hit you hard when you are a parent yourself. I feel for things that affect children, like hunger in Venezuela…," added Águeda.
"Being able to help is a blessing from God, we cannot let it go to waste. We are in this world to help others. If God has blessed me with the opportunity to make a positive impact in this world I am going to seize the opportunity to do it. Solidarity is something that you engage in as a family. It is very important to me to have my 8-year-old daughter see how I help and worry about other children," she said.
Family Life
López describes herself as very family-oriented, although she is quick to point out that being away from her parents has been the ultimate price she's had to pay in order to accomplish her goals. She went on to add that one of her biggest dreams was to have a family. She enjoys spending as much time as she can with them, and is always grateful that she's able to keep a roof over their heads.
"I don't take anything for granted and try to thank God every day. I love when Mikaela is done with homework and we sing and dance on the bed while she tells me about her day. Rocco, on the other hand, tries to talk to me in this half language that I still can't identify as Spanish, English or Russian… These are the moments when I realize how lucky I am," said Águeda.
As a mother, wife, model and entrepreneur, López has many responsibilities. However, she strives to enjoy every aspect of her life. When she's modeling, she gives that her all but, when she's with her children, it's all about them and she trades in the glam life of high heels and haute couture dresses for her favorite uniform of sneakers, shorts, a tee and a ponytail so that she can enjoy the biggest adventure of her life: motherhood.
The secret to doing it all: balance.
"As an individual and as a woman it is great to be able to realize one's dreams, but I don't accept every job I am offered. I pick and choose my projects because I know my kids need to grow up with their parents. It's complicated, but doable," she said.
Fortunately for her, technology makes life easier.
"Fonsi and I Facetime a few times a day, both before he goes on stage and after he gets off it. Facetime also helps me study with my daughter when I am away," she concluded.