From an early age, Ángel Manuel Soto would admire a variety of films and create his own home movies, hoping to one day become a part of the filmmaking industry. Fast forward to the present, when his most recent motion picture, "Charm City Kings", premiered at the prestigious Sundance Film Festival, the largest independent film festival in the United States.
Soto, who grew up in the Santurce sector of San Juan, recalled that his passion for the big screen began when he saw "Indiana Jones" in the movie theater. The Puerto Rican director, writer and editor knew that someday he would have his own work available for the public to view and reflect on. He was particularly mesmerized by the works of Mexican director Alfonso Cuarón, who he praised as a major inspiration due to his versatility and impactful, award-winning cinematography.
"I was self-taught… the whole [filmmaking] process blew my mind. I would go to Border's whenever I could and buy books about cinema so I could learn how to do it. I was fortunate enough to have school teachers who [the other students and I] let us create home movies instead of writing essays, so we made movies," he told THE WEEKLY JOURNAL.
Soto hoped to obtain a college degree in filmmaking so he could expand his social network while allowing himself an element of prestige. Ultimately, however, he settled on architecture and advertising, which proved to be assets in his cinematic endeavors. Architecture, for example, allowed him to develop a keen sense of space perception, and how an individual relates to that environment—essential when shooting a scene. Moreover, advertising helped him understand consumer psychology.
"That art of persuasion or making people develop an interest in something… I wanted to know the consumers' psychology and I did. […] Despite a lack of knowledge or a lack of connections, I believe that advertising helped me get into [movie] festivals," he explained.
He hopes to make moviegoers challenge the status quo and think about how to create a more inclusive society that addresses the plights of marginalized communities. His 14 films and shorts share a common element of exposing corruption, ostracism, elitism and social inequality.
The geographical and political insularism of Puerto Rico has inspired his work. Soto acknowledges that he grew up in a "privileged" household, with access to higher education, but claims the island's sociopolitical relationship with the United States, and the corruption scandals within the local government, made him gain an understanding of the plight of those less fortunate.
"My parents were very frank with me early on and they didn't allow my privileges to strip me of empathy. I intend to participate in the creation of a more empathic world where we can all have the same opportunities, or eliminate that alleged meritocracy that only benefits the ones on the top. I want to touch on those issues and bring attention to the situations and metaphors that are very intrinsic to us but that are also universal," he stated.
"The Farm," a film he released in 2015, deals with this issue. According to Soto, this piece was a metaphor for Puerto Rico's insularism, the way in which we are globally perceived and the relationship between the locals with the federal and local government.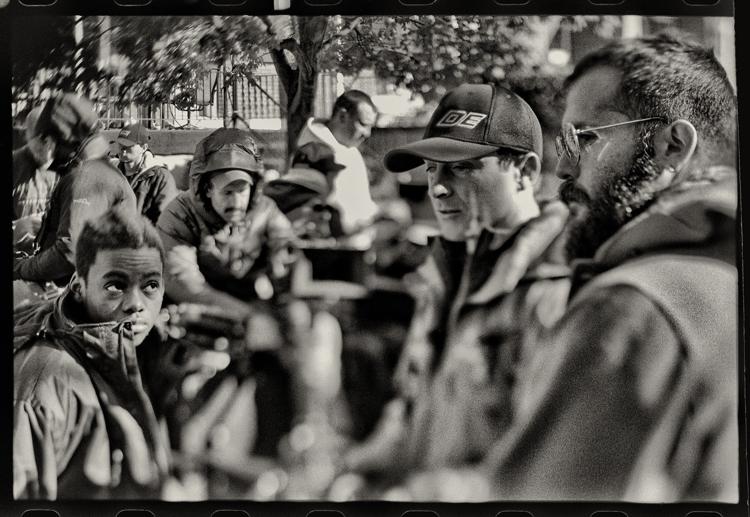 "Charm City Kings", a Universal Experience
Soto's concern with exposing perceived injustices is also visible in "Charm City Kings," which premiered on Jan. 27. This coming-of-age story tells the tale of three African-American friends in Baltimore who decide to join the Midnight Clique, an infamous group of dirt bike riders. Soto explained that dirt bike riding offers an outlet to these youth—escapism from the harsh realities of their social standing.
"To them, that is their way out; those are their Michael Jordans, that is their sport. The movie offers an opportunity to see that world through the eyes of these three friends, over one summer. Viewers will see how decisions can sometimes make you mature too early," he elaborated.
The film stars Donielle Tremaine Hansley, Teyonah Parris, Jahi Di'Allo Winston, Kezii Curtis, Will Catlett and rapper and activist Meek Mill. The screenplay was adapted by Sherman Payne from a story written by Kirk Sullivan, Chris Boyd and Barry Jenkins—the latter of which directed and co-wrote the critically acclaimed and Academy Award-winning film "Moonlight."
When asked about what captivated him about the story, Soto said that it allowed him to talk about topics that interest him.
"Although I would love to do a movie in Puerto Rico with Puerto Ricans, I felt that I could explore issues that are relevant to Puerto Rico like this as well. It is a story that you could do in Santurce and the only thing that would change is an idiosyncrasy here and there. Apart from that, it is a story that I believe is very universal in bringing up the conversation of what we are doing with our youth, the opportunities we are giving them and the things we are doing wrong," he asserted.
The film also allowed him to collaborate with big names in the industry, such as James Lassiter and Jada Pinkett Smith, who served as executive producers. Soto stated that the entire experience has felt surreal and that he feels "thankful" and "blessed."
"Who would have thought that a guy from Santurce would ever be at Sundance? I still can't believe it… to be able to have the opportunity of following my dreams and goals, looking back at all the sacrifices I've made and all the things I've had to leave behind to follow those dreams… [Puerto Ricans] are capable of doing that and more. This is very overwhelming and it inspires me to continue," Soto said.
"Charm City Kings" will be released in select cinemas on April 20.