Written in strikingly bold letters on a huge chalk board attached to the wall, are the farms from which Cru on calle Loiza gets its fresh organic produce every week. On last week's board was Zona Tropical in Cidra, El Josco Bravo in Toa Alta, Rooftop Garden in Cupey, Finca Las Viandas in Hatillo, Finca Narváez in Naranjito, and Microgreens del Caribe in Lares.
The farm-to-table concept has taken a life of its own and is now more than just a simple popular trend expected at any new, fine-dining restaurant that opens its doors in Puerto Rico.
That's how Charlie O'Donnell, owner and long-time businessman, sees it. O'Donnell opened Cru in March of last year, barely a year after Hurricane Maria, betting that it was the perfect time to come and invest on the island.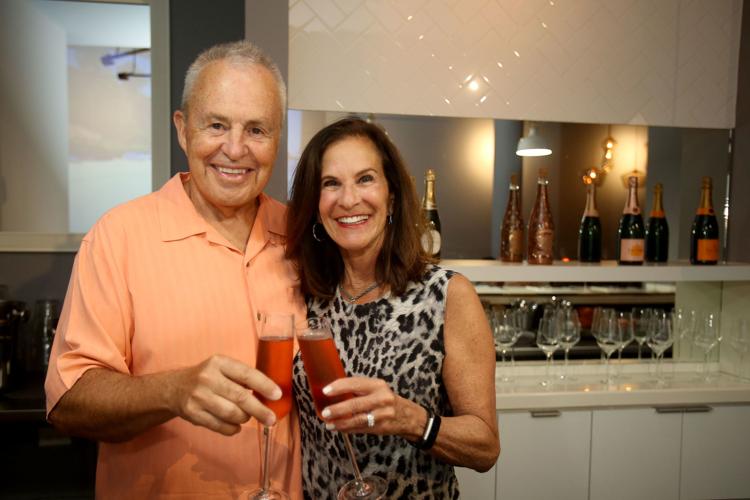 "It helps the economy. Puerto Rico should be self-sufficient in agriculture, they shouldn't be importing as much food from the states as they do," said O'Donnell.
The $400,000 investment created 38 jobs that went to Puerto Rican employees, the only employees O'Donnell wishes to hire. He gave complete creative control of the menu to Chef Iván Perez, who created a unique and innovative Caribbean-infused, varied menu, offering quality meats like filet mignon, steak and porkchops, and fresh seafood like salmon, octopus and shrimp.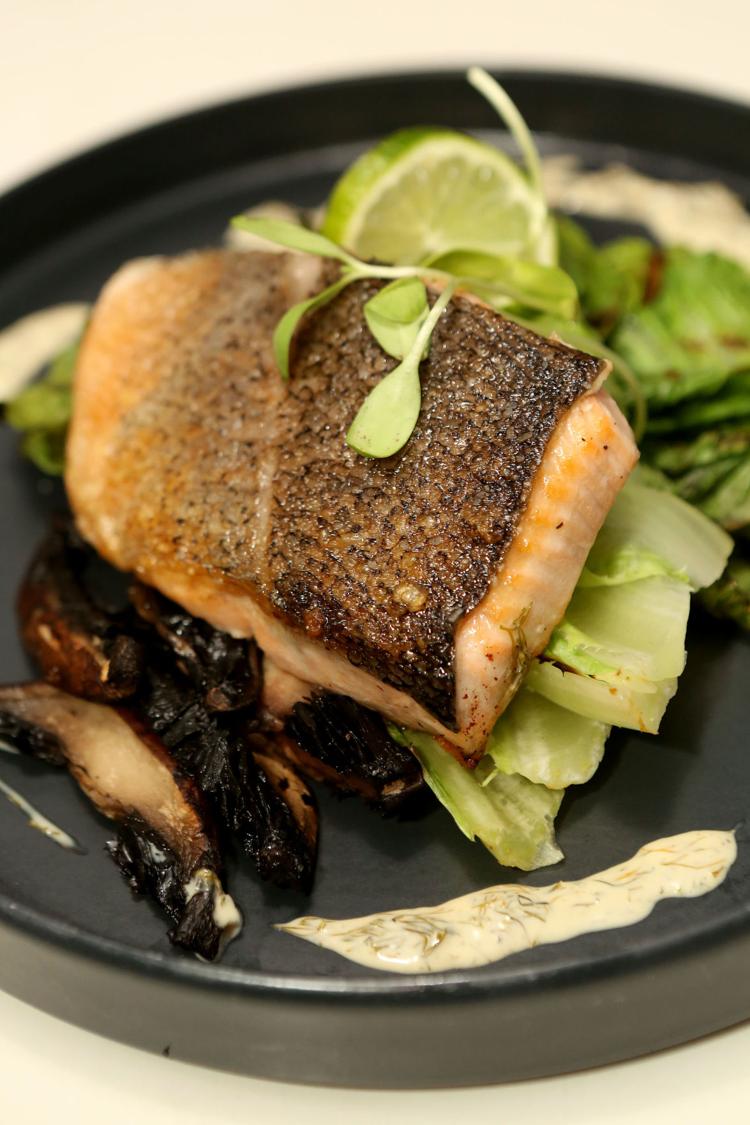 The Salmon 1604 is a beautifully grilled salmon filet drizzled in coconut curry sauce that sits over a sweet and soft sweet potato mash. The combination of flavors balance each other out perfectly. The dish is a nod to the Caribbean style of food that O'Donnell had in mind for the restaurant. Things like Octopus Salad, Ahi Poke and tostón-tortilla-Ceviche Tacos are also on the menu.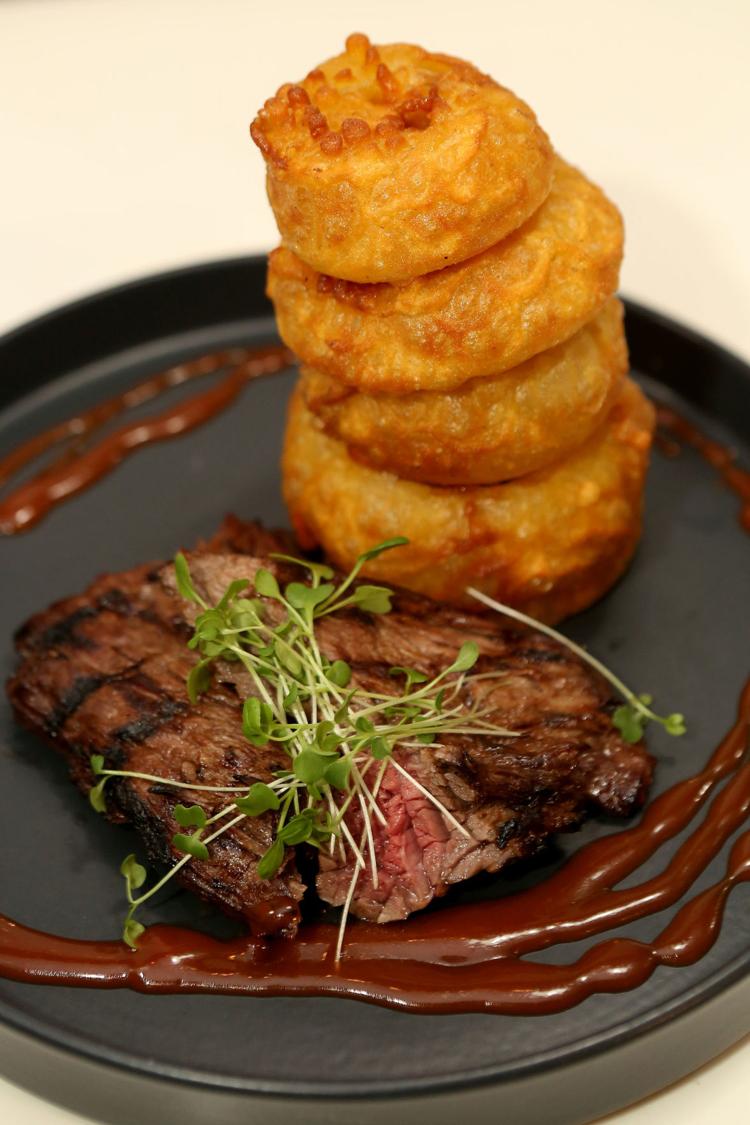 Meat lovers must try the Caramelized Boston Steak, which includes a special secret Boston-inspired marinade that O'Donnell requested for the menu as one of the only two things he asked for. The other, onion rings to accompany the steak. Being from Massachusetts, a steak and some onion rings could not be forgotten when concocting the menu.
Also on the menu is the perfect appetizer: the Longaniza Dip. Artisanal pork sausage from Naranjito is blended together with creamy sweet plantain and served with crispy malanga chips for dipping.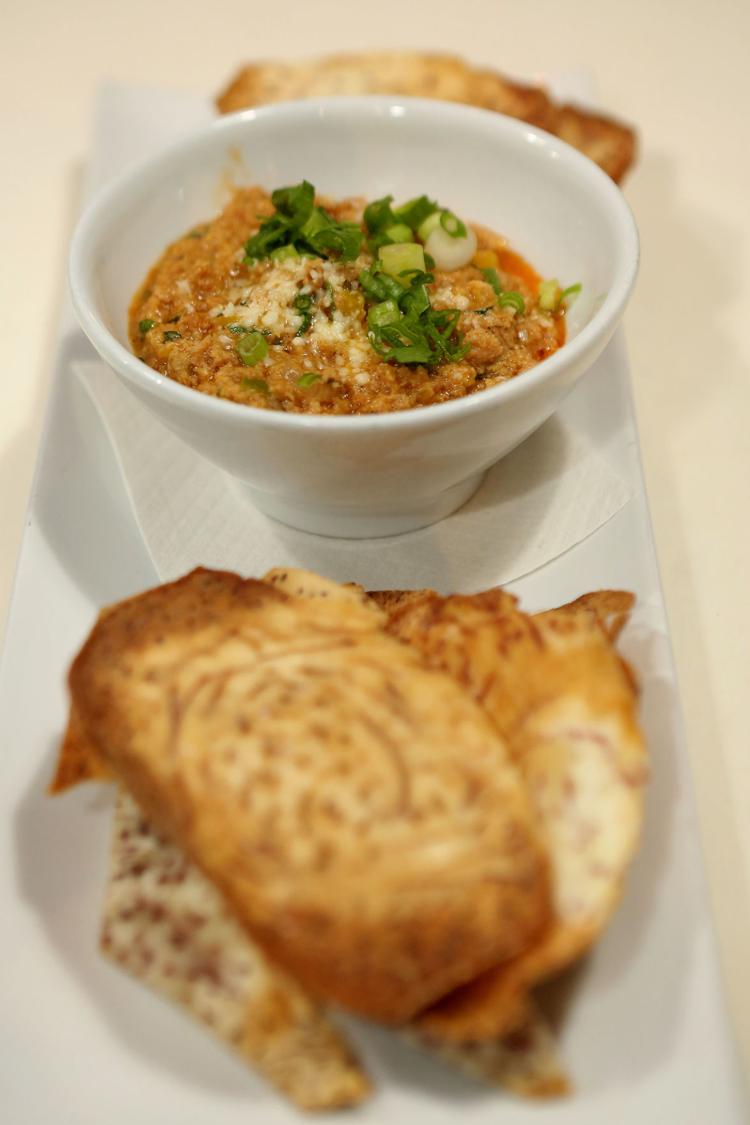 The food menu is not the only varied menu, as their list of cocktails includes numerous creations with rums, whiskeys, tequilas, vodkas, and sangria. There are also beers like Ocean Lab, Medalla Light, Heineken and Corona Extra along with wines.
The Golden Ginger is a good drink to kick things off with: aged rum, ginger, cucumber, ginger syrup, lemon juice, and club soda. A soft and sweet drink, but powerful in flavor nonetheless.
A proper visit to Cru would definitely not be complete without trying the Chocolate Lovers dessert. The name is exceptionally appropriate. A rich and chewy hot fudge brownie is topped with a ball of dreamy chocolate hazelnut homemade ice cream and layered on top is an extra gooey chocolate ganache. It is chocolate heaven.
For their brunch menu, unique dishes are listed like the Chocolate Bacon Madness, which are handmade pancakes with their chocolate hazelnut ice cream, bacon, almonds, fresh fruit and honey cinnamon sauce. Brunching at Cru on a Sunday is a fun way to get out of the house if you're looking for something to do with your pet.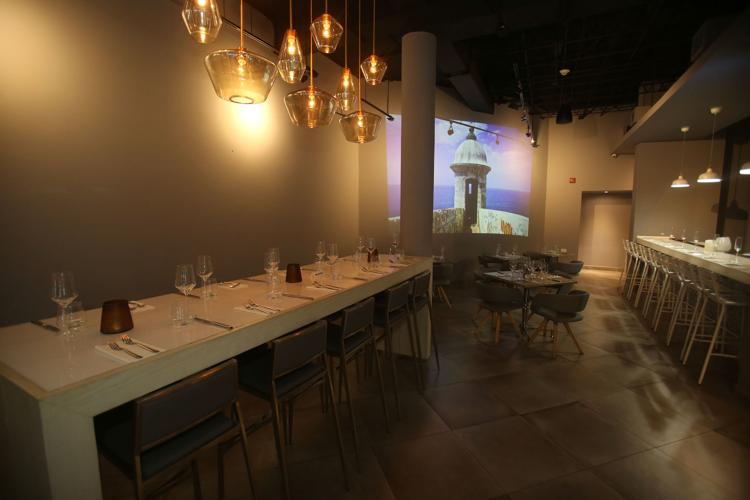 Hoping to bring in a younger crowd, they have added Happy Hours on Wednesdays and Thursdays, as well as brunch on Sundays, with bottomless mimosas at $18. On Wednesdays they have Taco and Margarita specials and on their Bubbly Thursdays they have Brut and Rosé by the glass at $6.
"We love the tourist business, but we want people that are local to come here. This is your place," said Jaenie Haas, O'Donnell's wife and partner in putting together the restaurant. Haas said everything used in the restaurant is 100% Puerto Rican produced.
"Even the beautiful wood that we used for our top shelf bar we wanted to make sure was from here," said Haas.
Lovely vibrant ocean blue colors fill the insides of Cru, with a beautiful lounge area next to the entrance that could comfortably accommodate a few guests if you wished to have a private event. The dimly-lit bar and lounge atmosphere is perfect to gather with friends and family to celebrate any occasion.
Outside they have a private patio with additional seating where guests can enjoy the buzzing and booming Calle Loíza, where people from all walks of life come to enjoy local food, arts, culture and entertainment. Out on this patio they also host barbecue parties that attract locals and tourists alike.
Cru is open Wednesdays and Thursdays from 5:00 p.m. to 10 p.m., Fridays and Saturdays from 5:00 p.m.-11:00 p.m. and Sundays for brunch from 12:00 p.m. to 8:00 p.m. You can make reservations via Facebook or by calling 787-985-1604.