Chefs René Marichal, Raúl Correa and Xavier Pacheco operate as one entity. The trio has recently opened BACOA, a restaurant that grows and cultivates its own produce on the mountains of Juncos.
BACOA is yet another drop in the farm-to-table wave that has arrived on the shores of Puerto Rico. The movement continues to grow, and Marichal, Correa and Pacheco have been a part of it since its beginnings by collaborating and supporting small farmers since 2014.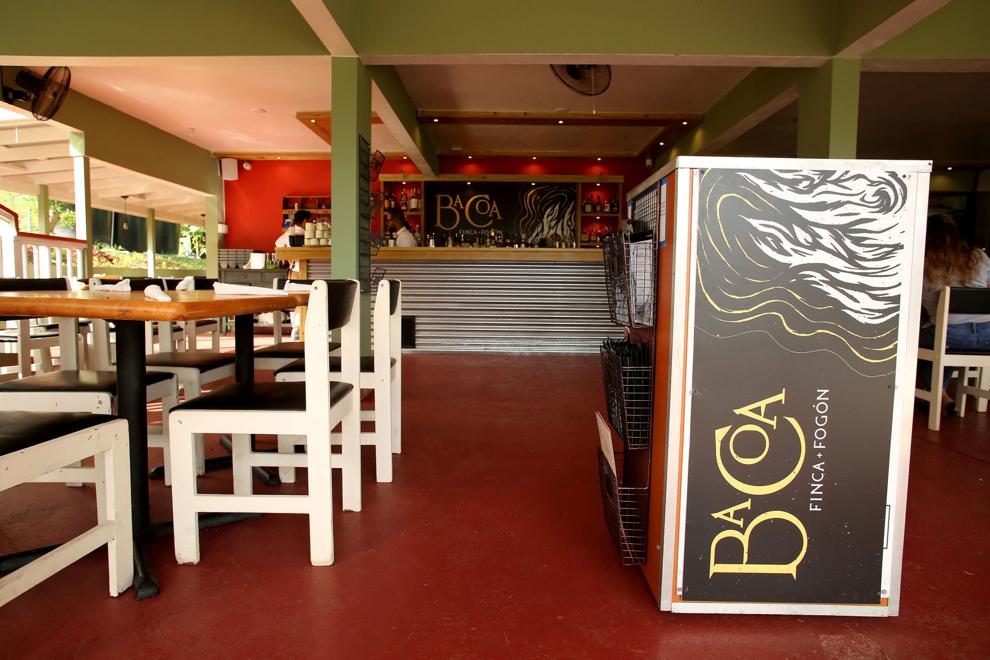 BACOA, a play on the Taino-rooted word "barbacoa", was chosen as the restaurant's name as an ode to the act of cooking "al fogón", a method that lends an exquisite yet particular taste to food. When you taste the grub, you taste the "fogón", you taste culture, heritage and, most importantly, you taste the overwhelmingly Puerto Rican energy that BACOA embodies.
The new restaurant, and its locale, is a celebration of Puerto Rico and it is evident on everything from the options on the menu, to the actual physical menu, designed by a local artist, to how the dishes are prepared. The only thing that is not local is the American oak wood used in the firewood oven and the "burén" they use to create their delicious offerings. BACOA also wishes to be eco-friendly and chooses to use compostable take-out containers and straws.
"Every single dollar that is invested here supports the hard-working families that supply us," said Arnaldo Hernández, BACOA's general manager, mixologist and long-time friend to the chefs. In keeping with the farm-to-table concept, Hernández created a bar that uses natural juices from fruits like soursop and passionfruit grown on BACOA's 3.4-acre farm.
Goat cheese and rabbit from Juncos, guinea from Las Piedras, pork from a hog farm called La Ceba in Corozal, lamb from Los Frutos de Guacabo in Manatí, freshly caught fish from Naguabo, Fajardo and Patillas, are some of the local products that can be found on the eclectic menu.
The three high-caliber chefs use their modern and innovative cooking techniques to reinvent traditional dishes. Reinvented classics, like the Arroz Jaquita, chef Pacheco's take on the traditional Puerto Rican "mamposteao", is made with rice, beans, blood sausage sofrito, bacon, pork rind and topped with a fried egg. The dish is a winner.
Marichal, Pacheco and Correa had one thing in mind when developing BACOA's menu: think local.
"You will see that it is not creole food, not traditional in its essence. It does have those elements because I live very proud of that cuisine, but it is more of a Puerto Rican cuisine because its focused only on Puerto Rican products," said Pacheco, who used to own La Jaquita Baya in Santurce, and was one of the founders of the Asociación Gastronómica Puertorriqueña, an organization that was partly responsible for bringing locally farmed products to the island's hotel restaurants.
So far, they have been able to grow aromatics, pumpkins, bananas, eggplant, different fruits and plantains, among other crops. They are also in the process of growing chickens to supply eggs for the restaurant.
"Right now, we're at 5 percent, by next year we plan to be at 15 -20 percent," said chef Marichal when asked about how many of their ingredients are grown on their farm. Marichal, who also owns five other restaurants, including Avocado, Argento and Wok It, said this ensemble of cooks is the first of its kind.
"Chefs are usually very introverted people who don't like to share their knowledge, they're very jealous. The generation of chefs preceding us was very jealous with their craft. If they shared anything, it was in books. This is the first time in Puerto Rico that not just two, but three chefs join together and open a space," said Marichal.
The trio created an extensive menu, with each of the chefs contributing and sprinkling it with his knowledge.
The menu, which is separated into five different sections, pays tribute to the hearty style with which Puerto Rican grandmothers cook their family meals. The sections are "Fritanga", where you will find fritters like "bacalaitos con mojo criollo" or fried codfish with a local sauce; "Cuchifritos", where dishes like smoked meat can be found; Breads, which includes bread with butter or bread with "porketilla", pig butter; "de la Finca", where the salads and smoked vegetables are; and lastly, " del Fogón", where the bigger, fuller dishes like the rabbit confit in romesco sauce and guinea fricassee with pumpkin can be found.
The rabbit used for the confit is prepared the day before it is cooked, which allows for a fresh and juicy taste in every bite. The soft, mouthwatering meat melts in your mouth as the chunky romesco sauce on top cinches the deal and turns this exquisite dish into another winner.
The egg salad, found in the farm section of the menu, is a delicious twist on the classic potato salad. Instead of using potatoes, yautía, or cocoyam is used and mixed with egg and tossed with a rich and creamy mayonnaise dressing.
The smoked cucumber salad is a beautiful assortment of thickly sliced cucumber circles topped with Juncos-grown goat cheese from Lucia Goat Cheese and garnished with ginger vinaigrette.
For dessert, classics like the "flan", meringue, chocolate cake and smoked pumpkin casserole with vanilla ice cream are there to hit the right sweet note after your hearty meal. The meringue, a childhood memory-evoking sweet, is a sugary confection served with a heavenly passion fruit cream and topped with thick slices of "dulce de lechosa", which are papaya slices which have been cut and dried in bicarbonate. Chunks of salt are sprinkled on top for balance and crunch. The specialty is a true delight.
The creativity of the three chefs jumps out of each and every single item found in the menu. This is the case of the heavenly meringue dessert, a creation of chef Correa, which evidences his ample expertise and ingenuity. Correa has been executive chef at hotels like the Normandie and the San Juan Water Beach Club and is also the owner of Dorotea, a small pizzeria in "Lote 23" that uses locally-grown products.
BACOA entailed a quarter-million-dollar investment in land. The farm currently has a lake, a chicken shack, a hydroponic garden and will eventually have a helicopter landing field and lodging that may be booked on Airbnb. The chefs expect the farm to eventually become self-sufficient and hope that their project continues to support small, local farmers, provide apprenticeships for aspiring chefs and create jobs.
When asking the chefs about this venture, they all said the same thing: "This is the project of our lives."
The restaurant opens for private events from Monday to Thursday, and to the general public Friday and Saturday from 11:30 a.m. – 10 p.m. and Sundays from 11:30am – 8:30pm.