El San Juan Hotel, one of Puerto Rico's premier luxury lifestyle properties, is offering new nightlife shows and other events, just in time for the holiday season. One of the headliners at the Isla Verde property is a cabaret and burlesque show at its Chico Cabaret venue.
Experience mystique nights at El San Juan's Burlesque Fridays, featuring two shows, one at 8 p.m. and one at 10 p.m., by Miss Dakota's Ran Can Can Cabaret and Burlesque. Ran Can Can Cabaret and Burlesque, created and directed by choreographer and dancer Dakota Ferreiro, features talent from Puerto Rico.
In this intriguing and sophisticated show, Moulin Rouge meets Copacabana with Las Vegas style and, of course, with the Puerto Rican soul. The show features a new twist on old vaudeville, mixing classic styles of trained dancers with striptease, and the sounds of Latin musicians capturing the special beat of the island, with a touch of song and comedy.
About two years ago, El San Juan Hotel featured another cabaret and burlesque show dubbed SIN, featuring local entertainer Stephanie "Fefa" Mercado. That show was just as fun, provocative and classy as Ran Can Can.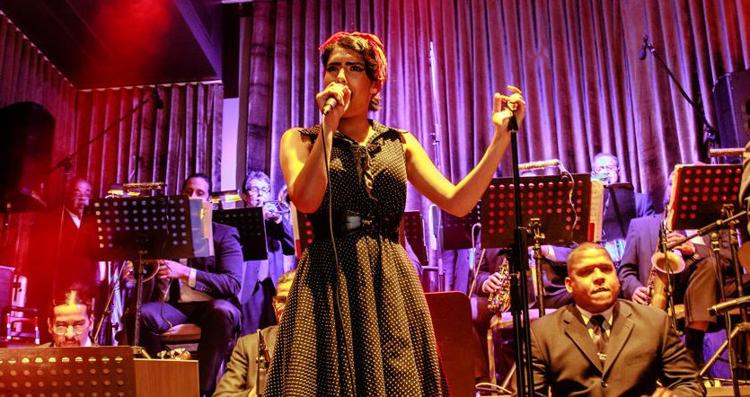 My husband and I also have been to other burlesque shows in Paris and Las Vegas, and the El San Juan shows hold their own against these other top-level attractions. The cast and venue are smaller, and the dancers are professionally trained in ballet. While they may not make it to the top of their league, the shows are fun, entertaining, sexy and racy—as well as tastefully done.
Tickets for the shows are $40 per person. The shows are on every Friday night until Jan. 3, 2020.
New Nightlife Programming
The cabaret and burlesque show is but one of the many nightlife options locals and tourists alike will find at El San Juan. Long considered a social epicenter, El San Juan Hotel is paying homage to its musical legacy this holiday season by introducing a lineup of weekly entertainment, creative mixology experiences and innovative cuisine, creating an atmosphere of great camaraderie for locals and travelers alike.
Featuring a selection of curated entertainment, including solo singers, musical groups and comedy shows, El San Juan Hotel's new nightlife programming showcases the evolution of music on the island over the course of five centuries.
"El San Juan Hotel's lobby was made iconic by the entertainment that defined San Juan nightlife in the 1960s," said Martin Smith, managing director of El San Juan Hotel. "Today, we honor its timeless past with fresh and innovative entertainment, unique to the hotel and reflective of Puerto Rico's vibrant culture and nightlife. With this latest schedule of events, we are excited to welcome back a new generation of guests, along with those who have made the hotel a tradition over the last 50 years, to create new memories worth cherishing."
Guests can enjoy the Chandelier Bar, a symbol of Puerto Rican nightlife, positioned beneath the hotel's iconic centerpiece, a Czechoslovakian crystal chandelier and the third largest of its kind in the world; The Rum Bar, which houses one of the finest rum collections in the Caribbean; the Wine Bar, offering an incomparable selection of fine wines and champagnes by the glass; and Chico Cabaret, San Juan's secret hot-spot featuring captivating live entertainment in an intimate setting.
The weekly programming includes:
Wednesdays: A showcase of popular Puerto Rican sounds such as salsa, rumba and Caribbean rhythms, allowing guests to discover why the island is known as the creator of multinational genres.
Thursdays: World music tunes by a variety of disc jockeys complemented by a live ensemble of "bomba and plena" musicians and dancers.
Fridays: A playful and seductive burlesque show that puts a new twist on vaudeville, mixing classic styles of dancing with the sounds of the island.
Saturdays: A rotation of the island's best disc jockey's spinning eclectic beats – everything from Samba and Bossa nova to Eclectic House and Intelligent Techno. Following, the hotel's residency band – Tropicalia – features Puerto Rico's top rumba musicians performing salsa, ballads and mainstream hits with a Latin flavor.
"In Puerto Rico, music has played a historically crucial role as a means of cultural expression where musicians have been a pivotal factor in forging and enriching concepts of identity," Smith said. "Each of these performances showcases the evolution of music on the island over the course of five centuries and reflects a great diversity of genres ranging from folkloric, classical music to contemporary hits."