Colors of Puerto Rico, a pop-up museum has just opened its doors in the basement of the San Patricio Plaza shopping center in Guaynabo, offering an alternative art show with cubicle installations about the nature and customs of Puerto Rico, using an array of colors to attract a new audience.
"This concept is a trend occurring in metropolitan cities like New York and Los Angeles, where they are using new spaces [for museums]. We decided to do it in Puerto Rico with our own social collective of artists and designers. We wanted a space to exalt everything that happened after Hurricane Maria but we needed a theme; that's where Colors of Puerto Rico came from," said Jorge Marrero, co-producer of the event.
Designer Yadira Torres anticipates that the project, after being fully promoted on social media, will help the island's tourism sector by highlighting, through different prints, Puerto Rico's culture, El Yunque rain forest, the beaches, the capital city of San Juan and various patron saint festivals. Visitors and their children can ride a "caballo de pica," a type of wooden horse, interact with the art and take photographs that can be posted on social networks to share with friends.
"Along with a team of graphic designers, set designers, producers and exterior designers, we created seven spaces [in the exhibit] that highlight the good side of the island. At the end of the tour, there is an area with black curtains where young artists can exhibit their works. The idea is to make this the first of many such editions all of them about Puerto Rico. We invite everyone to come and spend time with their family. We can host schools, corporations, birthdays and other activities," Torres explained.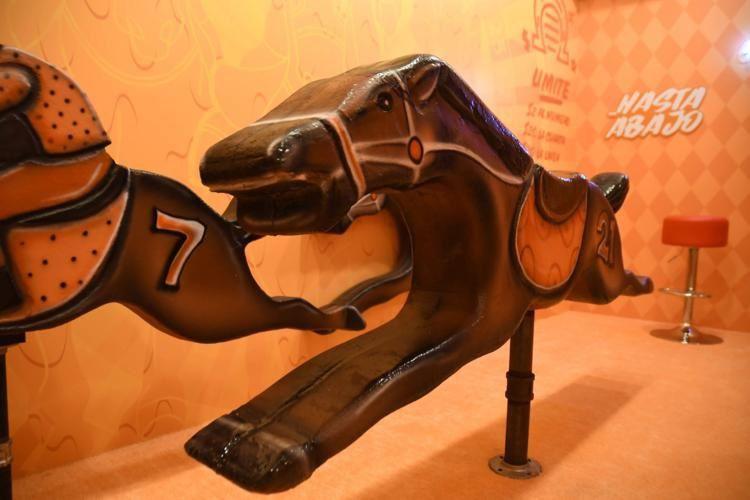 "We wanted to focus on the quality of the photography, the lighting and the instrumental music so that this would be a space that the public fills with its strength. We are sure this will continue to grow and evolve," Marrero added.
General admission prices vary from $10 to $12 per adult, depending on the day of the week, admission for seniors is $5, and children under 3 enter for free. Colors of Puerto Rico is open Tuesday to Thursday, from 1 p.m. to 9 p.m.; Friday and Saturday from 11 a.m. to 9 p.m.; and Sunday from 11 a.m. to 6 p.m. The exhibit will end on Aug. 31.