Filmmaker Mariem Pérez will become the first Puerto Rican female chosen to direct, write and edit one of PBS' American Masters series about Rita Moreno under the working title 'The Girl Who Decided to Go for It.'
An air date has not been announced yet.
The series, which took seven months to film, has already spent a month in post-production editing and will spend one more month being edited, color corrected and getting an animation added. During the 14 days that Pérez spent filming Moreno, she was able to take note of how friendly this Oscar winner from Juncos, Puerto Rico really is.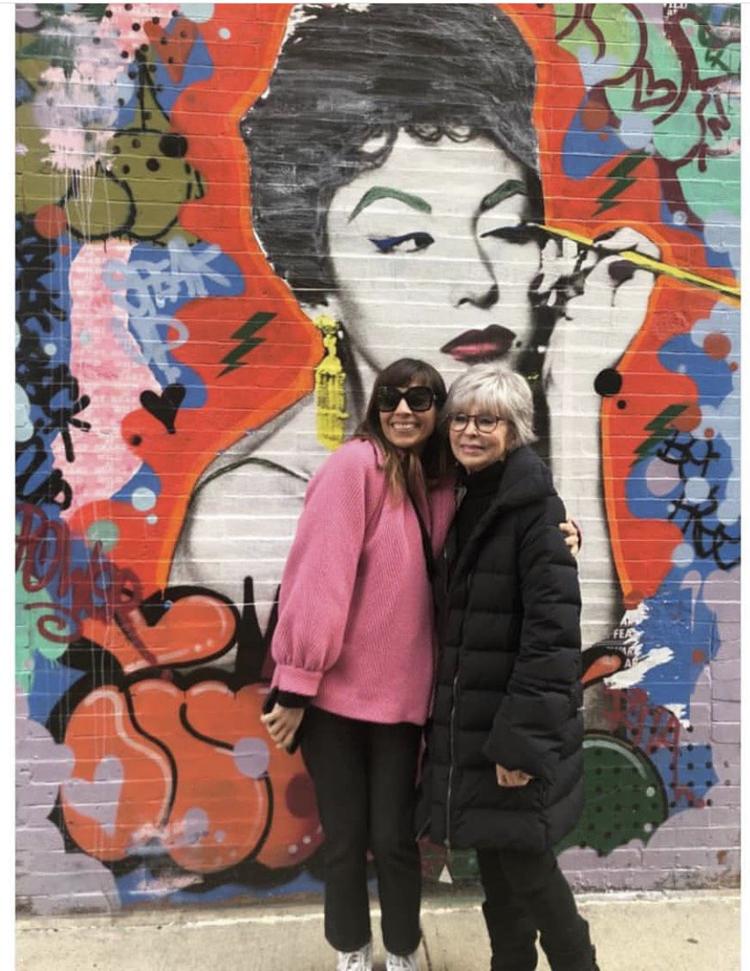 "We [Pérez and the crew] noted that Moreno is a great personality with vast knowledge; she's a woman of great conversations, very happy and very knowledgeable about a woman's place in the United States and Hollywood. Although she's got a Caribbean spark, she was sexually harassed and faced prejudice for being Latina and female," revealed Pérez.
It is often said that opportunity knocks late and leaves early but, if one is able to make the right impression, the amazing feat obtained by this director can be accomplished. Pérez was at the right place at the right time because her son Marcel, whom she had with filmmaker Carlitos Ruiz, stars in a Netflix series in which Moreno plays his grandmother.
"PBS had just released Ben de Jesús' Raul Juliá: The World's a Stage. One day, while watching Marcel on set, I come to find out that one of the series' producers is looking for directors. I tell him, 'I'm not just Marcel's mom, I'm also a filmmaker'. I asked him for a chance and out of the ten people they interviewed, they chose me. That's how this year-long process got started. It all happened really fast; a lot of interviews and back and forth until I got the job. This [project] has entailed a lot of research, following a diva's hectic days, filming and getting to know her," stated Pérez.
Although documentaries are not scripted, for Mariem, it was important to have a sort of outline. She wanted specific details on Moreno's life: her humanity, her personal life, her life with her family, Moreno without make-up and driving; all so that she could uncover who Moreno really is, eventually discovering an authentic Latina.
"I was able to feel the things she lived that made her stronger, more traumatic, harder. I was also able to understand her struggles in Los Angeles and that captivated me. I admire her because she is Puerto Rican, because as a nation we feel she represents us. One can only hope to achieve all that she has," said Pérez.
"I've seen her every day without makeup, fragile, vulnerable; I came to know her lines. The woman you see made up is energetic, ready to entertain. Seeing her other said made everything click for me. That's when I came to understand that my biggest hurdle would be to tell a tale that no one knew. She has been pretty open on the internet, what could I do so that people would get her everyday life? Showing who she is from the moment she wakes up, capturing those intimate moments when she's having her morning coffee in her pajamas; she allowed us in to the point that she gave us the keys to her home so that we could be there when she woke up," added Mariem.
"She stopped acting so she could be herself. It took us a lot of hours to capture those precious moments. She's very agile at 87. We went with her to Washington, D.C., Berkeley and Los Angeles for work and I could barely keep up. She was full of energy all day and went to the theater at night. Having been a dancer turned her into an athlete. She naps three times a day and leaves you speechless; she wakes up completely refreshed, with her battery recharged. She can last a long time. She's also very direct and doesn't like to sugarcoat anything. She's hard-working, very critical; she questions everything, something she also does with her work. It's also wonderful that she's very reserved, she doesn't open up easily" said Pérez of the EGOT status actress.
The filmmaker went on to say that because the crew was Puerto Rican, Moreno enjoyed speaking Spanish as it made her remember her childhood, and the things that her parents, aunts and grandmother used say. This made her get closer to the crew, which accompanied her to a meeting she had with the U.S. Congress at which she requested money for art programs in schools.
"She was asked why she brought us along and replied 'Because I wanted to! I don't trust you but I trust them, my fellow Puerto Ricans!'," recalled Pérez.
During filming, Pérez had the chance to talk to Moreno about her turbulent 8-year relationship with Marlon Brando. She also talked about her husband of 47 years, Dr. Leonard Gordon, who is survived by their daughter, Fernanda Luisa, and their grandchildren, Cameron and Justin.
The documentary will include a clip of Steven Spielberg's version of West Side Story, in which Moreno is acting as well as sharing producer credit with Lin-Manuel Miranda.
"The documentary isn't finished yet. While filming I experienced prejudice for being a woman and having an accent. It is ironic because white people think that one is ignorant and yet, we are bilingual. Rita lived her whole life facing this prejudice whilst I never imagined that one day I'd get the chance to document the life of the most important woman for Puerto Rico, who also happens to be an important figure of American cinema.  She may even get another Oscar for the same film!," said Pérez.