After the successful 15 city tour in the USA and recent concerts in Medellín and Bogotá, Colombia, PJ SIN SUELA closes a triumphant year with the release of the new single and video "Por Ti" a collaboration with Latin GRAMMY® nominated band Rawayana. The new single follows the hit "La Pelúa Remix" with Jon Z, Rafa Pabón and Guaynaa. "Por Ti" is available on all digital and streaming platforms.
The video directed by long-time collaborator Edgar Cruz Robles and Pedro-Juan Vázquez Bragan (PJ SIN SUELA), captures the chemistry between the artists and the essence of the song's lyrics through the use of colorful graphics. PJ SIN SUELA and Beto Montengro (Rawayana) collaborated on the lyrics for the new single "Por Ti."
 "Working with Rawayana was a pleasure. I met them when they first visited Puerto Rico and I remember they gave me their album. After Hurricane María when we had no power or cellular signal for weeks, my sister and I listened to the new album by Rawa all the time. After that we kept running into each other and became friends. When I started writing the love song I knew I wanted a melodic voice that would complement the hip hop funky rhythms of the song. This is when I knew I wanted Rawayana for the chorus," said the artist.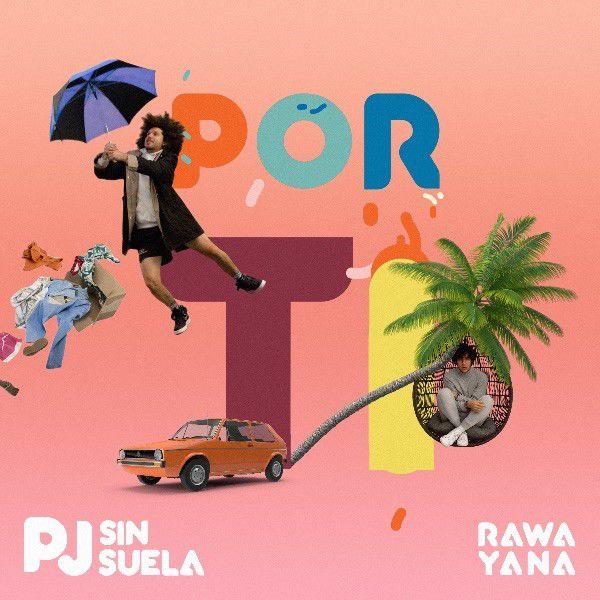 "For me its very important that the collaborations between Rawayana and other artists is genuine and natural. From the moment we met the crazy doctor and rapper that is PJ SIN SUELA, the connection and friendship was immediate. "Por ti" I believe captures our personalities, it is a song we love very much. I hope the audience enjoys it as much as we enjoyed working on it," expressed Beto from Rawayana.
PJ SIN SUELA continues making leaps in his career and was named by the prestigious Billboard Magazine as one of their 10 Latin Artist to Watch in 2019. PJ's honest and sharp lyrics have made him the voice of a new generation of rappers that is breaking down stereotypes in today's music scene. PJ SIN SUELA is ready to share the stage with Rawayana at their upcoming concert in Dominican Republic on December 20. The urban artist will perform for the first time on March 29, 2020 at Lollapalooza Chile. The doctor turned rapper is working on his debut album to be released in 2020.
Pedro-Juan Vázquez Bragan, better know as PJ Sin Suela is a singer-songwriter from Puerto Rico.
He is also a published author with a doctorate in medicine. While in College he experimented doing music, and would do mix tapes in his bathroom which would double as a recording studio. He would "give away" his music, he started seeing how people would react and how the audience grew. This led him to record a 13 track "Mix tape" titled "Letra pa'tu coco" which led him to perform in all the most important stages in Puerto Rico, and music festivals such as SXSW and Isle of Light, and was also the opening act for Residente in 2017 and 2018. PJ Sin Suela was named by Pandora as one of their Latin Artists to Watch on 2018 and Billboard Latin Artist to Watch 2019.