Puerto Rico's talent management and event production industries are generally dominated by men with decades of experience in these fields. However, a young newcomer is aiming to redefine the typical producer and inspire others in a similar position to venture into this world.
Gabriela Escalera is the vice president of K Media, a production company and artist management agency. At just 23 years old, Gabriela booked a concert in the highly coveted José Miguel Agrelot Coliseum of Puerto Rico in San Juan—known colloquially as the Choliseo—a milestone for any event producer.
THE WEEKLY JOURNAL visited Gabriela's office in the trendy area of Miramar in San Juan to delve into this young woman's road to success, current projects and professional goals.
The office itself is fitting for its occupant, set against the backdrop of a black and white chevron wall with a vibrant, colorful painting of a woman, black and white tile floors, and a neatly organized and minimalist desk atop a sparkly, silver rug with equally sleek furniture around it. The space evokes a sense of lively youth, which Gabriela embodies.
Her office also features a blue jersey that belongs to her older brother, Alfredo Escalera, a professional baseball outfielder who was drafted by the Kansas City Royals while he was still in high school.
Gabriela indicated that his brother's athletic talent led her to discover her passion for production and artist management. Although they were born in Puerto Rico, they were raised in Florida, where Alfredo got accepted to the renowned IMG Academy, a preparatory boarding school specialized in sport training. Their parents didn't want them to be separated, so Gabriela enrolled as well, although she noted that she herself does not practice sports.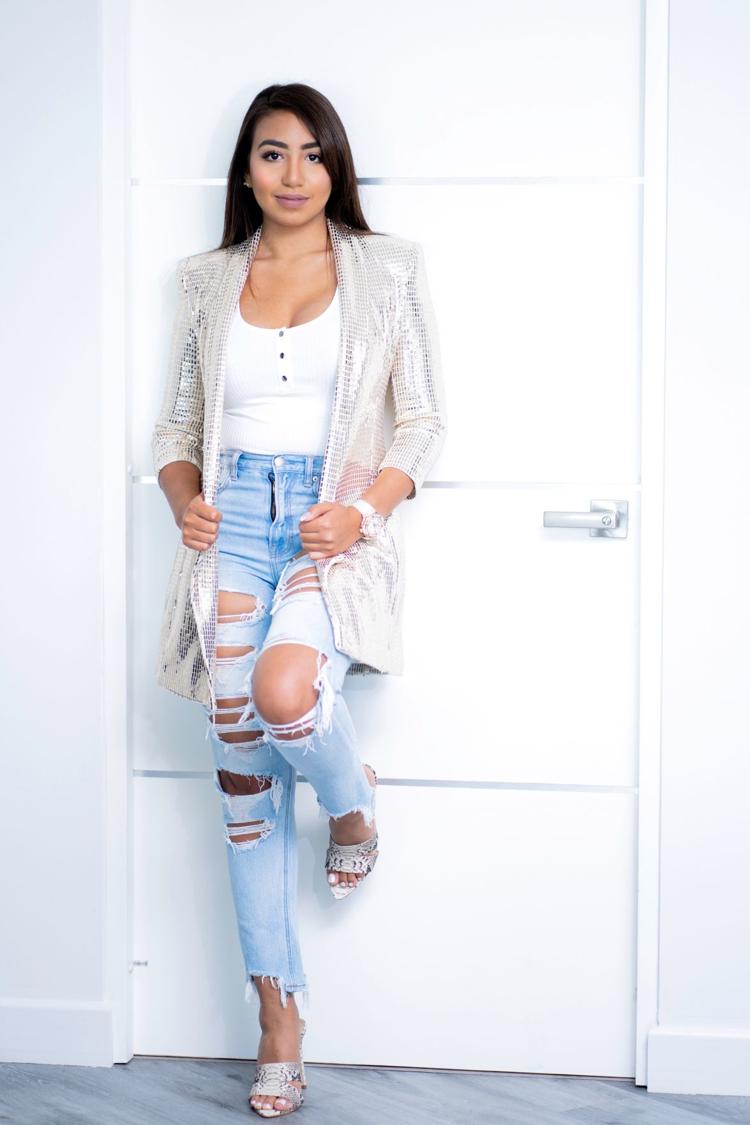 "It's interesting because I was the only one who didn't play sports. I started there because my brother is a baseball player and he was invited to be part of the team, and my parents didn't want to separate us, so they decided that I should attend the school too and they [the administration] opened a non-sporting program for me because they wanted him," she narrated.
Throughout her time at IMG Academy, she developed an interest in sports management after learning how involved managers were in their client's careers.
"The decision arose during that stage of seeing representatives of professional athletes being super involved, making sure that everything was okay, and that they were duly paid while also seeking new opportunities for them," Gabriela said.
Afterward, she studied sports management at Johnson & Wales University, but ultimately decided to focus on musicians and artistic venues. Gabriela said that living in Miami and constantly attending events had substantial impact in her career decision, as well as following her uncle's footsteps, who founded K Media in 2004.
However, Gabriela affirmed that for the past year she has been working on revolutionizing K Media by focusing on large-scale events open to the general public, as opposed to the company's previous endeavors in private events for corporations.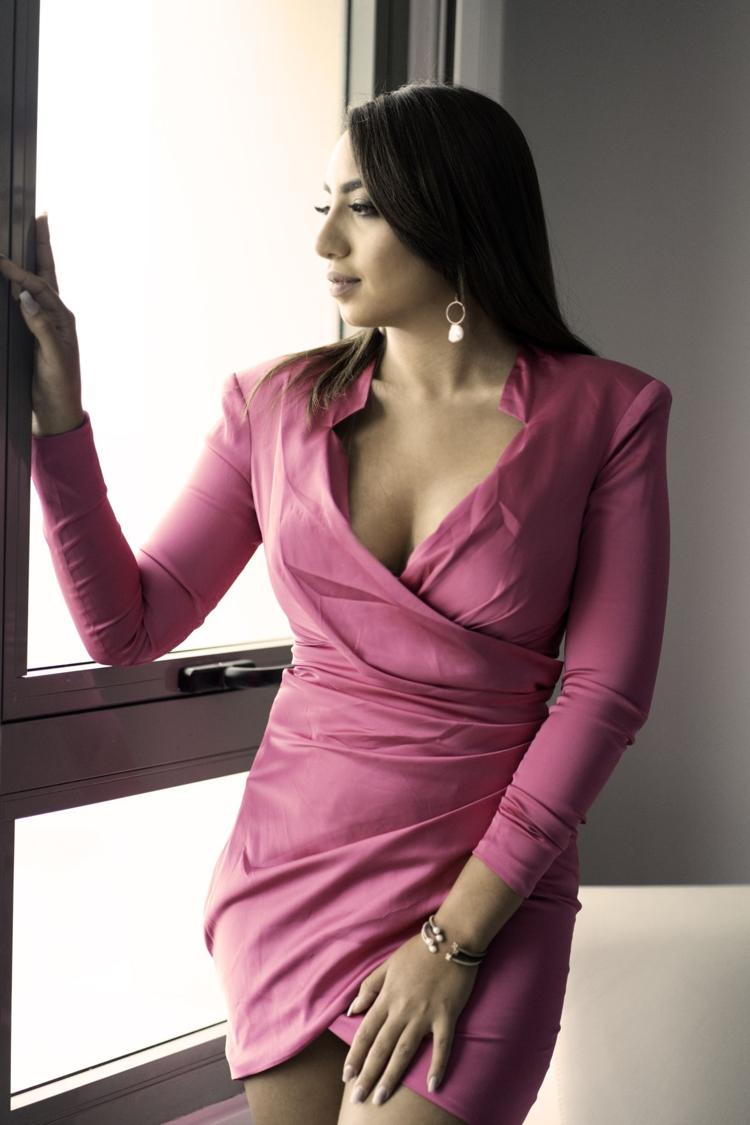 She informed that she managed to sign Silvestre Dangond, a Colombian musician specialized in vallenato, a typical genre in his native home. Dangond is set to perform on November 22 in the Choliseo, which Gabriela sees as a huge milestone and not one she expected to have achieved so early in her career.
"The Coliseum of Puerto Rico is what defines us musically at a global scale and to enter as a producer, with my producer license, is amazing because I always saw it as something that was sort of far away, so I had it as a five-year goal. To have achieved it so early is unbelievable," Gabriela said.
"Being in the Coliseum and hearing them say 'produced by Gabriela Escalera' is always exciting. Sometimes I am driving, and I hear on the radio 'this event is produced by Gabriela Escalera' and it's like, wow. I have to hit the brakes and thank God. I always dreamt it and now I'm living it," she added.
Gabriela attributes her success to, and not despite of, her own youth and womanhood. She noted that in her field most producers have tackled situations and management the same way for decades. However, she provides a fresh take that has earned her their respect—to the point where she sometimes gets calls from experts asking for her input.
"They are so focused on doing everything the same way, and I think that has helped me a lot," she said.
Furthermore, Gabriela affirmed that she has not faced backlash for being a woman in an industry led by men. On the contrary, she said that she has been warmly welcomed.
"I love being in a world that people say is dominated by men, but I end up well because they support me a lot. They see me as the new kid on the block and they want to support and guide me. And I always bring a younger mentality and I give them more modern ideas on what we can do. So, we complement each other well in the musical industry," she stated.
Gabriela said that being a woman in this industry drives her to be more competitive and believes that more women should delve into the industry because there is a disposition to help each other notwithstanding.
When asked about what's next for her, she said that she will be bringing three more artists to Puerto Rico next year, but that their names cannot be revealed yet. She is also in the process of signing a musical group from Venezuela.
Gabriela also confirmed that she is currently managing G Chini, a Puerto Rican influencer who is in the process of recording music influenced by American trap, rap and other cultural components of African-American culture combined with the current Puerto Rican musical scene. Even though G Chini hasn't released a record yet, Gabriela proudly said that she already has a growing number of followers and that people have stopped her for photographs during their outings.
"I love watching the development of up and coming artists. I also love helping them and guiding them toward their market. I'm also attracted to the event production aspect, which I'm doing now as well. Watching people enjoy the artist, overseeing the stage process, watching the process of how the artist gets here... all of that is highly satisfying to me," Gabriela said.
-----------------
Editor's note: This story was published on the August 28 print edition of The Weekly Journal.