Loved by many and criticized by others, David Begnaud could be a polarizing figure in Puerto Rico. However, there is no doubt that he traveled the island highlighting the disaster caused by Hurricane Maria and is now doing the same with the earthquakes that affected southern Puerto Rico earlier this year.
The CBS reporter will kick off the inaugural event of Puerto Rico Live, new, privately-established platform that will host several discussion forums and think-tanks to educate residents and visitors on the island's many opportunities.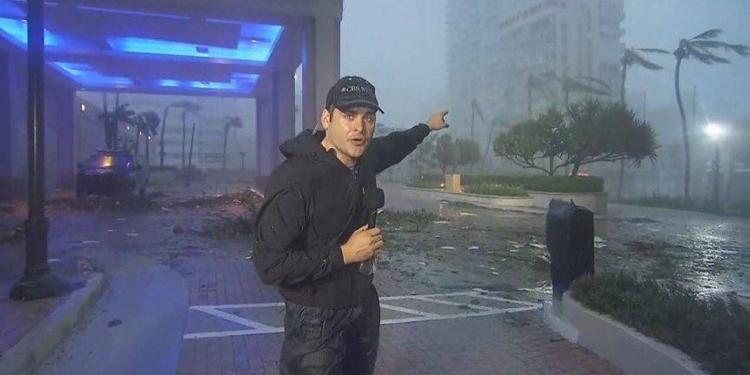 In the first event, Begnaud will discuss personal details that impacted his childhood, what it means to live his truth and what captivated him about Puerto Rico and its people. Begnaud has described himself as a "noisy kid" during childhood and laughs after saying: "Now I get paid to be noisy."
The forum will be moderated by renowned Puerto Rican meteorologist Ada Monzón, who became an important figure in the wake of Hurricane Maria. The conversation will be held at the Luis A. Ferré Performing Arts Center in Santurce on Jan. 23, 2020.
Tickets are available on www.ticketerapr.com and, according to the organizers, a portion of the proceeds will be donated to various charities that are relevant to the topics discussed in each event.
THE WEEKLY JOURNAL asked a few questions to the renowned TV reporter during his most recent visit to cover the 6.4 magnitude quake that occurred on the island.
THE WEEKLY JOURNAL: What should the public expect that night at the event?
DAVID BEGNAUD: "I will sit down for an hour sharing stories about my life, my career, my passion for Puerto Rico, details about the stories that I covered. I think I will have the opportunity to answers questions of the audience."
TWJ: What is your favorite thing about Puerto Rico?
DB: "Uff! (silence) Probably is the people, I know that it sounds as a cliché but is true. There is a joy of life that Puerto Ricans have which made them resilient, humble, persistent and survivors."
TWJ: Before covering Hurricane Maria, had you visited Puerto Rico?
DB: "No, I had never been in Puerto Rico."
TWJ: Based on your experience, what is Puerto Rico's main challenge when it comes to improving its economic development?
DB: "Puerto Rico can't catch a break. Hurricane, the ousting of the governor and now the earthquakes. Second, it is key to find the way to convince people that the government is trustworthy and the way is being trustworthy."
TWJ: Would you argue that current seismic activity has been politicized?
DB: "I don't think I am the right person to answer that. Speaking about the hurricane, there had been  misinformation spread in social medial and it was a challenge to spread correct information."
TWJ: There has been some criticism from a few local journalists alleging you have received special treatment from the private sector. For example, a cell phone company that provided you with a free telephone to ensure you had coverage on the island. For these journalists, this action differs from the treatment and consideration they get locally even when they follow up with the emergency day after day. What would you say to those colleagues?
DB: "Local journalists in Puerto Rico deserve to have their requests responded to, they deserve access to government leaders and entities, and they deserve to be anywhere that I am. I certainly don't deserve any preferential treatment. I'll give you the example of Costa Sur. There is no preferential treatment, no money was paid, I waited four hours outside to get the interview. I support the local journalists because I saw their excellent work with Hurricane Maria. Persistence is key. I was determined to wait because I know José Ortiz was inside Costa Sur."
TWJ: There are people in the south who say the earthquake is worse than Hurricane Maria, what do you think?
DB: "It's interesting because I heard that myself, and the person [I heard it from] was the assistant to the mayor of Guánica and she said that the people need psychological treatment because you don't know when this is going to stop or happen again."
Yennifer Álvarez contributed to this story.