Watch out! It's the almighty, all-seeing third eye! Front and center… as he comes onto the stage at the Quisqueya Juan Marichal Stadium on June 15, 2019 in Santo Domingo, Dominican Republic. The record-setting 27,000-plus crowd goes wild…having anxiously waited over two hours to see him. Dominican artist El Nene la Amenaza Amenazzy's opening act served only to heighten the experience of seeing the main attraction: Puerto Rican reggaeton artist Bad Bunny.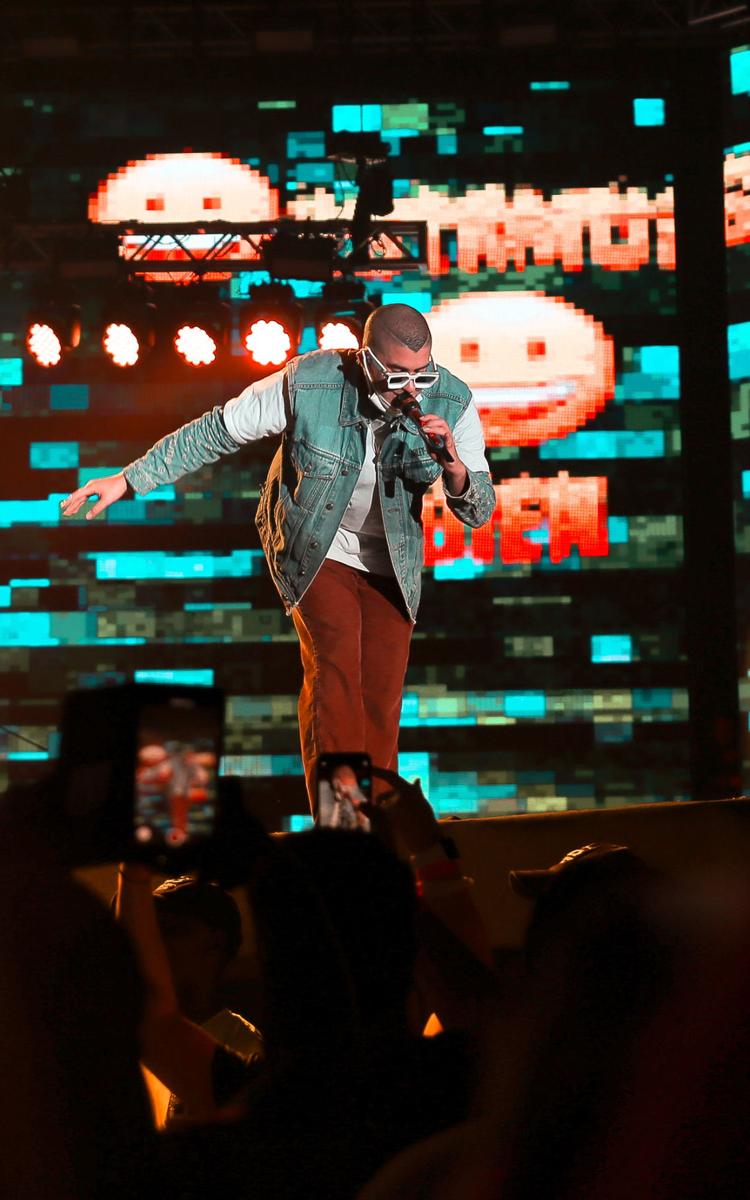 Cheers, yells, a palpable excitement, blue blinding lights and laser beams set the stage for Bad Bunny, the 25-year-old Billboard Award-Winning artist who in 2018 had a breakthrough year and became one of the top 10 most streamed artists worldwide. Jumping onto the stage while singing "Ni bien ni mal", he kicked off an amazing show that lasted an hour and forty-five minutes.
Dressed conservatively by his standards, with brown pants, a white tee over a Louis Vuitton long sleeve shirt, a jean vest and using white sunglasses and a white surgical mask as accessories, he only stopped singing to thank the people of Santo Domingo for supporting him. "Thanks to each and every one of you who is here with this "Bad Bunny". Thanks for sharing this night with me, it means a lot to me because it's a historic night, another one for the books. The Dominican Republic has supported me since the very beginning and has continued supporting me through it all, the same way that I have always demonstrated my love to you," he stated.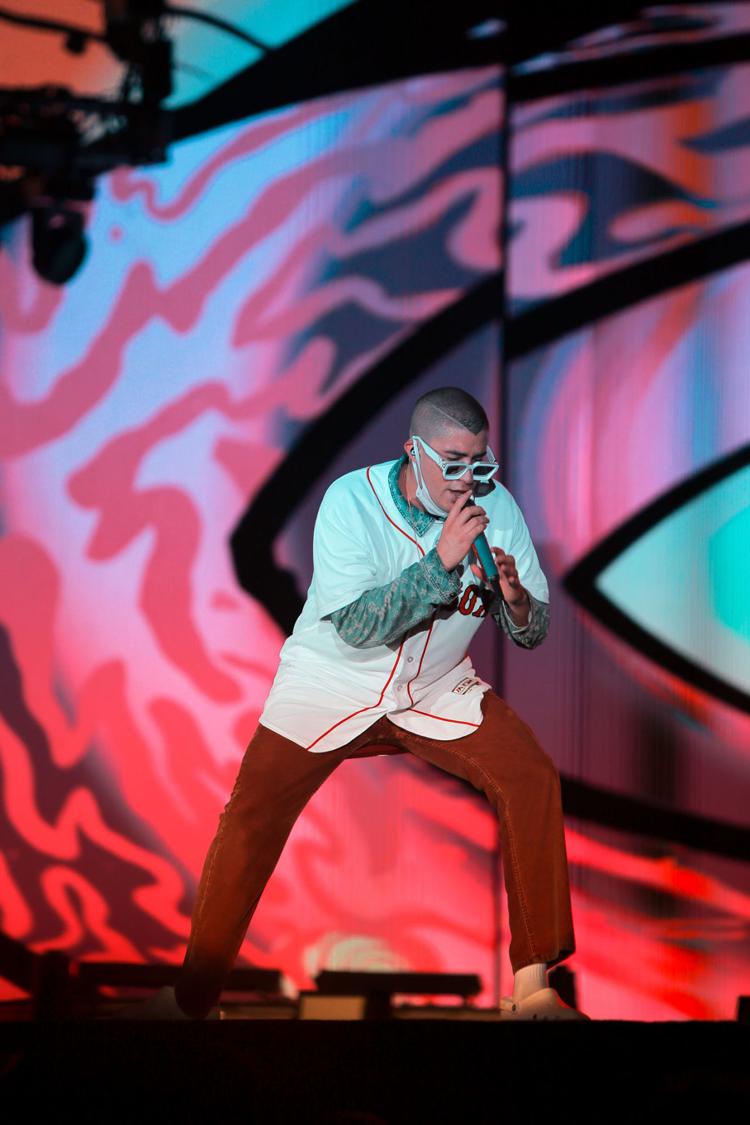 Bad Bunny went on to sing "200mph", "Quién tú eres", "Estamos bien", "Soy peor" and "Sensualidad" before rendering a tribute to David "Big Papi" Ortiz, the Dominican baseball player shot in Santo Domingo on June 9, 2019. Set to the tune of Fernando Villalona's "Dominicano soy", the 2-minute-long video tribute featured some of Ortiz's philanthropy work and of his most memorable moments in baseball as Red Sox player #34. Wishing him a speedy recovery and sure that he would have been front and center at the concert to show his support, he went on to sing "Tú no metes cabra".
Of course, "El Conejo Malo" doesn't travel alone and for Saturday's event he was joined on stage by Arcángel, with whom he sang "Tú no vive así" and "Me acostumbré", before running to a second stage in the middle of the crowd to sing "Soltera" with Lunay, and "Fuego", "Dema ga ge gi go gu" and "La Romana" with El Alfa. Drawing impressive cheers and yells from the audience, the latter song becomes the cincher on Bad Bunny's reggaeton reign in the Dominican Republic.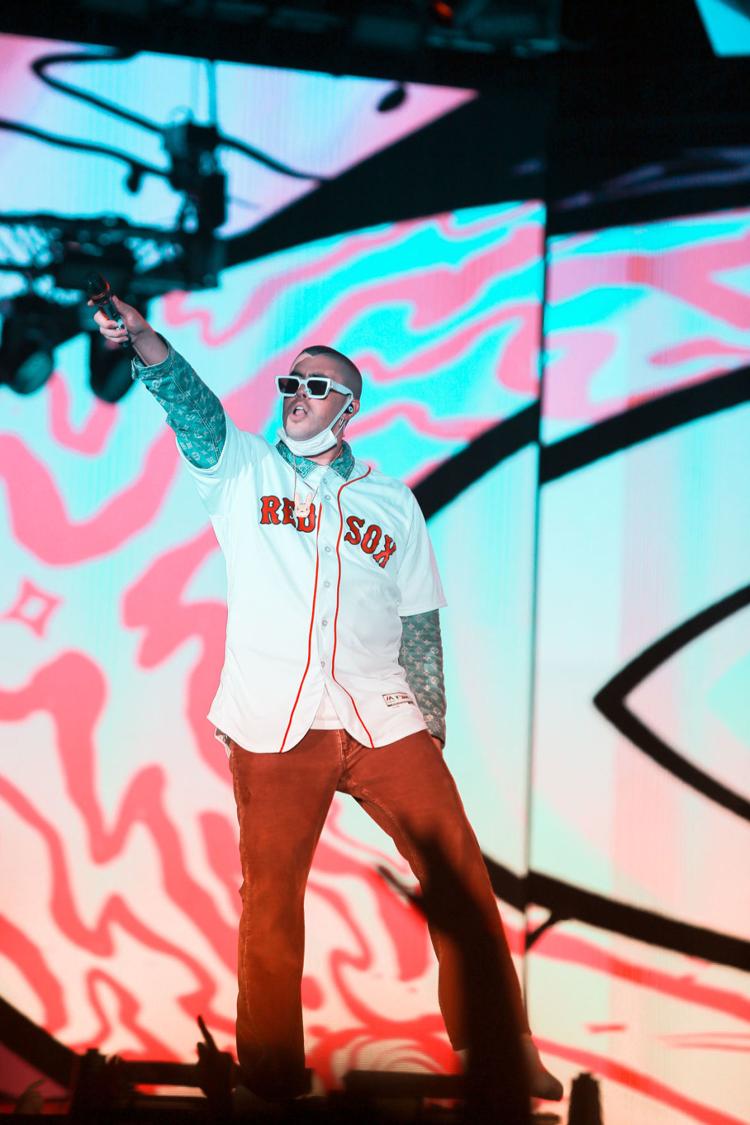 80s style graphics on big screens, a firework spectacular and the songs "Callaíta" and "Como antes" precede his closing one, "Chambea". The crowd goes wild, Benito Martínez Ocasio, aka Bad Bunny, plays his part, every bit the artist in full swing dancing and jumping all over the stage; enjoying every minute of his appearance. Delighting in every yell and fanatical expression of appreciation, the crowd and Bad Bunny seamlessly enjoy the moment. Endless memories forever made in a spectacular show that made you forget there was no air conditioning while you danced your heart out to tunes that seemed to move you from within.