Over 500 boats from Puerto Rico will gather at Virgin Gorda's Pond Bay Beach on July 27 to celebrate Christmas in July.
The event will take place from 9:00 a.m. to 7:00 p.m. in this little island that draws boats from all around the globe to its stunning beaches. However, you don't need your own boat to enjoy the celebration because Cape Air runs regular flights to Tortola and Virgin Gorda, and companies like The Moorings, Dream Yacht Charters and Marine Max offer ferries from 7:00 a.m. to 10:00 p.m.
"In Puerto Rico, it's already a tradition to use the last days of July to take a small summer vacation and spend time with family and children before they go back to school. Having that in mind, we created a family event in Virgin Gorda to gather the nautical community, which usually arrives as a "fleet" to the BVI in those days, and regular tourists who use other means to get to the BVI to celebrate Christmas in July with us," explained Wally Castro, owner of Wally Castro Marine and the event's organizer.
Castro organized the annual event along with Marcos Rivera and the British Virgin Islands Tourist Board in Puerto Rico.
"This is something that has helped increase the amount of boats that travel every year to Virgin Gorda as well as the amount of visitors we receive. It is not only people who own boats and sail from Puerto Rico who come, but also those that fly to the BVI those who use ferry services to arrive at Pond Bay or those who charter their own boat," the event's organizers said.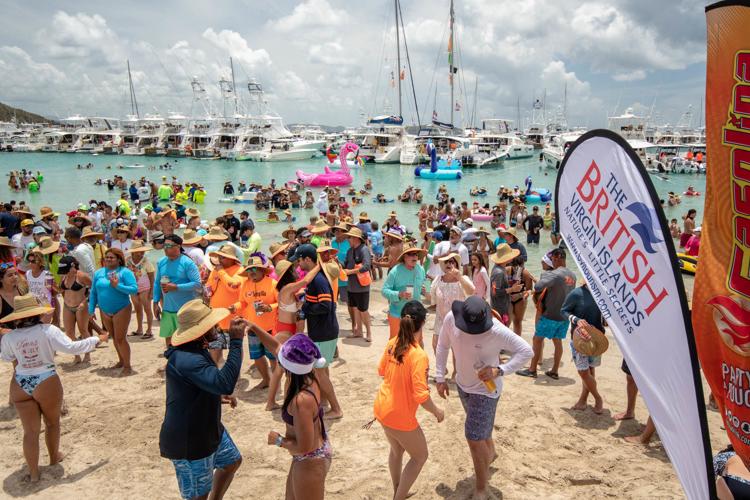 Besides the crystalline beaches, this year's party will include Virgin Gorda band The Final Faze, along with Puerto Rican band Orquesta La Oferta, a tribute band to the legendary salsa group El Gran Combo. Also from Puerto Rico, Baston de Diego will take the stage in the afternoon, with Denisse Torres, a DJ from Puerto Rico's Magic 93.7 FM.
After hurricanes Irma and Maria, many top resorts throughout the territory resumed operations after restorations. Some of these include Anegada Beach Club, which launched brand-new glamping accommodations last year, Guana Island, which expanded its organic farm, and Cooper Island Beach Club.
Scrub Island Resort, Spa & Marina reopened with six new villas; Sir Richard Branson's Necker Island reopened with private plunge pools added to each individual house; Oil Nut Bay debuted Bay Suites last December; Eustatia Island, a private island that holds up to 16 guests, opened last December; and Sugar Mill Hotel reopened with a brand-new beach restaurant and bar.
Like Puerto Rico, the British Virgin Islands has seen an increase in "voluntourism" after the passage of Hurricane Maria.
Travelers have "wanted to come back because they have a loyalty to the destination so they've been helping us rebuild, not just from a revenue standpoint, but in terms of helping us clean up our beaches and helping us with infrastructure," Sharon Flax-Brutusm director of the British Virgin Islands Tourist Board, pointed out.
"BVI residents eagerly await the arrival of what they have lovingly dubbed the 'Puerto Rican Navy.' The joyous atmosphere, the way they tie up their boats together in a line as if they were a sort of fleet, and the music you hear from the boats while you are standing on the shore are all contagious and we love having them with us during those days. It's really wonderful to see them arrive and enjoy our territory with us. We consider them a part of the BVI, especially after all the help they gave us after the atmospheric events of 2017," the BVI official added regarding the Christmas in July event.