Chef Edgardo Noel is now bringing the wonderful flavors of Puerto Rican cuisine to every home on the island with a new line of garlic pastes and sofritos, inspired by his grandmother's culinary traditions.
The new line is called Chef Edgardo Noel and includes two types of sofrito, with or without "sazón"—red and green, respectively—and two types of garlic paste, with or without oregano. The sofritos are available in large and small containers, depending on how much you intend to use in your day-to-day cooking. The new products are available at many supermarkets.
"Sofrito is the quintessential base of our dishes," said the chef, who has 18 years of experience in gastronomy. "It is a criollo condiment used to obtain the flavor of the natural vegetables and herbs that are combined to make it. We use essential ingredients from local cuisine to guarantee the best flavor, such as 'cubanel' peppers, onion, garlic, coriander, 'recao' and chili peppers; oregano and cumin to spice up dishes," he added.
Unlike certain salsas used for dipping, sofrito is generally used as a type of condiment or base for local recipes, usually in one or two spoonfuls. This item is a staple for soups, rice, stews, meat marinades and a variety of dishes.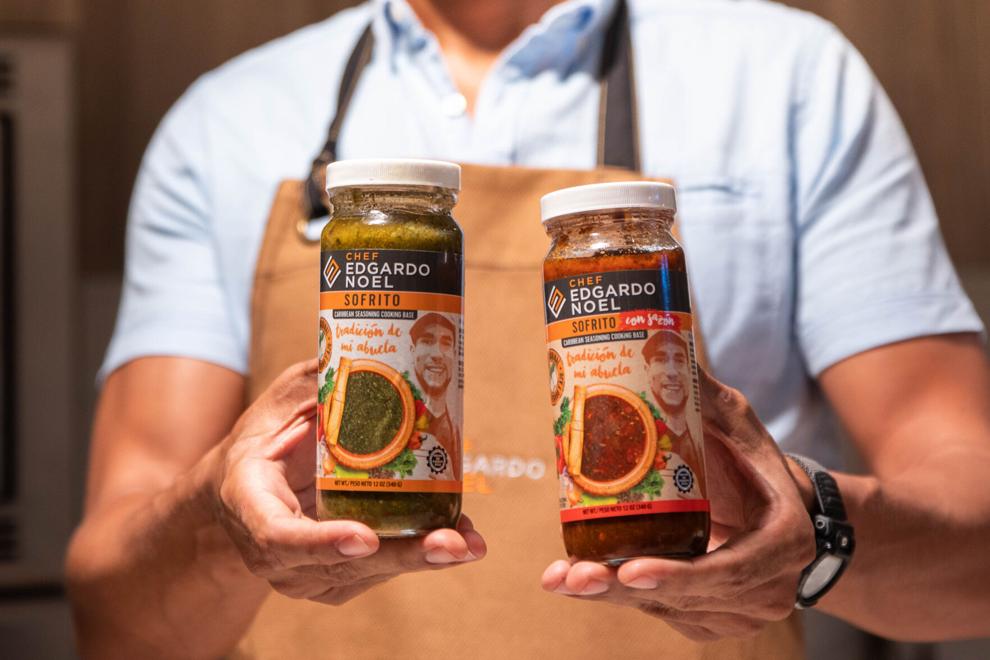 For Chef Noel, procuring the best quality ingredients was a priority in the development of the product, as well as obtaining a thicker and more concentrated sauce to better enhance the flavor of the food. He put particular emphasis on its aroma and presentation.
"The appearance, the smell and the color of the sofrito is fundamental for the final result. We all know the importance that the aspect of the dishes we cook has taken on lately," he said. A refrigerated sofrito also allows for greater durability and shelf life, maintaining its freshness for longer and allowing the consumer to maximize its use. Plus, it's low in calories, has 0 percent fat, 0 percent sugar and does not contain MSG.
One of the attributes of Sofrito Chef Edgardo Noel is its ability to adapt to Italian, Mexican or Spanish cuisine, among others, in order to take advantage of its qualities. "We want to demonstrate the versatility of the product, in addition to encouraging young generations to enhance their meals with a sofrito of excellence," the chef asserted.
Puerto Rican Pasta Recipe
To provide a first-hand experience with his new line, the chef sent a large wooden box filled with a variety of ingredients—including the two sofritos and the two garlic pastes—to your correspondent, along with a recipe to prepare "Coditos Criollos," elbow pasta cooked the way his grandmother taught him.
Since THE WEEKLY JOURNAL was founded in 2019, I have had the privilege to dine at top-notch restaurants and write multiple culinary reviews, so imagine my pleasant surprise upon learning that this time, I would do the cooking. The recipe itself is rather simple and takes little cooking time, and the result was rich and mouthwatering.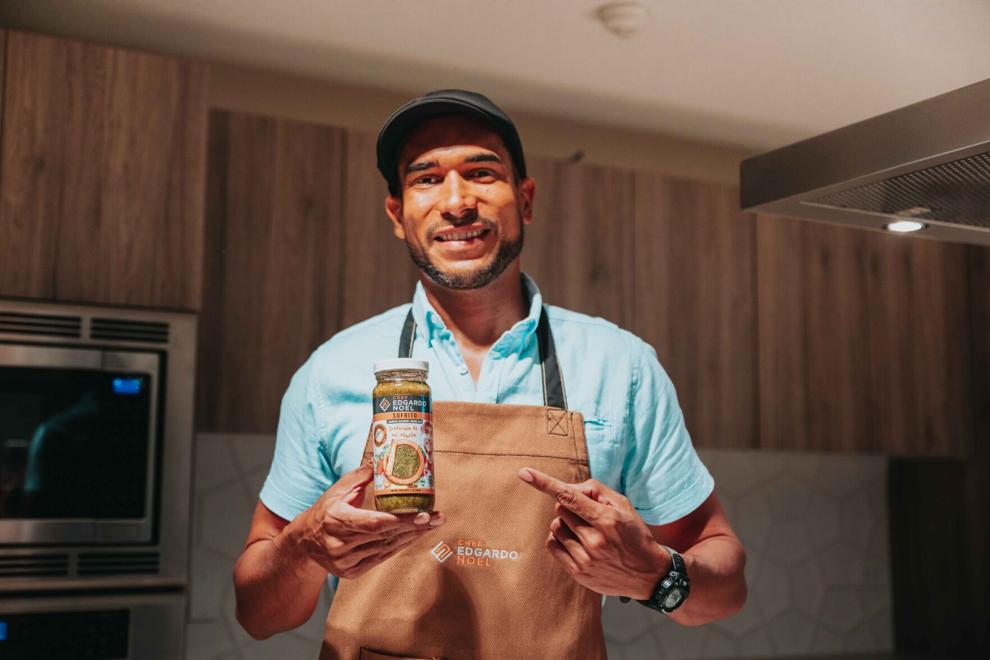 You will need half a pound of elbow pasta—about half a box—, one spoonful of extra virgin olive oil, two spoonfuls of Sofrito Edgardo Noel, half a spoon of Ajo con orégano Edgardo Noel, two leaves of "recao" (coriander), one can of tomato sauce, one pound of ground beef, one spoonful of adobo, one sweet plantain (chopped into bits), and six ounces of Puerto Rican cheese ("queso blanco del País"), and salt to your liking.
First, bring water to a boil and add salt and the elbow pasta. When the pasta is cooked, drain it —don't rinse—, and place in a separate bowl, drizzling in some olive oil to avoid the elbows from sticking together.
Second, heat a large pan and add the spoonful of extra virgin olive oil, along with the sofrito and garlic; cook for about a minute. Then, add the tomato sauce and recao leaves, stir so that the flavors get to know each other, and simmer for a minute. Add the ground beef and adobo, making sure to mince the meat thoroughly throughout its cooking.
Right before the meat is done, add the sweet plantain, and cook for another three minutes. After that, add the "queso blanco." For the latter process, I simply crumbled the cheese and mixed it in the pan, but it may also be cut into cubes or even shredded. When it comes to serving, you can either mix in the pasta, or serve the pasta with the meat sauce on top and then mix it in your own bowl.
Unfortunately, my partner—who was very eager about my assignment—can't eat sweet plantains, for which I had to skip that process. However, the result was otherworldly. I didn't eat a lot of Puerto Rican food in my household, but the aromatic experience while cooking, along with the delectable result brought me back to my childhood when I would spend every other weekend with my grandmother and she would always make her own sofrito and mouthwatering concoctions.
While I feel that I missed out on the lack of sweet plantains, I think the dish as I made it could hardly be improved; at one point, my partner even stood up to "kiss the chef." And, despite both of us having more-than-generous portions, we still had enough left for another serving, which we gave to his mother. Thus, I'd say this recipe makes for about four servings, or three, if you, like us, can't help putting a little extra in your bowl.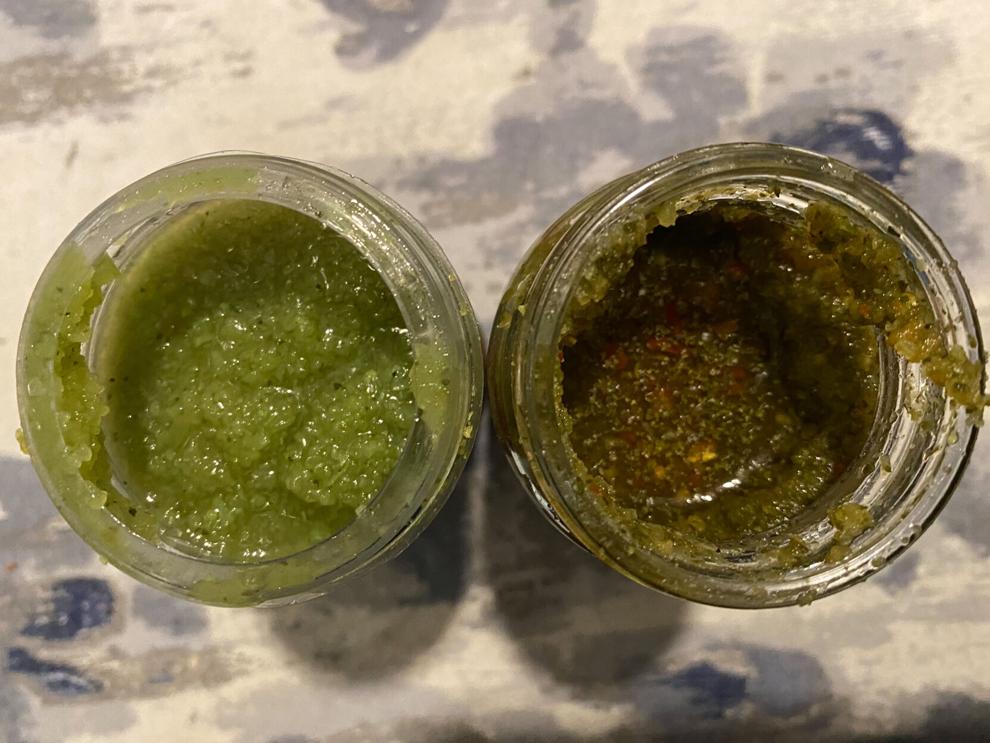 Moreover, while I was prepping I compared Chef Noel's sofrito with the generic brand I already had in my fridge and the difference was palpable. While the generic brand was a single shade of light green and barely had any vegetables or condiments, Noel's sofrito had a rich blend of colors and a layer of depth in its aroma, probably stemming from the cumin.
Coming from someone who has only recently begun cooking with sofrito, I highly recommend this recipe and Chef Noel's new line. Whether you are a local who has been eating criollo or someone who wants to get to know the flavors of Puerto Rico, this is a cooking experience that will make all Boricua grandmothers proud.