After the removal of Section 936 from the federal tax code, a provision that gave U.S. corporations tax advantages if they based part of their operations in the island, there have been many discussions about Puerto Rico's economy and its need to diversify from old models.
Still, today manufacturing accounts for approximately 48 percent of the island's GDP. Meanwhile, services, including trade, finance, tourism and public service, while becoming the most dynamic force in Puerto Rico's economy, represent only a margin of what they should really be.
As we head into the 20th year of the 21st century, the Government seems to have decided to shift the focus from what has been the main drivers of the island's GDP of the last 40 years; and is looking to position the territory as a prime place for capital investment, innovative ideas and development.
After the struggles of the past, that include the fiscal debacle and the disaster caused by the hurricanes of 2017, Gov. Ricardo Rosselló believes Puerto Rico should be seen as "a blank canvas", a place of opportunities, "with a unique platform for investment and innovation".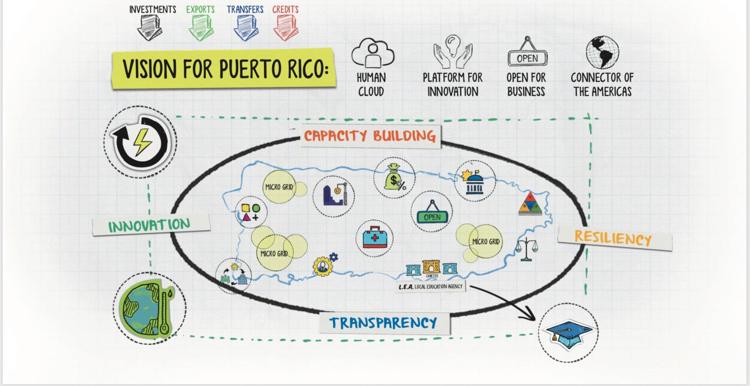 "Puerto Rico has a well-educated, bilingual workforce. Roughly 30 percent of the population considers themselves fluently bilingual—far higher than the US national average. Aside from South Korea, Puerto Rico has one of the strongest records of educational development in recent history. Between 1960 and 2000, the average education of Puerto Rican workers doubled from 6.2 to 12.2 years, a record that no other country has attained," said Rosselló.
Also, the Govenor stated that "Puerto Rico has a unique geographical advantage to become the connector of the Americas. We are dead smack in the middle of North, South, and Central America, with strong cultural ties to each region, plus our A+ human resource, makes us the ideal headquarter location for businesses with operations and sales throughout the hemisphere to meet and create platforms that can connect the Americas."
"I would like to see Puerto Rico become a place where businesses serve customers and coordinate operations throughout the Americas and the world, what I like to think of as a 'human cloud,' where workers spread across the island, handle tasks remotely for businesses around the world", he added.
"Most jobs are geographically independent. People are looking for places where they want to live and from where they can export their services. Puerto Rico has the natural beauty and assets that make the island an ideal place for people to come, establish their home and work remotely around the world. The island is the most exciting place in the world for those who want to rebuild and innovate," Rosselló pointed out.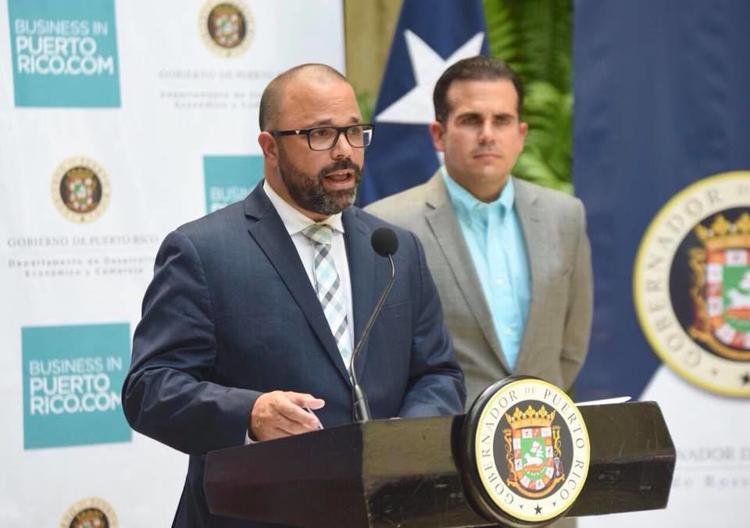 Manuel Laboy, secretary of the Economic Development and Commerce Department (DDEC by its Spanish acronym), and executive director of the Puerto Rico Industrial Development Company (Pridco), agrees with the Governor.
"I think opportunities outweigh the obstacles," Laboy said.
And it seems the Government has already taken the first steps to create that "human cloud". In March 2018, Laboy announced a financial incentive for small and midsize enterprises (SMEs) with business models based on science and technology. Pridco granted up to $100,000 per company to operate, market and export their innovations, in order to encourage investments and the creation of products that can be commercialized, both in Puerto Rico and abroad.
Meanwhile, in Puerto Rico, numerous entrepreneurial groups promote the collaborative development of science and technology, such as Parallel18, Piloto 151, Colmena66, Grupo Guayacán and SBTDC, among others.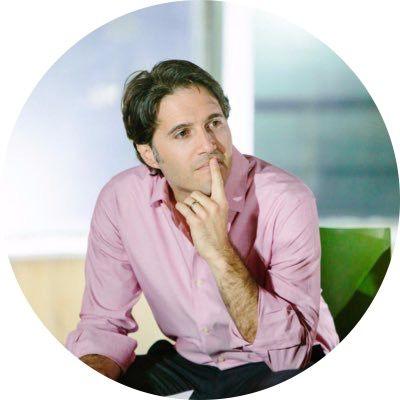 Giancarlo González, entrepreneur, investor and advisor who also served as Chief Information Officer from January 2013 through May 2015, said that "the innovation grant it is a great starting point for entrepreneurs to find a source of funding at a very early stage; usually venture capitals don't take so much risk, they are not willing to invest that early, so the fact that the Government is stepping in to invest in potential innovative business solutions in a very early stage provides opportunities to develop innovation companies." As González explained, this could entice entrepreneurs from different parts of the world to move to the island to start their businesses.
Although the "human cloud" combines the knowledge economy with exporting services, and the idea is that programmers –who can benefit of tax advantages as Act 20 –can work in Puerto Rico and export services to anywhere in the world, still González thinks the island needs more than grants.
Act 20 provides tax incentives for export-services companies who serve clients outside Puerto Rico. Act 20 businesses are subject to a 4 percent income tax rate. The law originally had a requirement that Act 20 companies create five jobs within two years of starting operations, but the Puerto Rican government eliminated this requirement in 2017. Today, there is no minimum number of employees required. Exceptions to the new rule include call centers and telemedicine firms.
González stated that to be effective Puerto Rico also needs top notch infrastructure as broadband, high speed connectivity, and the plan launched on 2012 needs to be updated. Today, the main spots with connectivity are in Santurce, Hato Rey, and Ocean Park. A study from 2014 reflected that only 12 percent of businesses in the island have a high-speed fiber optic connection.
The entrepreneur also mentioned the necessity of capital access and education as key elements for development of the so-called 'human cloud'.
"We need programing boot camps, we need to continue educating the pipeline of workers to learn the skills needed for those jobs. We are making progress but we need more. Beyond the engineering programs in the universities, we need boot camps, more support for code trotters, for alternative education to teach the skills without necessarily spending four years in a college degree," González added.
González pointed out the importance of people adopting the use of technology in their daily lives. "Because if they don't, people here working in innovation are not going to be able to test their products."
"It is great that the Government released the CESCO digital application, because it is the most visited Government service. If our citizens start to use the CESCO app they will be more willing to try Apps for other services such as transportation, telemedicine. The Government can be a promoter of the adoption of new technologies to make sure that these services are provided massively to everyone," the entrepreneur said.
González thinks the environment to develop these projects is mature. "We have coworking spaces. Everyone who wants to start a project will find the mentors," he added.
Finally, the entrepreneur thinks the Government must demand from these technology companies that they hire local talent.
"Sometimes companies outsource the programing and development talent to India, Perú, to the Dominican Republic, and I get it, maybe programmers in India are cheaper, but I am willing to bet that the best talent is here, they haven't looked enough or they want to make a better margin on the contracts, but the Government should reinforce that if you have a contract with them, those programmers should work in Puerto Rico, that the money spent in those contracts is not being sent out," González concluded.