The coronavirus crisis has upended the world, in more ways than one. The impacts on our health and economy are the most critical, but the rapid spread of the novel virus has also changed the way we interact and work. Self-quarantines, social distancing and working from home has become our new reality.
Journalists, such as your correspondent, have been working remotely for years. However, for other industries, the general lockdowns—not just in Puerto Rico, but all over the world—mean that many companies are now working remotely. Consulting firms, law offices and architectural firms are among the thousands whose employees must now work from home.
Writing in the Harvard Business Review, Tsedal Neeley, a professor at Harvard Business School, said having the right infrastructure is key to success.
"Do people have the requisite technology or access to it? Who has a laptop? Will they have the software they need to be able to do work, have conference calls, etc.?... Direct managers have to very quickly ensure that every employee has full access, so no one feels left behind," she said.
Once the infrastructure basics have been covered, it is important for those working remotely to set an appropriate schedule, as they would on a regular work day. For your correspondent, it means waking up at the usual time; starting work at the usual time; having lunch and other breaks at the usual time; and finishing work at the usual time.
"[H]ave a disciplined way of managing the day. Schedule a start and an end time. Have a rhythm. Take a shower, get dressed, even if it's not what you'd usually wear to work, then get started on the day's activities. If you're used to moving physically, make sure you build that into your day. If you're an extrovert and accustomed to a lot of contact and collaboration with others, make sure that still happens. Ask yourself: How will I protect myself from feeling lonely or isolated and stay healthy, productive, and vibrant? Create that for yourself," Neeley said.
The office team also needs to maintain contact with each other. Whether it's a WhatsApp chat group, regular phone calls or video conference meetings, it's important for staff to communicate with each other on a regular basis.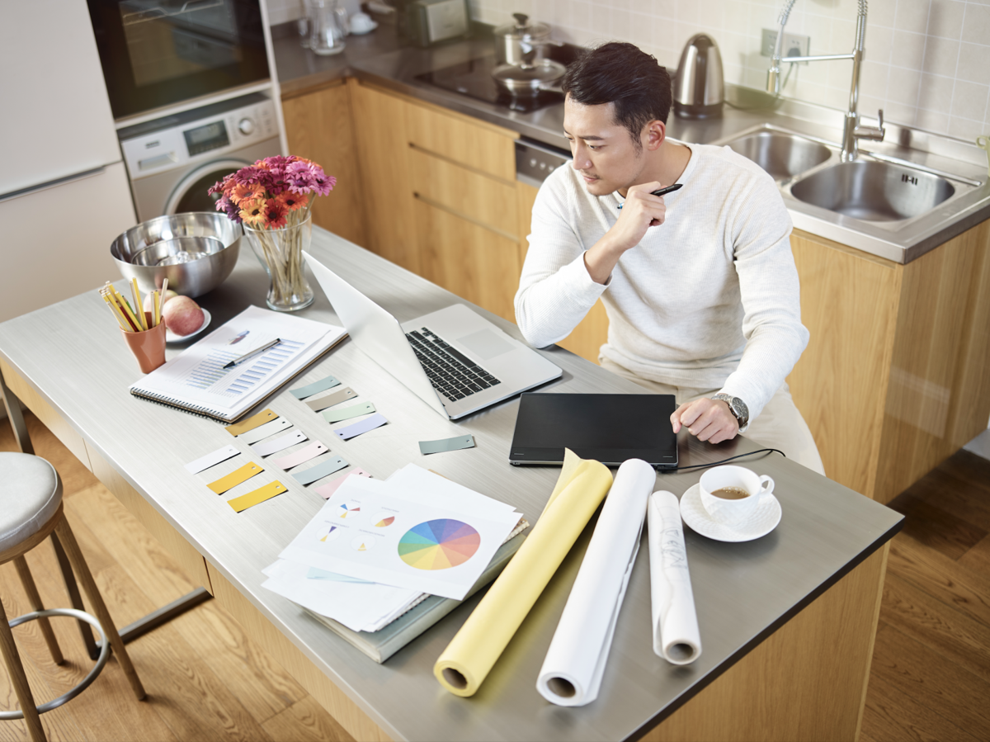 "In a remote environment, frequency of contact cannot go down. If you're used to having meetings, continue to do so. In fact, contact should probably go up for the whole team and its members. Newer employees, those working on critical projects and people who need more contact will require extra one-on-ones," Neely added.
The top three things that leaders can do to create a good remote culture are focused on communication. First, Neely said communicating about what is happening at the "organizational level" is very important, especially what is happening with clients and the company's common goals.
Second, there will be general concern about how the company is doing financially. Address staff concerns as best as possible. Third, Neely said "inclusion and balance the airtime" during group meetings is important so that team members feel they are seen and heard.
Ricardo Álvarez-Díaz, the founder and principal of the architectural firm Álvarez-Díaz & Villalón, who is among those working remotely, offers advice for these challenging times. "With companies suddenly switching to working remotely in order to minimize the spread of COVID-19, it can be challenging both technically and emotionally. For many people and business owners, this is the first time implementing these home tools and new strategies. For this reason, we are sharing some best practices and what's been working for us," he said.
Here are his tips on successfully running virtual meetings:
Know the technology
Make sure that everyone knows how to work with the technology that's going to be used to conduct the virtual meeting. Check in with the team prior to the meeting in case someone needs help setting up the meeting platform and confirm that everyone has tested the technology beforehand. This way you can avoid unnecessary anxiety, technical difficulties and potential interruptions during the meeting.
Create an agenda
Create a meeting agenda so you don't forget important topics you need to discuss during the virtual meeting. Include a meeting structure in the agenda that outlines the purpose, objectives, and key talking points of the meeting. The agenda will help keep virtual meetings on track.
Aim for video
Try using video conferencing platforms like Microsoft Teams, Skype or Google Meet for virtual meetings instead of traditional phone conference calls. This can make meeting participants feel more connected and engaged with one another. All these platforms have mobile phone apps. If your computer doesn't have a camera, you can use your cell phone to log on. Also, even if you are connecting using video conferencing, provide an audio option as a backup for people who for whatever reason can't use that option.
Keep it short
People working from home will most likely be surrounded by multiple distractions (think kids homeschooling) and be more likely to lose focus because of them. Keep it short and to the point. Respecting people's time and managing it efficiently is essential for every virtual meeting.
Break the ice
Kick off virtual meetings with a fun ice breaker or introduction. If there are new guest participants, ask them to introduce themselves. A good icebreaker is asking your team members to share a fun fact about themselves. Ice breakers and introductions add a social element to the meeting, help lighten the mood and strengthen the team's relationship.
Have a facilitator
Select a facilitator to make sure the virtual meeting runs smoothly. Facilitators can be the leader of the meeting or can be assigned by the leader to guide the conversation and help stick to the meeting's agenda. They can also moderate and answer questions during the meeting.
Avoid distractions
Avoid distractions and noises that surround you. Find a space in your home with the least amount of distractions and use headphones. If you can't block out all distractions, hit the mute button when you're not talking. Muting your microphone will ensure that distracting noises around you don't disrupt the meeting.
Keep people engaged
Engagement plays a huge role in any successful virtual meeting. Having a presentation always helps with team engagement and helps guide the conversation. You can also engage participants by sharing your screen, adding visuals, calling on them for their input or asking them to send questions via chat. Frequent interaction during the meeting will increase engagement and create productive virtual meetings.
Practice virtual etiquette
It's important to act as if you were in an in-person meeting. This includes having the proper etiquette. Do not use your phone, do not eat, do not interrupt other speakers, do not move around and do not have side conversations with others. Respecting your co-workers is part of basic virtual etiquette.
Be clear and follow up
Before ending a virtual meeting, let participants know what tasks they need to work on after the meeting. Make it clear for everyone what the calls to action and deadlines are in order to avoid any confusion. After the meeting, consider assigning tasks via email or planner or send a follow up survey asking participants for feedback and suggestions about what can be improved.