Beautifully redecorated and fully refurnished to immaculate detail, The Landmark is the new high-end co-working space that has opened its doors in the historic neighborhood of Miramar. Once a convent, the 149-year-old structure is emblematic of the resurgence of the French Renaissance, being one of only two structures with this style of architecture; the other being the Puerto Rico Conservatory of Music.
Olga Muñoz, CEO and Founder of The Landmark, used her 30 years of experience in architecture as co-owner of Soltero and Muñoz Architects, to create the space. Soltero and Muñoz Architects were the experts who were in charge of designing also The Mall of San Juan. The Landmark was created with a completely new approach to co-working design, implementing more private and intimate spaces while also offering a wide variety of options for entrepreneurs who are always on the go.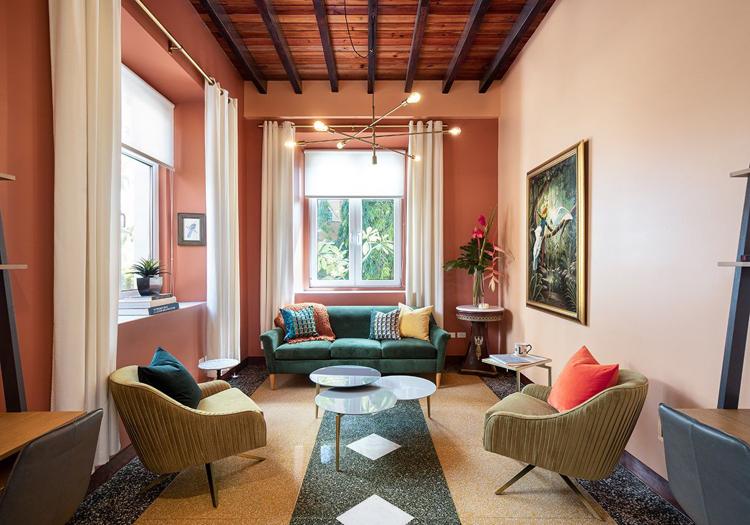 "The purpose is for people to come in and feel inspired to get to work. The person who comes here is the person who appreciates art, the person who appreciates beauty. It is for people who want to work in an environment that is inspiring in all aspects," said Muñoz.
Everything from the antique marble floors to the chandeliers to the mosaic-filled bathrooms to the ergonomic furniture that fills the space, every little detail was thought out by Muñoz. Across the walls are paintings of Puerto Rico's most important landmarks to go with the aura of the structure. With help from her daughter, color artist Maria Fernanda Soltero, the interiors of The Landmark look like they came straight out of an interior design magazine. Eclectic color patterns are matched with geometric shapes all around, giving a modern but not overwhelming feel due to the natural light that shines through the windows that are installed in each single workroom.
Designed for each possible entrepreneur, whether you're from out of town or as Boricua as they come, or whether you are flying solo or you have your team with you; whether you're in town for a short time or plan to stay for a while, there is something for everyone. A fully stocked kitchen with amenities welcomes everyone who decides to use the collaborative spaces. You can choose between a $50-day pass where you can enjoy any of the lounges, open desks and terraces. Or you could enjoy a dedicated desk for $450 a month which would include two hours of complimentary meeting room usage per month.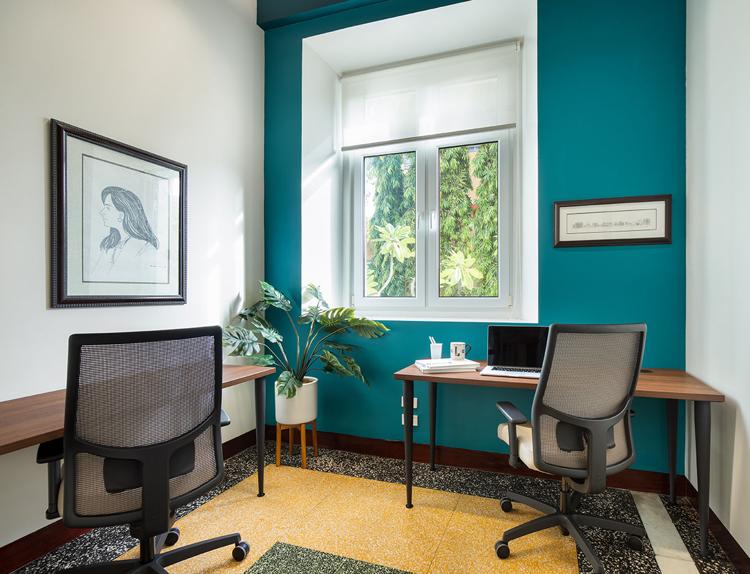 They also have private suites and studios designed for bigger teams from two to up to fourteen members which include more features like a 40 percent discount on additional meeting room hourly rates. There's also meeting room packages with video conference facilities and TV's to project presentations. Of course, there are various flexible membership package options that include access to mail and package handling and access to the online member community where events are posted.
Very soon, the activity room will be open for small cocktails or networking events for the entrepreneur who would like to host their event. For the business man or woman who likes to hit the gym, access to showers are also provided right there on the facilities.
At The Landmark, professionals can enjoy fully equipped print stations, a guest reception area, secured, private Cisco Meraki networks per professional or company, high-speed, fiber optic dedicated internet, 24/7 unlimited access for members and much more. In case of emergencies, a water tank and power generator are there for business continuity.
"What sets The Landmark apart from other co-working spaces is the attention to detail and the privacy we offer. We have small phone booths all around and sound proof gear in the walls that really give privacy to our guests," said Muñoz.
If you would like to learn more about this new co-working space, please visit thelandmarkpr.com