"If you build it, they will come."
With apologies to the movie "Field of Dreams," it seems that this famous phrase also applies to Puerto Rico.
When Lufthansa Technik officially opened its doors in Puerto Rico in 2015, the company launched a new industry on the island: airplane maintenance, repair and overhaul (MRO).
In the space of just a few years, Puerto Rico's aerospace industry has steadily grown, with Lufthansa Technik among those leading the way. When the company's MRO facilities were inaugurated in July 2015, about 140 people were initially recruited to serve two airline clients: Spirit and JetBlue.
Staff numbers were quickly ramped up to 200 and to date, Lufthansa Technik has 400 staff members to serve eight customers: Allegiant, Apollo Aviation (now Carlyle Aviation Partners) Avianca, LatAm, Sky Chile and Viva Colombia.
Lufthansa Technik has just won its ninth customer, but the details have not been released yet.
The German company's growth in Puerto Rico mirrors that of the industry as a whole.
In 2015, for example, there were about 18 aerospace-related companies with operations in Puerto Rico, generating about 5,170 jobs islandwide, totaling $130 million in annual salaries, according to the Puerto Rico Industrial Development Company (Pridco).
As of 2018, the number of these companies had grown to 34, generating about 7,050 jobs islandwide, totaling $296.35 million in yearly salaries, Pridco reported.
In terms of job numbers, there has been an increase of 36.4 percent in the last four years.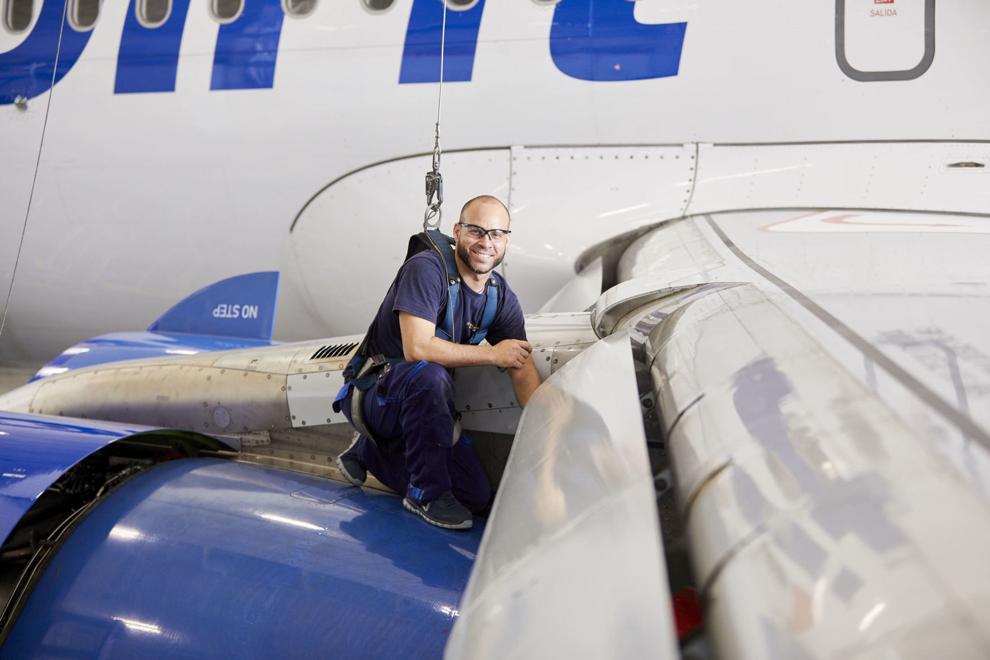 Some of the aerospace companies with facilities in Puerto Rico—many of them concentrated in the northwest region of the island—include Honeywell Aerospace, Collins Aerospace, Pratt and Whitney, Lufthansa Technik, Lockheed Martin, DXC Technologies, El-COM Systems, OPTI Manufacturing, Global Tek Manufacturing, CNC 2000, Multi-Axis Manufacturing and Jet Aviation San Juan FBO, among others.
The aerospace ecosystem is also complemented by a number of educational, scientific and research institutions such as the Arecibo Observatory; the University of Puerto Rico's (UPR) Nanotechnology Laboratory; Inter American University's Aviation School; the Aeronautical and Aerospace Institute of Puerto Rico (a subsidiary of the UPR's Aguadilla Campus); and various related programs at the Polytechnic University, Sistema Ana G. Méndez and Caribbean University. UPR Mayagüez's engineering program also offers a pipeline of trained professionals to many companies in the aerospace-related industry.
In the first seven months of 2019, the Business Development Office at the Economic Development and Commerce (DDEC by its Spanish acronym) also completed 12 negotiations with businesses comprising of telecommunications, information technology and aerospace firms. While specific details have not been released, these 12 companies will make an investment of more than $37.8 million and plan to create an additional 2,368 jobs in the sector, according to DDEC estimates.
According to a report by Banco Popular, the aeronautics industry has a solid base in Puerto Rico. "This discipline, which is part of the knowledge economy, includes the design, maintenance and manufacture of mechanical appliances used in aircrafts. On the island, most of the aeronautic industry activity is focused on providing services rather than manufacturing, and is limited to global markets, not Puerto Rico's local market. As a result, the economic activity generated by the aeronautics industry is one of exporting services," according to the bank's July 2016 Economic Progress report.
"Exports have the potential to improve Puerto Rico's fiscal and economic crisis, since they respond to external demand. In relation to export services, Puerto Rico is competitive. The aeronautics industry does not require intensive use of electrical power, which is very expensive in Puerto Rico, and does not require using United States' boats and crews for transporting merchandise, as occurs in manufacturing," Banco Popular said. "Aeronautics export services depend on a specialized workforce that is highly knowledgeable. In addition, it requires a quality communications infrastructure and the compliance with federal regulations which provide security in defense matters; all of which Puerto Rico already has and in which it competes favorably," the report added.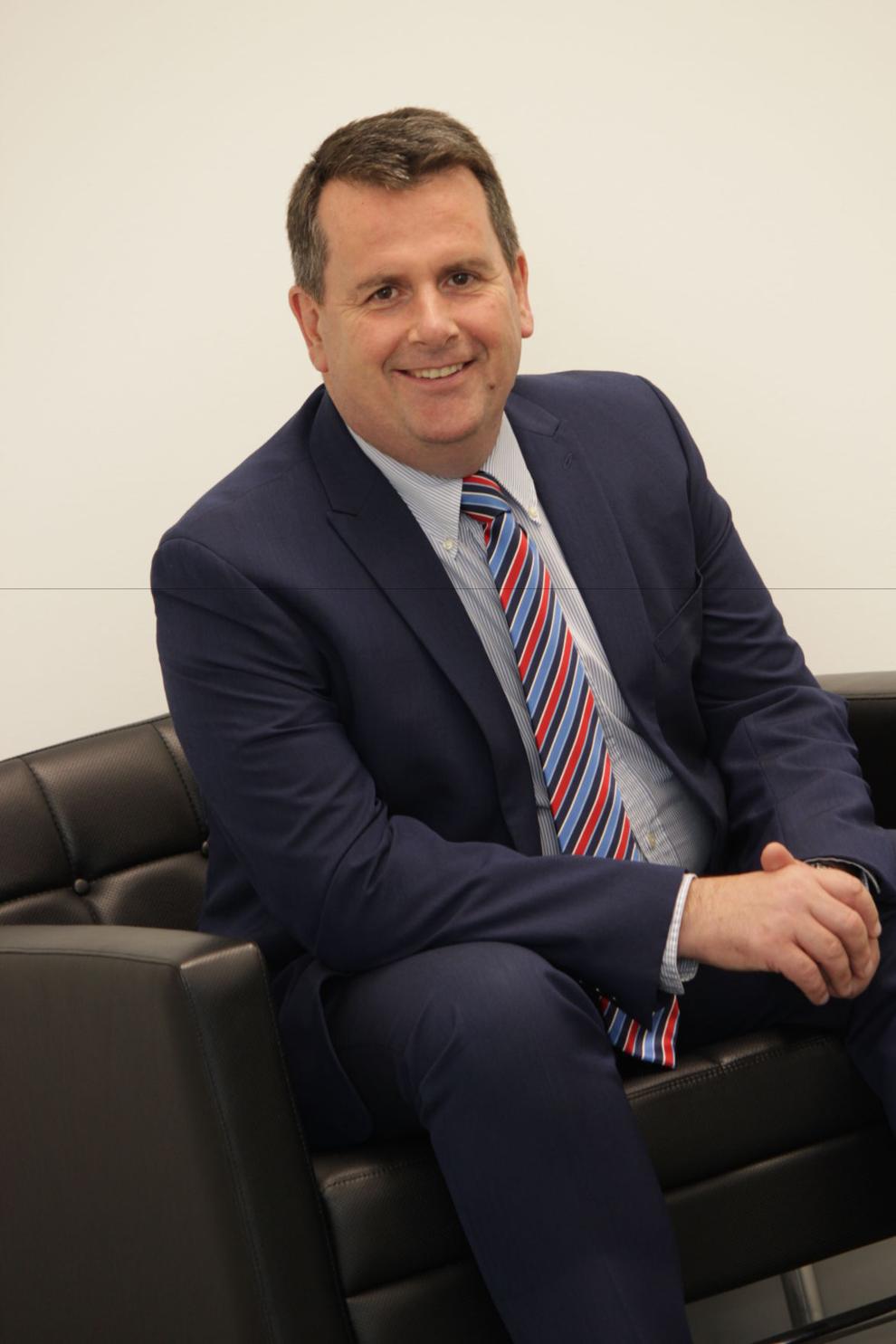 A Success Story
"There's a great team here. We are a successful operation. We would not be winning these customers if we weren't good," said Patrick Foley, CEO of Lufthansa Technik Puerto Rico.
A transplanted Irishman, Foley has been working with Lufthansa Technik in Puerto Rico since 2014 and now proudly calls the island "home." Foley is a long-time employee of Lufthansa Technik, having started in April 1982. He completed an apprenticeship as an aircraft mechanic at Shannon Aerospace in Ireland and then started working at Lufthansa Technik Shannon, where he quickly moved up in the ranks. He later studied business administration at the University of Limerick, graduating with a first-class honors degree.
"We have great facilities, a great process and a great team. We are 20 percent faster than our competition," he said to THE WEEKLY JOURNAL, noting that the average turnaround time is a week.
Foley explained that the company's airline customers in have a strong presence in North and South America, as well as the Caribbean, pointing to pointing to the strengths and attractions of Lufthansa Technik's location and capabilities in Puerto Rico.
The MRO facility, based at Rafael Hernández International Airport in Aguadilla, serves the Airbus A320 family of narrow-body airliners. In Sept. 2018, the service was expanded to include the A320 NEOs, the first in Lufthansa Technik to do so.
"The demand with A320s is so great, that with Spirit, JetBlue, Allegiant and LatAm, we are operating at full capacity," Foley said. To date, the company has redelivered more than 400 aircrafts from its Aguadilla facilities.
In fact, when THE WEEKLY JOURNAL toured the Aguadilla facilities, all five bays were occupied by airplanes and your correspondent could see at least two airplanes outside waiting their turn. Among the work being conducted included painting the aircraft, as well as various inspections in the interior and to the structures.
Seven teams focus on specific tasks such as the engines, cabin and interiors, cargo area, avionics, landing gear and structure.
"We're very proud that 95 percent of our staff are local. We helped create something that did not exist before. We brought an industry to the island that did not exist before," Foley said.
Of the 300 or so airline mechanics on staff, the median age is 31 to 32 years old and 15 are female.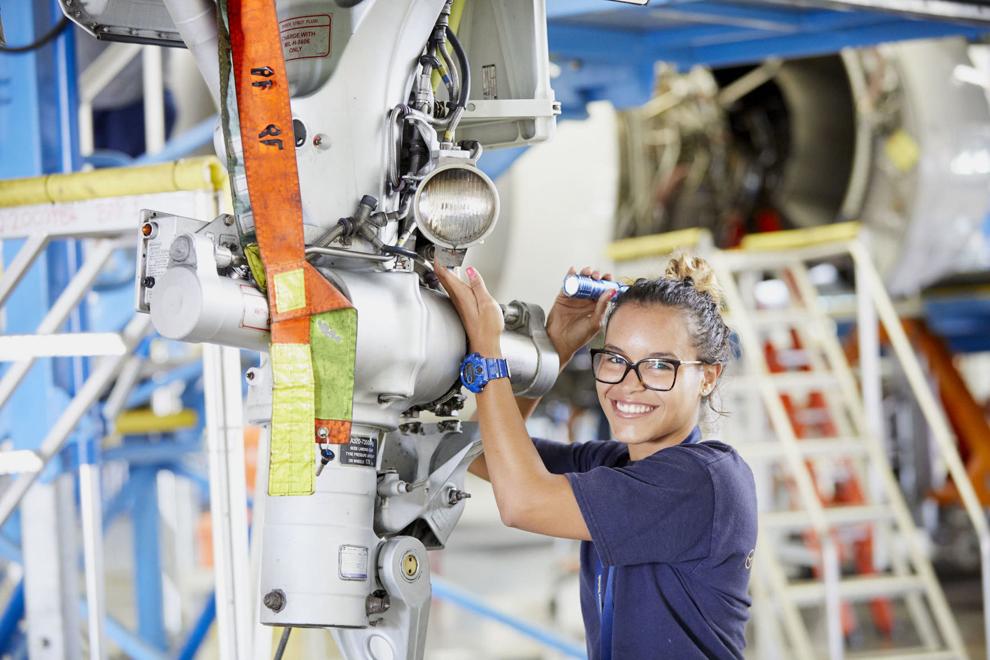 Initially, there was no pool of aircraft mechanics on the island, so Lufthansa Technik trained the initial staff in its European facilities, in places such as Hungary and Ireland. This issue pointed to the importance of establishing a pipeline of highly trained and competent staff that are also trained locally. Hence, the company soon formed collaborative agreements with the likes of such organizations as the UPR's Aeronautical & Aerospace Institute of Puerto Rico. The Institute now has a federally approved apprenticeship program in aviation mechanics.
Lufthansa Technik hopes to continue attracting other aerospace-related companies to Puerto Rico, Foley said. "The Aguadilla airport is perfect for MROs. Passenger numbers are increasing. This is also the longest runway in the Caribbean and so airplanes can land and immediately go to our facilities."
An aircraft painting company would be an attractive complement to Lufthansa's operations, he pointed out. "The Aguadilla airport is a real asset. We could have 10 more companies here."
Puerto Rico's Advantages
"The reasons why Lufthansa Technik came to Puerto Rico in 2014 are still true and valid today. Natural disasters happen all over the world but this seems to be getting more challenging," Foley said, alluding to Hurricane Maria's devastation in 2017.
Nevertheless, the company remains strongly committed to Puerto Rico, he emphasized.
"First, Puerto Rico, and specifically the Aguadilla airport, is the perfect location for an MRO facility. We have customers from North America and Latin America. Second, Puerto Rico is a U.S. territory. We are providing U.S. jobs and that is certainly an asset. Getting FAA approval would also have been more complicated out of the U.S.
"Third, culturally, Puerto Ricans are Latinos, so there is an important connection with their Chilean and Argentinian customers. Fourth, the availability of hard-working, well-trained and bilingual staff," Foley said. The latter is very important as the lingua franca at the Aguadilla facility is English.
"I am optimistic about the future. Puerto Rico's strengths, the location, a U.S. jurisdiction, the trained people. With the right leadership and planning, the industry will continue to grow," he said. "There isn't a magic bullet. It's step by step.
"Hurricane Maria came on a Wednesday. On Friday, we had 100 people here, ready to help and do what they could to get us up and running. On Monday, we were working again," Foley said proudly.
In a nutshell, that explains the corporate culture and "can do" attitude at Lufthansa Technik.