In 2018, municipalities increased their general fund balance by 6 percent, the highest rate since 2013, the first year the index was calculated, according to ABRE Puerto Rico, a project that uses scientific data and technology to communicate public information, making it useful and accessible to every citizen.
On its sixth year of assigning a fiscal health score to municipalities in Puerto Rico, the report indicated that municipal governments were able to improve their fiscal situation by reducing their operating expenses by 15 percent and their income by only 7 percent. This difference allowed most municipalities to have a surplus and thus improve their fund balance.
Around 73 percent of municipalities managed to increase their general fund without having to borrow or transfer money from other areas. Municipalities also managed to reduce long-term debt by 6 percent, mainly because they have been restricted in the issuing of new loans.
The index is calculated using thirteen indicators with information derived from the municipalities' audited financial statements.
Fajardo, Cayey, Barranquitas and Isabela repeated their A performance from last year. As for the bottom 10, there are some repeat municipalities this year: Ponce, Cabo Rojo and San Juan. The municipality of San Juan had their worse score on record this year.
Rincon and Quebradillas returned to the A group this year. There were new municipalities on the bottom 10 this year, like Mayagüez and Toa Baja. Coamo, Gurabo and Vega Baja were the municipalities that deteriorated the most, while Maricao, Añasco, Peñuelas and Salinas were the ones that improved the most.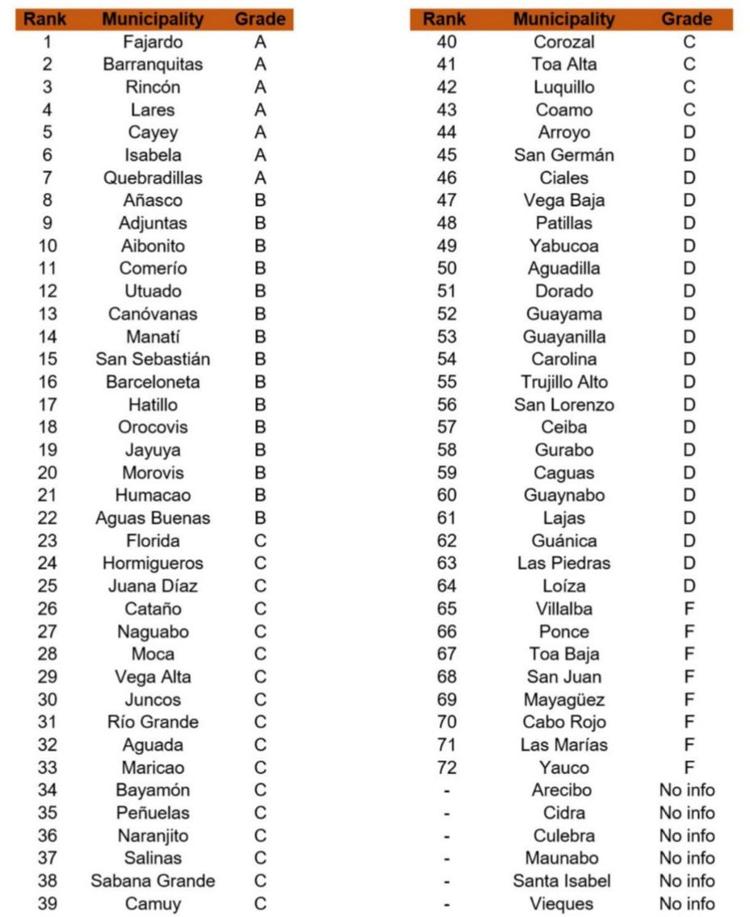 Some 42 municipalities, 58 percent, stayed the same; 12, 17 percent, worsened; and 18, 25 percent, improved their grade.
"Due to the unstable situation in Puerto Rico, we expected a greater deterioration of municipal finances, particularly when this is the first fiscal year after Hurricane Maria. However, the numbers reflect that municipalities, in the aggregate, substantially improved their fiscal indicators. This means that, for the most part, municipalities exercised fiscal discipline in 2018," said Arnaldo Cruz, founder and president of ABRE Puerto Rico.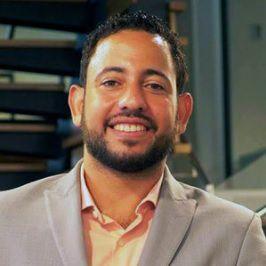 Cruz said that although this year saw great improvements with fiscal indicators in the short-term, this does not change the long-term financial position of municipalities in Puerto Rico.
Even after a good fiscal year, about half of the municipalities still have a negative fund balance, and almost half still depend on central government revenues.
In municipalities such as Lares and Las Marías, more than 80 percent of operational revenues come from the central government. Around 65 percent of municipalities have a negative net financial position.
"The unexpectedly favorable aspects are, without a doubt, encouraging, and could be an indication of a new fiscal discipline due to the challenging scenario municipal executives are facing, but it is not enough to change the general panorama of municipal governments in Puerto Rico. Fiscal and financial management at the municipal level remains a pressing issue on the island," Cruz explained.
This year, six municipalities did not provide their information on time and thus were not part of this edition: Arecibo, Cidra, Culebra, Maunabo, Santa Isabel and Vieques.