Puerto Rico Gov. Pedro Pierluisi today announced a new executive order to handle the COVID-19 pandemic on the island, with a focus on required vaccinations for food industry workers, as well as proof of vaccinations for their customers.
The executive order will take effect on Aug. 23, and decrees mandatory vaccination for employees of restaurants, bars, food trucks and any place that issues drinks or meals. Employees will have until Oct. 7 to obtain the second dose if the vaccine requires it. If they are not vaccinated, they must present a negative test for COVID-19 weekly.
Likewise, proof of vaccination or negative test will be requested for customers of any establishment that dispatches prepared food or drinks and has a closed structure. Sites that do not comply must reduce their capacity to 50 percent.
Minors under 12, who cannot get vaccinated, must have their masks on at all times save when they are eating or drinking. The governor did not detail how businesses will validate that the minors attending their establishments are younger than 12.
The measure affects this sector "because they are places where people have to take off their masks and that increases infections," Pierluisi explained. "The reason for these demands is because in these places there is a greater risk of contagion due to not having the mask on."
Asked if this decree was discussed with this sector, the governor said that "some have been adopting the recommendation I made when I demanded the vaccination in the tourism and health sectors... and I recommended to adopt that same decree in the restaurant and bar sectors." Some in the food and beverage industry, he said objected to it, which is why his administration is ordering them to limit their capacity.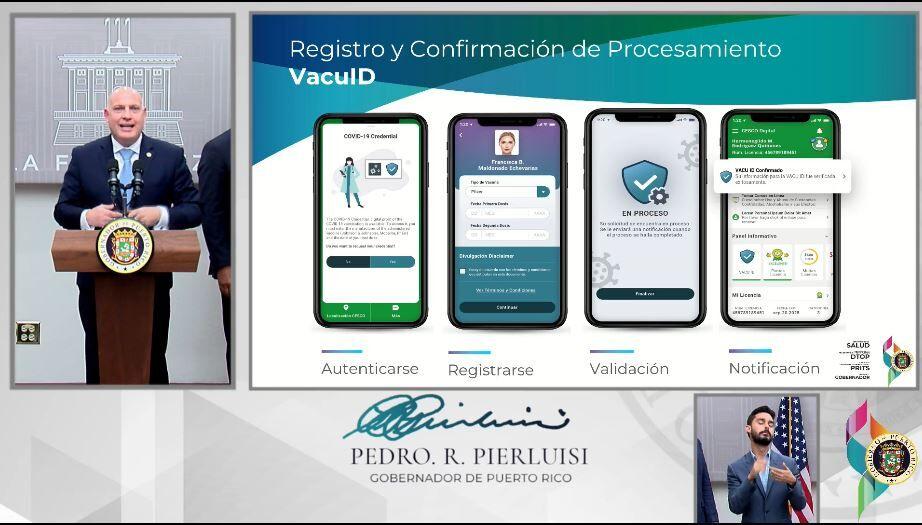 Meanwhile, the governor announced that people who have received their COVID-19 shots may get an online credential called "VacuID." This digital identification is developed by the Puerto Rico Innovation and Technology Service (PRITS) and can be downloaded on the CESCO Digital app, of the Department of Public Works and Transportation (DTOP). In order to get the ID, the user must have completed all vaccine doses.
The app will be available starting 7 p.m. tonight on Apple and Android devices, according to officials.
"People will always have the option to use their vaccination card," he said, referring to the card that all individuals receive upon receiving their shots.
Moreover, Pierluisi announced a new lottery for people who have been vaccinated by Aug. 25. The prizes as informed, are: two $35,000 rewards, three worth $15,000, six worth $10,000, 10 worth $5,000, and 45 worth $1,000. The lottery will be held on Aug. 31.
COVID-19 in Puerto Rico
The local Health Department's online coronavirus dashboard, updated on Aug. 10, indicates that there were 288 new cases out of 3,971, indicating a positivity rate of 9.69 percent, a slight uptick from last week's 8.9 percent.
Meanwhile, 2,189,410 vaccines doses have been administered. Of these, 1,918,238 individuals have received their full doses, or 76.9 percent of the total eligible population (aged 12 and older).
The 2020 Census revealed that Puerto Rico had a population of 3,285,874. This means that 66.63 percent of the total population has been at least partially vaccinated, while 56.38 percent has been fully inoculated.
"The goal is for everyone to get vaccinated," he said. Initially, the government claimed that 70 percent of the population would suffice to reach herd immunity.