Gov. Pedro Pierluisi today announced a new executive order to curb the spread of COVID-19 in Puerto Rico, which includes new restrictions on citizens and businesses.
The changes announced today by the governor include restricted hours for a large majority of businesses, a ban on social activities in both public and private places, and a dry law from 12 a.m. to 5 a.m. every day of the week. Concerning the latter, Pierluisi added that consumption of alcoholic beverages in public spaces is also prohibited, arguing that people "let down their guard" when drinking.
Meanwhile, all private operations that serve the public must close from 12 a.m. to 5 a.m., including "commercial, professional, non-professional, consumer service, sales, entertainment and other premises." Operations that do not serve the public, such as manufacturing, construction, commerce, distribution and agriculture companies are excluded from this new measure of restricted hours.
Also exempted are health and vaccination centers, funeral homes, ports, airports, the media, transportation services and utilities. It does not apply to gas stations, supermarkets, shops that sell essential items, and restaurants -but only those that have delivery services-, hotel food services, and bus stops.
As previously reported, commercial establishments must enforce vaccine mandates on their employees and clients, or require weekly testing from staff and negative test results no older than 72 hours from their customers. Those who do not abide by this ruling must reduce their guest capacity by 50 percent.
Likewise, mask use is mandatory in closed spaces and open spaces with more than 50 people.
As informed, this executive order will be into effect from Sept. 2 until Sept. 23, three weeks total.
Another of the measures imposed by the governor includes the cancellation of selective surgeries, and health center personnel must always use N-95 or KN-95 masks.
A Monday poll from EL VOCERO, a sister publication of THE WEEKLY JOURNAL, indicated that 59.2 percent of participants would favor a lockdown, while 40.8 percent oppose this measure.
COVID-19 in Puerto Rico
The Aug. 29 update of the local Health Department's online coronavirus dashboard reported 372 confirmed cases on average out of 5,382 molecular tests performed, which reflects a positivity rate of 6.9 percent. Despite the government's claim of an uptick in cases, the dashboard's graphs showcase a drop since Aug. 14.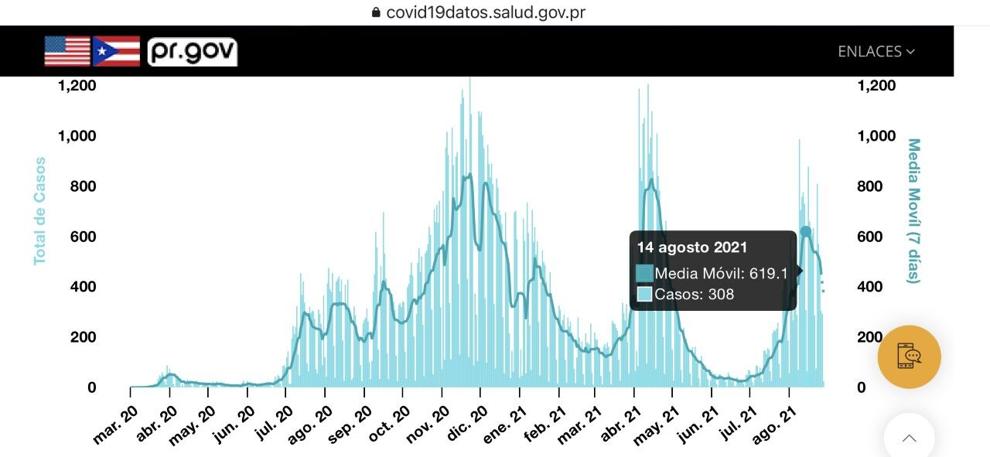 Meanwhile, 81.4 percent of the eligible population (aged 12 and older) have gotten at least one dose of the COVID-19 vaccine, available through Moderna, Pfizer, and Johnson & Johnson. Moreover, 70.4 percent of the eligible population has been fully inoculated.