Microsoft Corp. (NASDAQ:MSFT) announced the findings of its first annual Work Trend Index. Titled 'The Next Great Disruption Is Hybrid Work—Are We Ready?,' this report reveals the seven trends in hybrid work that every business leader should know as this new labor era unfolds.
The report recommends business leaders to avoid equating hybrid work with pre-pandemic work and, instead, rethink ingrained preconceptions about it.
"Over the past year, no area has undergone more rapid transformation than the way we work. Employee expectations are changing, and we will need to define productivity much more broadly — inclusive of collaboration, learning, and wellbeing to drive career advancement for every worker, including frontline and knowledge workers, as well as for new graduates and those who are in the workforce today. All this needs to be done with flexibility in when, where, and how people work," said Satya Nadella, CEO at Microsoft.
The findings suggest that, this past year, the nature of work has fundamentally changed. For instance, Collaboration trends in Microsoft Teams and Outlook suggest that their networks have shrunk, but hybrid work will revive them. On another hand, meeting time has more than doubled globally. In addition, more than 40.6 billion emails were received in the month of February of this year, compared to 2020.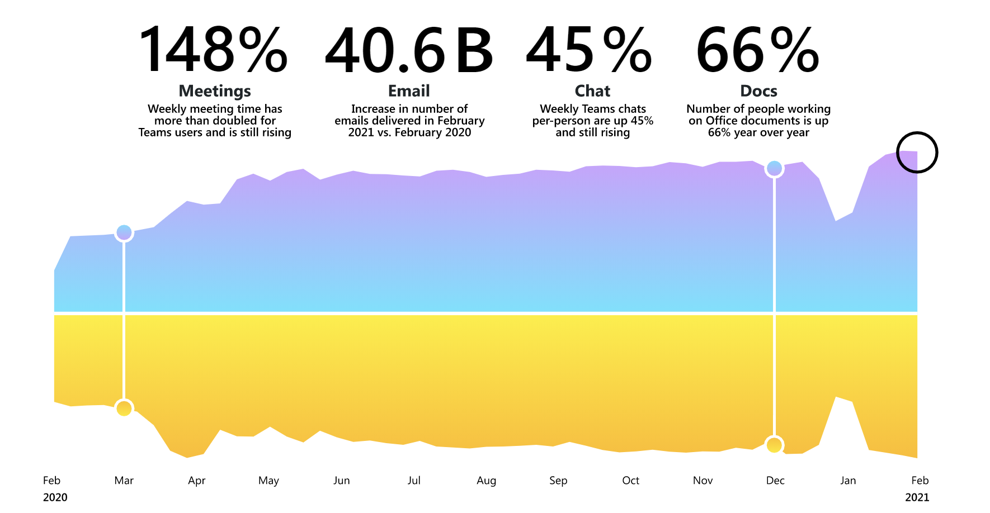 Meanwhile, 40 percent of survey participants said they felt more comfortable being themselves during their work hours compared to the pre-pandemic work environment. One out of six reported crying with a colleague this year. As such, Microsoft concluded that, in this way, work has become more "humane."
However, the report warns that traditional workplaces are at the brink of disruption:
- 73 percent of workers surveyed want flexible remote work options to continue.
- Remote job postings on LinkedIn increased more than 5 times during the pandemic.
- More than 40 percent of the global workforce have started considering leaving their employer this year and 46 percent plan to move now that they can work remotely.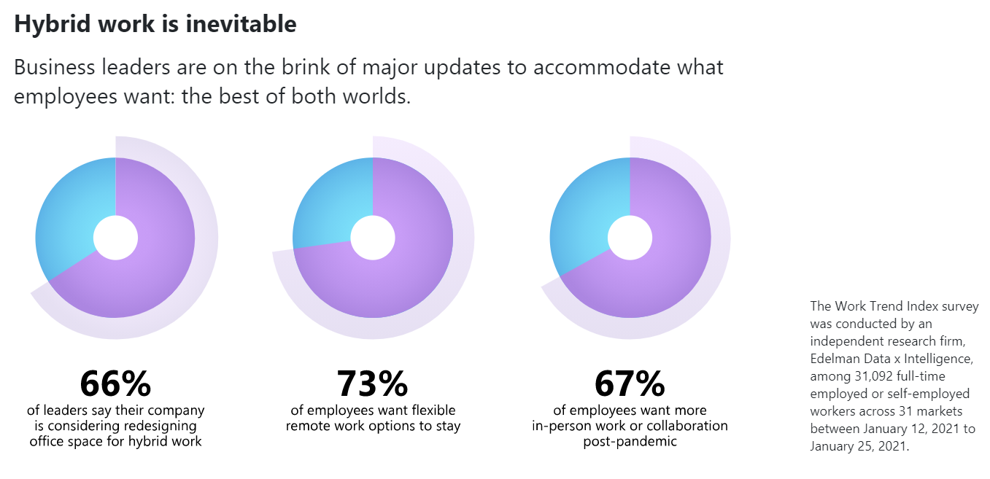 "This shift is likely to stick, and it's good for democratizing access to opportunity. Companies in major cities can hire talent from underrepresented groups that may not have the means or desire to move to a big city. And in smaller cities, companies will now have access to talent that may have a different set of skills than they had before," said Karin Kimbrough, Chief Economist at LinkedIn.
Latin America Data 
The global research included studies from Latin American countries and showed that remote workers:
- They tend less to burnout: 31 percent of workers in Latin America feel exhausted (compared to 39 percent of the world average) and 42 percent feel overworked (compared to 54 percent of the world average).
- They feel more freedom to be themselves: 54 percent of remote workers in Latin America feel more likely to be themselves at work, compared to last year (compared to 44 percent of the world average).
- Are more socially isolated at work: 49 percent of workers in Latin America say their interactions with coworkers have decreased (compared to 40 percent of the world average).
- Are more likely to consider changing jobs: 53 percent of workers in Latin America have considered a career change during the year (compared to 46 percent of the world average).
In short, addressing flexible work will impact who stays, who goes and who joins a company.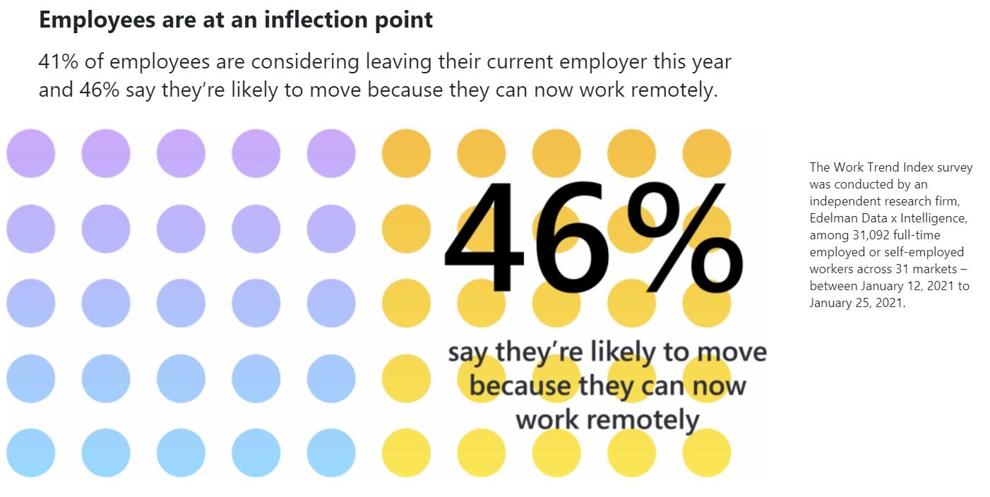 To help organizations through the transition, the 2021 Work Trend Index outlines findings from a study of more than 31,000 people in 31 countries and analyzes trillions of aggregate productivity and labor signals across Microsoft 365 and LinkedIn. It also includes perspectives from experts who have studied collaboration, social capital and workspace design at work for decades.
Seven Hybrid-Work Trends
The report uncovers seven trends every business leader needs to know as we enter this new era of work:
1. Flexible work is here to stay.
2. Leaders are out of touch with employees and need a wake-up call.
3. High productivity is masking an exhausted workforce.
4. Gen Z is at risk and will need to be re-energized.
5. Shrinking networks are endangering innovation.
6. Authenticity will spur productivity and well-being.
7. Talent is everywhere in a hybrid work world.
"Before the pandemic, we encouraged people to 'bring their whole self to work,' but it was tough to truly empower them to do that. The shared vulnerability of this time has given us a huge opportunity to bring real authenticity to company culture and transform work for the better," Jared Spataro, CVP at Microsoft 365.
Strategies for Business Leaders
In addition to uncovering what's at stake with the future of work, the Work Trend Index identifies five strategies for business leaders as they begin to make the necessary shift:
- Create a plan to empower people for extreme flexibility.
- Invest in space and technology to bridge the physical and digital worlds.
- Combat digital exhaustion from the top.
- Prioritize rebuilding social capital and culture.
- Rethink the employee experience to compete for the best and most diverse talent.
"During this pandemic we've observed a swift acceleration of certain pre-COVID trends. But perhaps one of the most exciting trends is this rise in remote work," Kimbrough stated. "As opportunity is democratized with remote work and talent movement, we'll see a spread of skills across the country, and this is the time for business leaders to take the opportunity to access different skills and talent not previously available to them."
The full findings can be viewed at Microsoft's Worklab, a digital publication about the future of work.