While the focus on investments in Opportunity Zones have been generally focused on real-estate and urban areas, several island mayors said there are more prospects beyond the San Juan metro area, which would help spur economic development and create jobs.
During a forum hosted by the Puerto Rico Chamber of Commerce (CoC), a common theme emerged from several mayors who attended the activity. They are calling on investors to promote the rebirth of urban centers, many of which have empty buildings, and continue stimulating the booming tourism industry by opening hotels, restaurants and other businesses located near the island's many beaches.
"Not everything has to be focused on the metro area. I invite all investors to look at the whole island as opportunities for investment. Look at all the beauty that we have," said José Sánchez González, the mayor of Manatí.
He noted that his town, located on the north coast, is a 45-minute drive from San Juan and among its attractions are several well-known beaches, such as Playa Mar Chiquita, Playa La Cueva de las Golondrinas and Playa Los Tubos. In fact, he said he would like to turn this coastal corridor, of some 34,000 acres, into a popular ecotourism area with "green" activities such as camping areas and paths for pedestrians and bikers.
Another tourism-related investment opportunity would be opening small hotels, Sánchez indicated. To that end, there is a building available in the urban center that could be converted into a "bed and breakfast" establishment, with an estimated investment of $6 million. The building is near several medical centers and hospitals, as he noted that Manatí is also home to seven manufacturing companies.
Opportunity Zones have become the buzzwords in Puerto Rico in recent months. The federal program provides tax benefits for those investing in distressed, low-income communities nationwide. Puerto Rico has also enacted its own Opportunity Zone law; hence, investors can benefit from the tax incentive at both the federal and commonwealth levels. About 98 percent of Puerto Rico has been designated by the federal government as eligible for Opportunity Zone investments.
Eligible projects include multi-family housing, including student dorms; tourism-related businesses; educational and health facilities; tech incubators; and other types of commerce. While the focus of the Opportunity Zones initiative is to promote economic development and job creation, not all businesses qualify. For example, liquor shops and smoking shops are not on the eligible list. It is unclear whether the cannabis industry, such as medical marijuana shops in Puerto Rico, is eligible, but since marijuana is still considered illegal under federal law, common sense dictates that these businesses would be on the verboten list.
For his part, Aguadilla Mayor Carlos Méndez Martínez emphasized his business focus as the CEO of his town. "I want jobs, jobs, jobs," he said, as he touted Aguadilla's strengths, including the increasing passenger traffic at the Rafael Hernández Airport, the presence of a number of aerospace-related companies, such as Lufthansa Technik, and several tourist attractions, including Crashboat Beach, a waterpark and an ice rink.
"I want to turn the airport into an aerotroplis, a city within an airport with shops and restaurants," he said.
Méndez also said there were several properties that already have the necessary permits to begin construction as multi-family units or hotels, with one complex named Ocean Dreams Apartments. "One building could be for 40 apartments… another for 56 apartments. We have the plans, we have the permits and we have the land already. All you have to do is come and begin construction tomorrow," he said to investors.
"The municipality of Aguadilla is a business. I am not the mayor, I am the CEO," he said, as he sometimes switched to speaking in English.
Carolina Mayor José Carlos Aponte Dalmau said his administration has focused its economic development plan on reviving the city's urban center and improving the tourist zone of Isla Verde. The urban center counts on a hospital and Pueblo supermarket as "anchors" for the local population.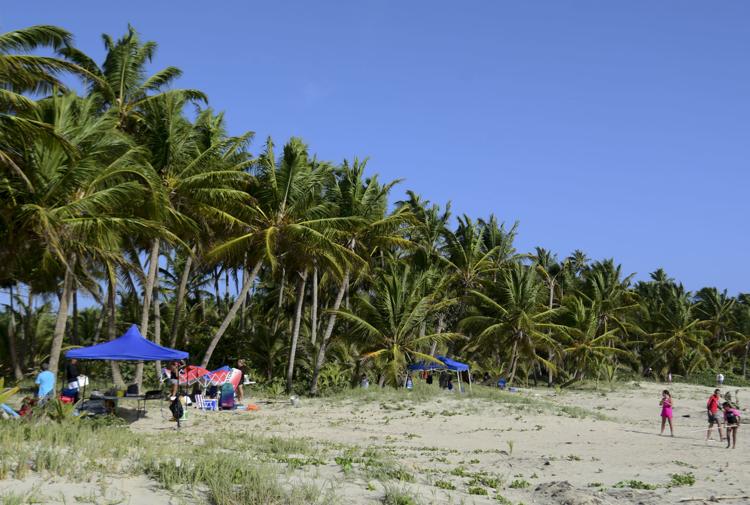 Opportunity Zones as P3 Projects
Aponte also said there is no reason why an Opportunity Zone project could not also be a public-private partnership (P3). He highlighted the case of Vivo Beach Club, where the CoC event was held, as essentially a P3 facility. The city owns the land and building, while a private investor manages and runs the property, which features meeting rooms, a restaurant and a local brewery. The private-sector partner invested $6 million and created 100 jobs at Vivo Beach Club, Aponte said.
The project not only helped revive the area between Isla Verde and Piñones, but also spurred other hotels in the area to upgrade their own facilities, the Carolina mayor said.
There are several municipal properties in Carolina's urban area that are available to investors, all of which are near medical facilities and Highway 3, and are located in "high population" areas: one that sits on 4.2 acres of land and another on 8.2 acres. A third property, near Plaza Carolina, is located on a 7.3-acre lot.
In fact, there are many government-owned buildings around the island that are empty and these "assets" could be converted into Opportunity Zone and P3 projects, indicated Omar Marrero, who heads the Fiscal Agency & Financial Advisory Authority.