It's almost impossible to walk by La Heladería (The Ice Cream Shop) on Loíza Street in San Juan without staring or peeking inside. Across the way from the iconic mural of the Puerto Rican flag with kids jumping rope, stands this simple yet tempting artisan ice cream shop.
Tucked in the middle of a street densely populated by restaurants and clothing stores, the snowy white storefront with a classic ice cream cone silhouette immediately grabs your attention. At first sight, the shop is funky and charming.
But it's more than a physical attraction. One step into the parlor owned by Carla Bonelli and you are hit with a soft breeze of sweet tones and hints of fresh dough. The voyage for the senses begins.
From the colored specs on the wall that resemble sprinkles to the use of fresh ingredients and environmentally friendly cups and spoons, the place mixes iconoclasm with old-school charm. True, you can find traditional flavors like dark chocolate, vanilla bean and peanut butter almost anywhere, but not all are made with the devotion and are as smooth and creamy as the varieties sold at this frozen dessert heaven. The secret? Everything is done by hand slowly and patiently.
The other ingredient? Innovation. Sitting next to the classics are Guava Cookie Crunch, the parlor's darling and first flavor, and Cinnamon Oats.
"I make my ice cream from scratch and I don't use refined sugar, artificial flavors or colors," Bonelli told THE WEEKLY JOURNAL.
Instead, the ice cream diva uses unrefined sugar and fresh locally sourced high-quality ingredients. For instance, the dark chocolate and chocolate chip ice cream scooped at La Heladería contains delicious bits and pieces of Loíza Dark, a bar of natural gourmet chocolate crafted from native cacao. The passion fruit, watermelon and tamarind sorbets -vegan options- are made with fresh fruits from Hacienda Río Viejo, while the coffee flavor gets its kick from the grains harvested in Hacienda San Pedro.
La Heladería specializes in small-batch ice cream and sorbets with unique mixes and a seasonally rotating menu. While Bonelli has created over 80 flavors, the parlor offers a carte of 16 at a time.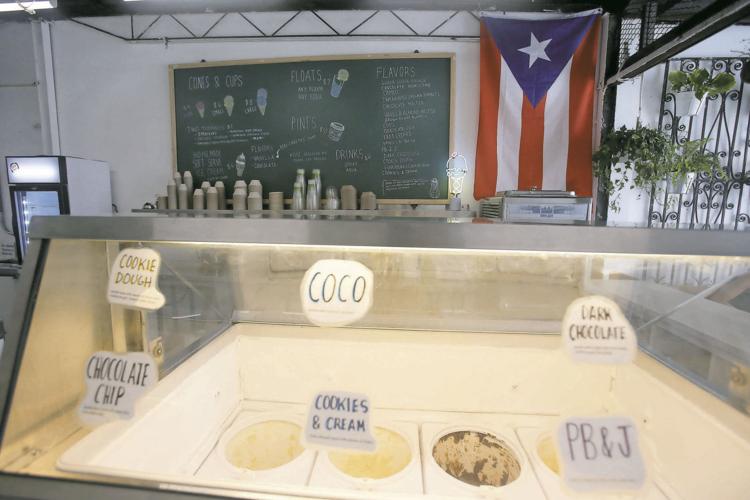 The mastermind behind the funkyberry brand, Bonelli is a former elementary school teacher turned self-taught baker and ice cream guru. A shy woman, not used to media attention, the woman, 40, prefers to let her creations do the talking. The artisanal scoops of Cameo, PB&J, Cookie Dough, Coconut and Cookies & Cream sure know how to please taste buds and offer instant gratification.
"I've always enjoyed baking and crafting desserts. I am always looking for recipes, that I modify and improve," Bonelli explained timidly of her creative process.
She jealously guards her recipes and the list of ingredients of her base ice cream but gleams with satisfaction when mentioning her famous crispy guava cookies and the inspiration for her first ice cream. "People keep asking if I am going to sell them separately."
The vision for the ice cream parlor came from her husband Raúl Gutiérrez, who encouraged her to change paths after taking a hiatus from a smoothies and acai bowls bar she had in Isla Verde.
"I decided to give it a try and began inventing flavors," Bonelli recalled.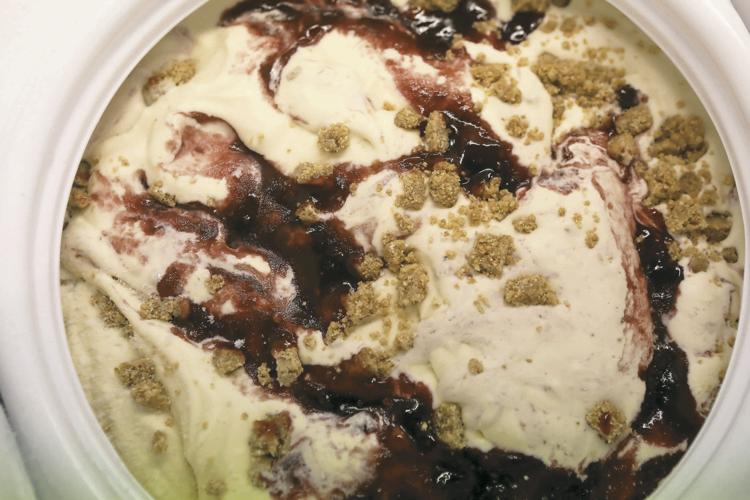 ##For this new venture, she decided to change venues and moved to Loíza Street, San Juan's hipster barrio, and combined the nostalgia of the vintage parlor with the novelty of bold flavor combinations. It worked. Since La Heladería opened six weeks ago it has garnered a loyal following based on the eclectic palette of flavors.
Ice cream lovers descend on the place in search of the vanilla bean ice cream churned with bourbon vanilla beans from Madagascar, the Brown Sugar Blondie with homemade cookies and toffee, Chocolate Malted with chunks of malted balls or Chocolate Fudge Brownie made with a homemade brownie. The more adventurous can try a Malta (lightly carbonated malt beverage, brewed from barley) float instead of the typical root beer floats or the homemade soft serve vanilla ice cream with Cheetos' dust.
The store is also a family affair and a place for women's empowerment. Bonelli's daughter Alana and her sister Lourdes help run the business and the staff is composed mainly of young women.
"Yes, you can live off selling ice cream," Bonelli concluded.