The first week of April, when the newly created Paycheck Protection Program (PPP) went into effect, more than 400 small businesses in Puerto Rico initially applied for the U.S. Small Business Administration (SBA) program. In the second week, the number had skyrocketed to several thousand around the island.
Banco Popular, the island's main financial institution, provides a snapshot of the phenomenon, first receiving several hundred applications and now that number has jumped to some 4,000. The bank initially released $2.6 million in the PPP forgivable loans during the first few days after the program went into effect.
"This is a new loan with components that have not been used before to revive the economy. The main purpose of this aid - which came into effect on April 3 - is to help retain jobs and we have seen a lot of demand from interested businesses," said Eli Sepúlveda, executive vice president of Banco Popular's Commercial Credit Group.
He urged more local businesses to apply for the stimulus aid, as $217 billion in PPP loans have been approved in the United States, out of the total allocation of $349 billion.
"The [PPP} money is running out very fast and this is the challenge that Puerto Rico has. Interested businesses need to be given quick access so they can take advantage of the benefit quickly. It is estimated that a third of the money is still available," he said.
In Puerto Rico, about 10 financial institutions can issue PPP loans, including Banco Popular, FirstBank and Oriental Bank, according to the SBA. The deadline for applying for the PPP aid is June 30.
The loans, which are 100 percent backed by SBA, are being provided to small businesses without collateral requirements, personal guarantees, SBA fees or credit-elsewhere tests. Those eligible for the program include small businesses, certain non-profits, veterans' organizations, self-employed individuals, independent contractors and other businesses meeting size standards based on their North American Industry Classification System code.
The Paycheck Protection Program's maximum loan amount is $10 million with a fixed 1 percent interest rate and maturity of two years.
The loans are available to cover up to eight weeks of average monthly payroll (based on 2019 figures) plus 25 percent and payments are deferred for six months (interest does accrue).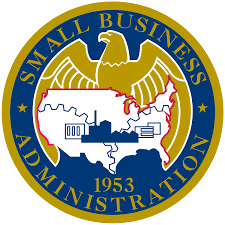 The SBA will forgive the portion of loan proceeds used for payroll costs and other designated operating expenses for up to eight weeks, provided at least 75 percent of loan proceeds are used for payroll costs. Eligible expenses for the eight-week forgiveness include payroll costs, sick leave, healthcare premiums and utilities (electricity, gas, water, transportation, phone and internet access).
The SBA also has another program to help small businesses, the Economic Injury Disaster Loans, which provide up to $2 million in assistance. These loans can provide vital economic support to small businesses and nonprofit organizations to help overcome the temporary loss of revenue they are experiencing, according to SBA Administrator Jovita Carranza.
These loans may be used to pay fixed debts, payroll, accounts payable and other bills that can't be paid because of the disaster's impact. The interest rate is 3.75 percent for small businesses without credit available elsewhere; businesses with credit available elsewhere are not eligible. The interest rate for non-profits is 2.75 percent.
"We urge every struggling small business to take advantage of these unprecedented federal resources – their viability is critically important to their employees, their community, and the country," Carranza said.
Survey: 50 percent of small businesses nationwide have applied for help
Based on the most recent Alignable.com Pulse Poll of 42,700 small business owners around the U.S. this weekend (April 10-12), CARES Act relief checks have started to appear in bank accounts for around 1 percent of those who have applied.
Compared to last week, there's also a significant surge in applications among small business owners, as only 33 percent said they applied last week, and that number has now escalated to over 50 percent -- a promising sign for the U.S. small business economy.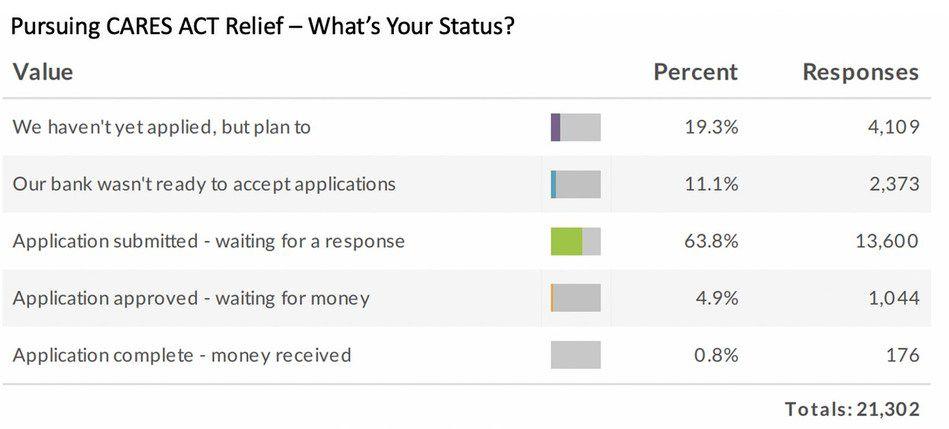 Just about 1 percent of CARES loan applicants have received their money at this point, according to an Alignable.com Pulse Poll over the weekend with responses from 42,700 small businesses in the U.S. with 1-50 employees. Alignable.com, the largest small business referral network with 4.5 million-plus members, conducts regular surveys to tap the sentiments of small business owners around the nation.
Beyond the CARES applicants with their money in hand, around 5 percent of applicants have been approved and are still waiting for the money, and close to 64 percent have applied, but have not been approved yet.
For those who have decided to apply, 11 percent are still having trouble with banks that are not ready to handle the applications. In some cases, these small business owners are now trying to find better lenders.
"Despite some ongoing challenges, the application process for the loans is showing many promising signs," said Eric Groves, Alignable.com's co-founder and CEO. "However, this week, it will be crucial for the survival of many small businesses that the government and the banks quickly deposit the money for the other 68 percent of businesses that have been approved or await approval. Many of these businesses are running out of cash and need that infusion ASAP."
And for the nearly 50 percent of small business owners who have not applied yet for CARES loans, the situation is even more challenging, as several obstacles remain in their way.
For more than 60 percent of this group, they are not sure if they qualify for the loans (nearly 42 percent) and/or if they can trust that their loans will be forgiven (over 18 percent). Alignable's next poll will dive deeper into these obstacles; however, these findings indicate that the government might need to further clarify the rules to make sure all companies that qualify get the money they deserve.
—Christian Gabriel Ramos Segarra contributed to this story.