The retail trade sector has more establishments than any other sector in Puerto Rico, mirroring that of the economy of the United States, according to a U.S. Census Bureau report based on 2017 data.
There were 9,364 retail trade establishments, representing an estimated 22 percent of all business establishments on the island that year. The figure for the United States was 14 percent, according to the Census. The results show the importance of retail trade in the island's economy, and specifically in terms of employment.
The Census Bureau recently released results from the 2017 Economic Census for the five U.S. territories: American Samoa, the Commonwealth of the Northern Mariana Islands, Guam, Puerto Rico and the U.S. Virgin Islands, which are covered by the 2017 Economic Census of Island Areas. This specific census is conducted every five years, so the next one would be issued in 2022.
The Census said data for Puerto Rico also includes metropolitan areas and Planning Regions. However, it should be noted that Puerto Rico's economy was greatly affected by Hurricane Maria, which slammed the island in Sept. 2017 and has had a long-term effect on local economic activity and performance.
According to Census Bureau economist Andrew Hait, the retail trade sector was the top employer in Puerto Rico, with a work force of 132,033 people, or 20.3 percent of the island's total employment.
Total retail trade reported was $25.5 billion in this area, representing 13.5 percent of the island's total, based on Census data.
No surprise: San Juan led the island in terms of the number of retail establishments, sales and employment. The capital city was followed by Bayamón, Caguas, Ponce, Guaynabo and Carolina.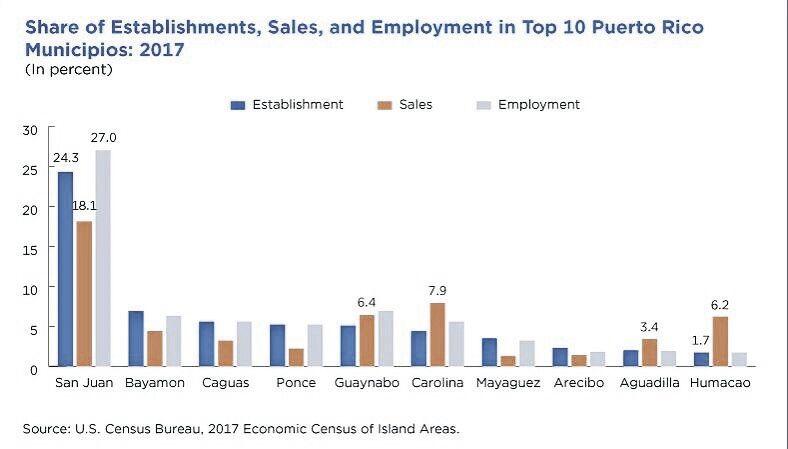 As many retail establishments are small and midsize businesses, Manuel Cidre, the designated secretary of Economic Development and Commerce (DDEC by its Spanish acronym) also has highlighted the importance of the business community in Puerto Rico.
Cidre himself is a successful businessman who is the founder of Los Cidrines, a local bakery and restaurant chain that has expanded to the United States in recent years. Noting that baking bread has a long history going back to ancient times, to more than 5,000 years ago.
"Be innovative, be different and be relevant… Be daring, be passionate," was the message he gave to a group of entrepreneurs when he spoke during a DDEC roundtable with reporters. "Think about what distinguishes you from any other competitor," he said, when talking about the road to "success," which he added is much more than financial success.
A Success Story: 'Guilty'
One person who left her comfort zone, as Cidre described, was Suhaiy Sepúlveda, who co-founded an innovate retail space called "Guilty," literally less than two months after Maria hit.
She and her business partner Armando Sánchez developed a web platform for Puerto Rican fashionistas who can either buy or rent clothing for specific events, such as attending a gala or wedding. "Guilty" was officially founded on Nov. 1, 2017, in Sepúlveda's apartment, starting with 50 different fashion items.
Today, "Guilty" has an inventory of more than 10,000 fashion items and moves more than 2 thousand fashion items every month. The store now has a total of 10 employees: six full timers and four part-timers.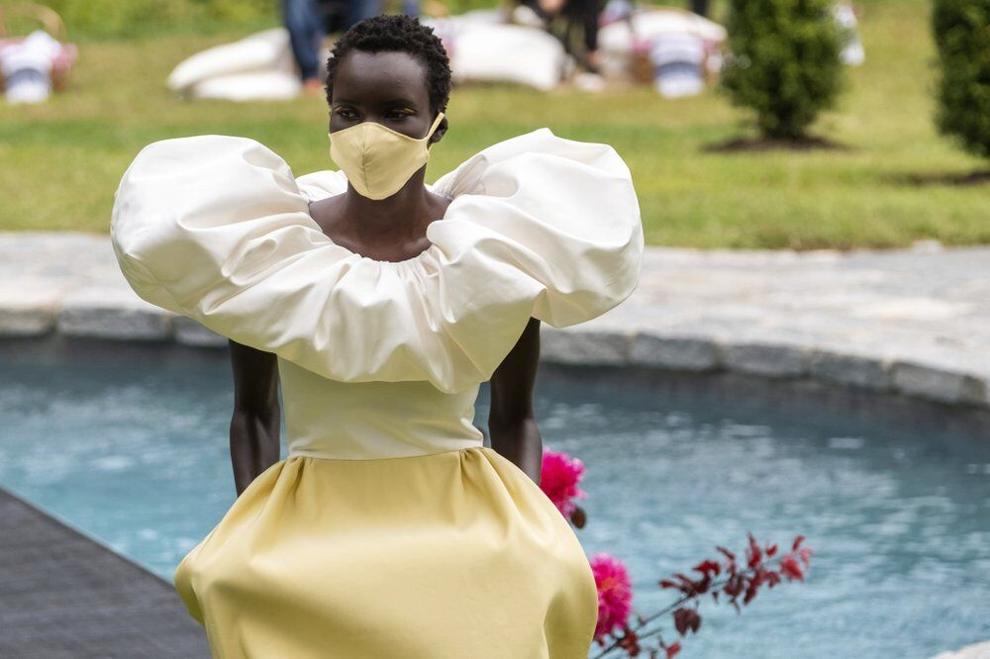 Sepúlveda's brain child also showcases how retail trade has changed in recent times, particularly after the pandemic started, as more and more retail businesses now sell their wares online.
During the event, she noted how today, much of what consumers use is by "renting" an item, whether it is a car or a home – so why not fashion? "Why not use our closet in a similar way? The demand is there. Fashion items can be used for specific events… giving access to those who need them," she said. The idea is to make one's fashion choices more dynamic, innovative and accessible.
Her advice to other entrepreneurs? "Discipline, consistency and focus. Discipline is required to dedicate long hours at the company, sacrificing personal and family time. Consistency and focus on the consumer's need is fundamental to keep the company going in the right direction, even in the most difficult times," Sepúlveda said.
As reported by THE WEEKLY JOURNAL, retail trade is among the sectors that has been most hard-hit by the coronavirus pandemic. In calendar year 2020, retail sales saw a drop of $2 billion, as many businesses were hit by the government lockdown and other business restrictions.
With the majority of local residents receiving the latest federal stimulus checks of $1,400 for qualifying adults, the retail industry has been buoyed by better news in recent months, for example during the recent Mother's Day weekend, which is a major shopping day for many people.
"Customer traffic continues to be healthy thanks to the injection of federal funds, different from last year when there was a lockdown and [businesses] were operating with very limited capacity. General merchandise is being sold. A lot of electronic items, household appliances, perfumes, clothes, shoes, beauty products, etc.," said Iván Báez, president of the Retail Trade Association, who was expecting a good Mother's Day in retail sales.
Another area where retail continues to grow is online. For example, eBay has seen a double-digit percentage growth in Puerto Rican sellers who represent a wide variety of product categories, some of which didn't have as a strong presence in the marketplace platform before the pandemic.
From Jan. to Dec. 2020, the top-three items that were sold the most from Puerto Rico were: auto and motor parts, men's footwear, and plants and seeds. To date so far in 2021, the top-two categories have maintained their positions, while basketball trading cards are now in third place. The category of plants and seed moved to sixth place.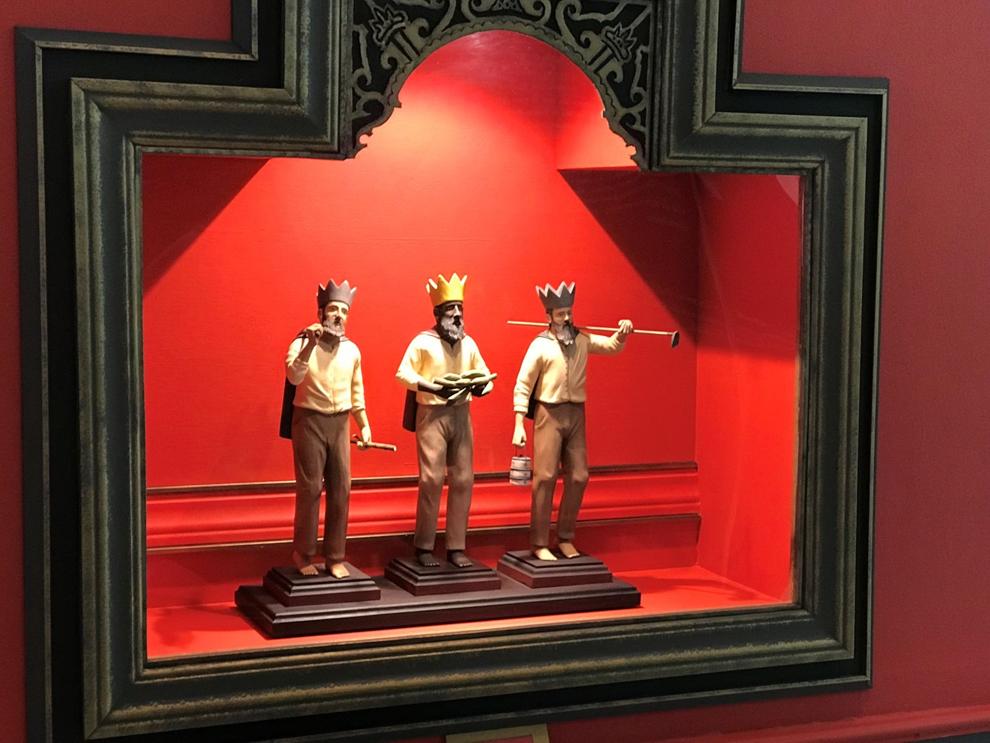 The four countries where Puerto Ricans exported the most on eBay.com during 2020 were the continental United States, the United Kingdom, Canada and China. This year, however, Mexico substitutes China in fourth place.
"2020 changed our entire way of living, consuming and doing business, and the increase in sales for these Puerto Rican businesses is just a proof of it. They have seen in eBay an effective way to expand their customer base by overcoming the challenges that pose the distance, regardless of product or category," said Ilya Kretov, general manager for Global Emerging Markets at eBay.
Business Highlights for Puerto Rico
According to the Census Bureau report, the manufacturing sector was the top sector in terms of sales, shipments or revenue in Puerto Rico, reporting $85.3 billion, which represented 45.2 percent of the island's total.
"Wholesale Trade" was the top sector in revenue in the United States, but this sector was smaller in Puerto Rico ($19.1 billion, or 10.1 percent of the total), ranking third in sales behind manufacturing and retail trade.
Meanwhile, accommodation and food services represented 12.7 percent of total employment in Puerto Rico, with 82,815 employees. The sector reported $4.3 billion in terms of sales, shipments or revenues. This data highlights the importance of the visitor economy for the island.
In the United States, the Health Care and Social Assistance sector employed the most people in 41 states in 2017, with over 2 million workers in this sector in California alone. In Puerto Rico, this sector accounted for a smaller share of all employment, ranking second in employment on the island with 84,933 workers.
However, the sector was first in terms of growth in the number of establishments in Puerto Rico, up from 7,014 in 2012 to 7,738 in 2017.
As reported by THE WEEKLY JOURNAL, other noteworthy findings relate to average salaries. The Utilities sector reported the highest average annual payroll per employee ($62,400) in Puerto Rico. The Information sector reported the highest increase in the average annual payroll per employee in Puerto Rico, from $23,997 to $42,370.