While much attention has been paid in recent months to investment opportunities through the federal Opportunity Zone program, the incentives granted under Acts 20 and 22 remain powerful drivers to attract the attention of investors to the island.
Estimates from the Acts 20/22 Society and the Department of Economic Development & Commerce (DDEC) indicate there are now more than 3,000 grantees in Puerto Rico under both laws—at least 1,600 under Act 20 and 1,400 under Act 22.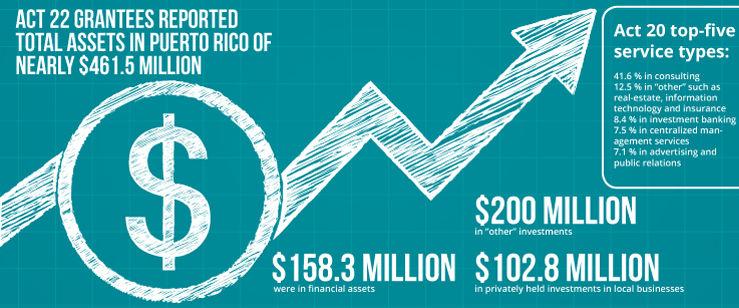 "Those are pretty recent numbers and the numbers are accelerating. More grantees have come in the past two years than the previous four years. Many have both Act 20 and 22. We could possibly reach 5,000 by 2020," said Robb Rill, founder of the Act 20/22 Society.
While Act 20/22 grantees receive hundreds of thousands of dollars—and in some cases millions—in tax breaks, they have also contributed to Puerto Rico's coffers. Act 20 companies paid $40.6 million in corporate incomes taxes, $18.7 million in individual income taxes and $7.3 million in sales tax during 2016, according to a study by Estudios Técnicos, which was commissioned by the DDEC.
Act 22 grantees, meanwhile, reported $261.5 million in planned capital investments on the island and spent about $105 million on the local economy.
Act 20 provides tax incentives for export-services companies who serve clients outside Puerto Rico. Act 20 businesses are subject to a 4 percent income tax rate. The law originally had a requirement that Act 20 companies create five jobs within two years of starting operations, but the Puerto Rican government eliminated this requirement in 2017. Today, there is no minimum number of employees required. Exceptions to the new rule include call centers and telemedicine firms.
Act 22 provides a zero percent tax rate on dividend and interest income, as well as certain capital gains after the individual grantee becomes a bona fide resident of Puerto Rico, spending at least 183 days a year on the island.
The two programs are not mutually exclusive, meaning that an Act 22 individual grantee may also have an Act 20 company.
"We are making positive contributions to Puerto Rico, investing, creating jobs, hiring jobs and doing philanthropic work," Rill said. "The labor force here is well educated. There are the tax incentives. There's a relatively friendly business environment. Investments in Puerto Rico will continue, and the numbers are going up."
A case in point is the recent announcement that a developer benefiting from Act 20/22 will renovate the abandoned "Tower of Prayer" in Carolina into an affordable housing complex. The $130 million project includes the creation of 358 apartments, with rentals varying from $1,000 to $2,000 a month. Some 150 units will be earmarked for the elderly and another 194 for families with low or moderate incomes.
Rill said there is a misconception among some sectors that the grantees are the "super rich" who come to the island in private jets and live in closed enclaves, cut off from the rest of the population. "Some are like that, but that is not representative of the majority… We are part of the community. We hire locals. We are involved in philanthropy. The Society has raised $1.2 million for 12 charities," he said.
Showing that they are "good neighbors" who want to do their part and help Puerto Rico is part of their battle in fighting the stereotypes around Act 20/22 grantees, Rill said. "The facts speak for themselves."
Constructive criticism
For economist José Caraballo Cueto, the central government should not have eliminated the Act 20 requirement that grantee companies create at least five jobs in Puerto Rico. At the same time, he said Act 22 was "poorly designed" because a zero percent tax break is too low.
"If a millionaire in Massachusetts pays 40 percent in taxes, you don't give him zero here. With a tax rate of 15 to 20 percent, they would still come here because it represents significant savings for them," he said. "We need to maximize incentives, not minimize them."
For both tax incentive programs, Caraballo said he would like to see clear benchmarks with specific numbers in the respective contracts. "They need to invest 'X' amount of money. They need to create 'X' number of jobs. They need to buy a new house at a specific minimum amount," he said.
He suggested a similar 'X' amount for buying used properties, along with a minimum amount for renovations since "construction work contributes to economic growth."
Fellow economist Juan Lara said Act 22 alone does little for the Puerto Rico economy, indicating that grantees also need to set up local businesses, as per Act 20 or something similar. "We need them to be here as entrepreneurs, not just living here as a tax shelter."
As an example, he cited Lufthansa Technik, which inaugurated an aircraft MRO (maintenance, repair and overhaul) facility in Aguadilla in 2015. As part of the 20-year contract, the Puerto Rico and federal governments provided incentives to the company. "That's what we need. Aeronautics are very important to Puerto Rico's future," Lara said.
Act 20/22 grantee profiles
As of 2016, there were some 1,043 Act 20 grantees in Puerto Rico, and another 790 Act 22 grantees, according to the Estudios Técnicos study.
Of the Act 22 grantees, a survey showed that 69.6 percent had a total net worth of less than $10 million; 10.6 percent from $10 million to $50 million; another 1.5 percent had a total net worth of $50 million to $100 million; and 1 percent of more than $100 million. Some 17.2 percent of respondents did not specify their total net worth.
Act 22 grantees also reported total assets in Puerto Rico of nearly $461.5 million. Of these, about $158.3 million were in financial assets; $102.8 million in privately held investments in local businesses; and $200 million in "other" investments.
About 42 percent of Act 22 grantees have also established businesses on the island and created 2,600 jobs, excluding Act 20 businesses and domestic work.
Of the Act 20 companies, the top-five service types were: 41.6 percent in consulting; 12.5 percent in "other" such as real-estate, information technology and insurance; 8.4 percent in investment banking; 7.5 percent in centralized management services; and 7.1 percent in advertising and public relations.
Some 7,421 jobs (direct, indirect and induced) were created by Act 20 companies, with an average salary of $46,833 a year.