A jury comprised of internationally renowned professionals selected the best of Architecture in Puerto Rico by announcing the winners of the prestigious Honor Awards 2020, a competition held annually by the American Institute of Architects - Puerto Rico chapter (AIAPR).
After judging over 20 submissions, the jury gave the Honor Award for Excellence in Architecture in the "Completed Work" category to the "Casa Flores" project in Naguabo, developed by the firm Fuster Arquitectos.
"Understanding the characteristics of the place and the traditional passive systems as strategic tools capable of defining the architectural expression of the building and generating conditions of comfort, topography, views, sunlight, ventilation, form factor, materiality and wind protection are the parameters that define the form, achieving an interesting relationship with the environment. The result is a successful reinterpretation and updating of the vernacular architectures typical of hot countries," the jury said. 
A second Prize of Honor for Excellence in Architecture in the category of Completed Work was awarded to the Restoration of the San José Church, in Old San Juan, carried out by the firm Jorge Rigau Arquitectos PSC.
According to the jury, said project "constitutes an extensive, deep, intense, respectful and imaginative exercise in the historical recovery of one of the most representative buildings in Puerto Rico. This research is extended to the integration of new construction systems using contemporary tools and materials to guarantee the durability of the work. The result is an elegant mix between respect and interaction that should serve as an example for the development of similar projects in neighboring contexts."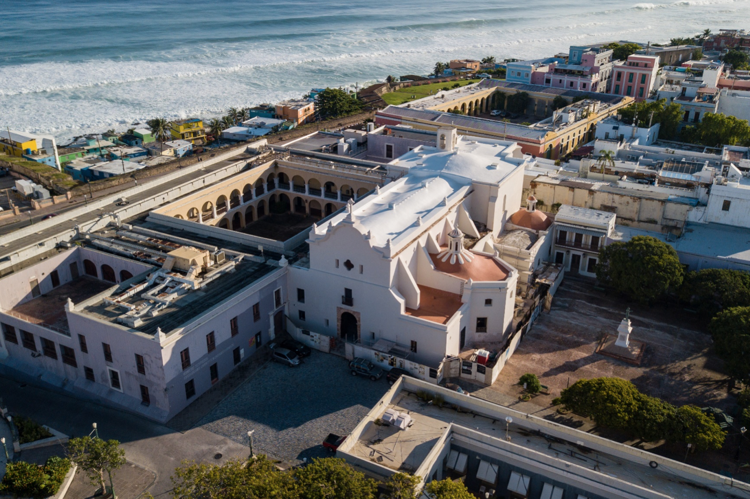 In the same category of Completed Work, the jury awarded an Honorable Mention to the project "Modular Metal: Auction Pavillion", located in Caguas and carried out by the firm Miguel del Río Arquitectos.
The jury valued the exercise of economic restraint and the creation of a simple, but effective language, from standardized and industrialized materials. "The beauty of the building resides in the pure application of common sense, linked to a positive strategic attitude, which achieves an architecture of high expressiveness, but perfectly controlled," they stated.
In the category of Theoretical and Research Projects, the jury awarded an Honorable Mention to the project "Buscapié" by Astrid Díaz for its "sustained work in the dissemination of architecture, focusing the discipline from the point of view of everyday life and necessary, with a clear and accessible language to reach the entire population, is the result of their persistent work to build bridges between the profession and society, so that Architecture is understood as a close tool capable of solving all kinds of issues regardless of type, scale or social class."
Meanwhile, "Villa Pabellón," by JR Coleman-Davis Pagán, won the People's Choice Awards.
The jury this year was comprised by architects Elaine Molinar, AIA, of Snøhetta, New York; Sergi Serrat, founding partner of GRND82, Barcelona; and Cristián Undurraga, FAIA, principal partnet of Undurraga Devés Arquitectos, from Chile. 
For more information, visit www.aiapr.com.